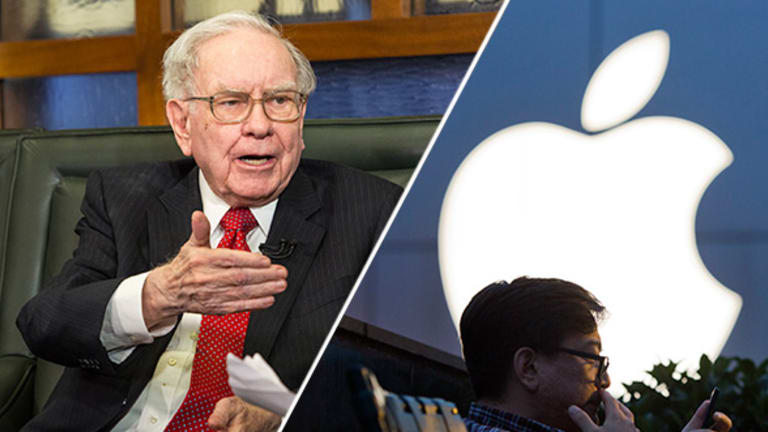 Warren Buffett's disclosure that his holding company, Berkshire Hathaway (BRK.A) - Get BRK.A Report ,owns a $1 billion position in Apple (AAPL) - Get Apple Inc. (AAPL) Report , confirms the technology company's status as a value stock.
AAPL is a holding in Jim Cramer's Action Alerts PLUS Charitable Trust Portfolio. See how Cramer rates the stock here. Want to be alerted before Cramer buys or sells AAPL? Learn more now.
ArthVeda's Smart Aleph Indices have actually been indicating this for several quarters. For example, Apple is in the ArthVeda Smart Xtreme Large Cap Index, which chooses the best 50 stocks of the largest 500 U.S. stocks by market capitalization based on the Smart Aleph framework.
Smart Aleph is based on the value-oriented philosophy of Buffett and economist and professional investor Ben Graham. It follows a risk-reduction process to focus on companies that have stable business models, strong balance sheets, a value-creating capital allocation track record and that are available at a significant discount to intrinsic value.
Apple isn't only part of that index but also the ArthVeda Smart Xtreme Total Cap Index, which chooses the 50 best stocks from the largest 1,500 U.S. stocks including large-, mid- and small-cap stocks. This indicates that Apple isn't only one of the best value buys among large-cap stocks but is also one of the best value buys in the entire U.S. market.
In addition, Apple is also part of the overweight position in the ArthVeda Smart Universe Large Cap Index of the 500 largest U.S. stocks that are weighted on the basis of discount to intrinsic value.
Let's look at the merits and risk related to Apple's stock.
Apple's market cap is about $518 billion, while sales are about $50 billion per quarter, though they have fallen by about 13% year over year. Conservatively, assuming that this lower rate of sales continues quarterly, annual sales will be $200 billion.
With a lower operating margin in the future of 25%, this will provide about $50 billion in annual pre-tax operating earnings. Assuming a higher effective tax rate in line with the statutory federal rate of 35% in the future, this equates to annual earnings of $32.5 billion.
Apple has total cash on the books of about $230 billion, with $70 billion in debt, which means net cash is about $160 billion.
Shaving off the $160 billion from the market cap leaves $370 billion as the adjusted market cap. So the adjusted price-sales ratio is about 1.85, the price-earnings ratio is about 11.38 and the price-book ratio is 2.84.
The operating post-tax return on equity, net of cash assets and taxes could be 25% based on the above relatively conservative assumptions.
Apple is effectively available at an earnings yield -- inverse of the P/E ratio -- of 8.78%.
In addition, there can be a boost in terms of payback from the company as it plans to return to shareholders about $250 billion over next two years. That is an expected cash return through dividends and buybacks of about 25% per annually over the next two years.
Furthermore, the earnings yield continues beyond that at 8.78% annually, assuming the lower level of earnings assumed above holds.
Apple's outstanding user base for its iPhones is about 1 billion. Assuming a replacement cycle of five years, it results in 200 million sales annually.
The incremental upside potential comes from future iPhone launches and sales increases from the Mac, iPad and Internet services.
There is also giant upside potential that could result from the launch of a disruptive product the equivalent of the iPad, iPhone or iPod. This could result from the in-house research and development program as well as potentially from possible acquisitions.
Apple's huge cash hoard and annual free cash flow of about $70 billion provides that option.
So what about the downside?
Don't forget earlier leaders in the smartphone market, such as BlackBerry, Motorola Solutions and Nokia, all of which looked invincible. It is possible to lose control of an entire market in this industry.
As of now it doesn't seem that that kind of risk is likely for Apple. But that is exactly why Buffett doesn't usually invest in tech companies, because the industry is highly unpredictable and can be disrupted at any time.
Berkshire Hathaway invested in Apple because it isn't a pure tech company but a consumer products company as well. The value of the Apple brand and its tech-based consumer products have great durability.
Also, the fundamentals of the company make it a value buy.
Given that its industry is evolving quickly and Apple has one of the largest, high-quality R&D teams and infrastructures, as well as a huge cash hoard that allows it to acquire top talent, promising technologies and patents, or even entire other companies, make the stock a great buy.
Although Apple isn't the typical Buffett company, those buy-and-forget companies are becoming rarer and rarer.
This article is commentary by an independent contributor. At the time of publication, the author was long Apple in his personal portfolio as well as in the client portfolios of ArthVeda Capital.