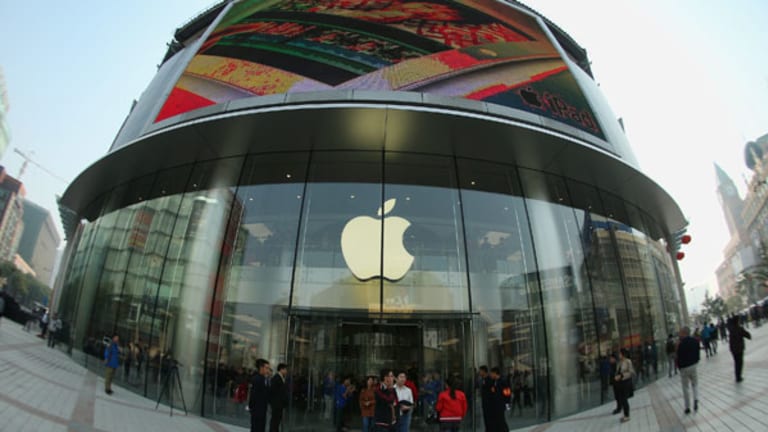 Apple Is a Bad Investment
A look at its technical and fundamental issues confirms why Apple's a bad egg right now.
NEW YORK (TheStreet) -- Before you jump on me for the headline, please hear me out. When I say Apple (AAPL) - Get Free Report is a bad investment, I mean at this point in time, it is not an investment stock.
Investors live in a fundamental universe of cause and effect. They believe that if a company has rising revenue, earnings and cash flow, it is a foregone conclusion that over time, the price of the stock will rise also. Technical traders live in a different universe. They believe that there are forces seen and unseen, known knowns and known unknowns, and things that go bump in the night. They think there are so many factors that complicate investing that price movement and patterns are all that matters.
There is no doubt that Apple has reported an impressive string of rising revenue, earnings and cash flow and everyone is continuing to expect the company to do that in the future, but recently the stock's price has decoupled from analysts' projections and the stock price is in free fall. Just look at this hourly trading chart of AAPL over the past 40 days:
Let's look at the numbers, to come to a rational conclusion.
Technical factors provided by Barchart
: Apple has a 96% Barchart technical sell signal as well as a Trend Spotter sell signal -- and those sell signals are getting stronger. The stock trades below its 20-, 50- and 100-day moving averages and has a Relative Strength Index of 34.63%. The price is down 3.15% for the last month, down 20.06% for the quarter and is 24.86% off its one-year high. It recently traded at $529.23, which is far below its 50-day moving average of $596.80.
Fundamental factors
: 48 Wall Street brokerage firms have assigned 57 analysts to make recommendations. They project sales will be up 49.80% this year and another 20.40% next year. Earnings are estimated to increase by 69.60% this year, an additional 14.90% next year and continue to increase annually by 19.70% a year for five years out. The P/E ratio is only 12.06, while the average stock has a P/E of 15.00. The 1.99% dividend is only 20% of earning forecasts and the company has an A++ financial strength rating. It has a cult following, innovative products and seems poised to enter the unlimited Asian markets.
TheStreet
rates this stock an A. Fundamentally, what more could you want?
Investor interest
: Those 57 Wall Street analysts have issued 22 strong buys, 28 buys, 5 holds, 1 under perform and 1 sell recommendation to their clients. They predict that investors could see a total annual return as high as 18.50% over the next five years. An amazing number of individual investors have expressed their opinion on
Motley Fool
, where 28,944 readers have given a 92% vote of confidence that the stock will beat the market.
Short sellers have a contrary view and short interest has grown from 10 million shares at the beginning of the year to more than 21 million shares recently. Institutional investors have lowered their holdings.
Conclusion
: At the present place, we are in the investor time continuum where AAPL is no longer a core growth stock that can be analyzed using fundamental analysis. While analysts argue if the company is a software, hardware or retail company, investors are selling their shares and technical traders who trade the
S&P 500 Index ETF
(IVV) - Get Free Report
,
Realty Majors Cohen & Steers ETF
(ICF) - Get Free Report
,
SPDR High Yield ETF
(JNK) - Get Free Report
and the
Gold Trust ETF
(IAU) - Get Free Report
all based on price movement patterns have added Apple to their trading portfolios, as if it were the
Nasdaq 100 ETF
(QQQ) - Get Free Report
. At this point in time, I'm looking at the price patterns of AAPL to decide when to buy/sell/short and forgetting to read the earnings reports and
filings.
One day this stock may again be able to be evaluated by fundamental analysis, but that day might not come till value investors believe the P/E is low enough. My star in the east will be when Warren Buffett begins to accumulate shares of the stock. Till then, I'll monitor the moving averages and turtle channels and let the trend be my friend:
At the time of publication the author used AAPL, IVV, ICF, JNK, IAU and QQQ in his personal and trading accounts.
This article was written by an independent contributor, separate from TheStreet's regular news coverage.