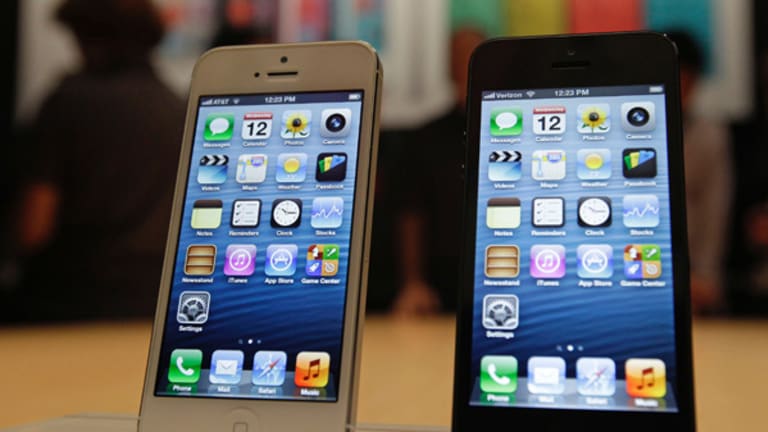 Apple: iPhone Does Not Need to Be Revolutionary
Rocco Pendola distinguishes between evolution and revolution -- as well as the need for each -- at Apple.
NEW YORK (TheStreet) -- I buried the lead in Wednesday's Should BlackBerry Attack Apple? article.
While there's no doubt
BlackBerry
undefined
CEO Thorsten Heins made a bad move, following in the footsteps of Steve Ballmer and Jim Balsillie, by taking a shot at
Apple's
(AAPL) - Get Free Report
iPhone, it's the rampant misunderstanding of why Apple dominates and what it must do going forward that warrants headlines.
Also see: Saving for Retirement
Let's clear the intersection where AAPL bullishness meets bearishness. It's a crossroads almost as misunderstood as Apple itself.
First, a flashback to a meaty part of the above-cited article:
Apple needs something that will extend its dominance. Something that will keep Apple lifers Apple lifers. That's the point guys like Ballmer, Balsillie and now Heins miss. iPods, iPhones, iPads and Macbooks pretty much just evolve. And that's OK. Apple lifers continue to buy them at regular intervals. To stay sticky beyond reiterations of these legacy devices, Apple has to come up with something new.
I keep my Diesel jeans when they're ragged and end up springing for a new pair. I will likely always buy Diesel jeans; in fact, if they changed them too much, I might switch. But, to become more of a Diesel lifer, they need to come up with something new that excites me. Pretty straightforward.
So let's be clear about this. The initial iterations of iPod, iPhone and iPad were revolutionary. With subsequent updates, each device merely evolved. Just like a pair of comfortable jeans. Granted, evolution at Apple equates to
one giant step for mankind
at most companies, but that's because Steve Jobs made Apple best of any breed.
I'm not sure why anybody would want to see any of their favored and most trusty consumer items transform into something unrecognizable.
Consider the MacBook Pro with Retina Display I work with daily. It has evolved, in part, from that white MacBook I had about 10 years ago. The one that got all dirty and grimy within about a week's worth of use.
But, big picture, that laptop isn't all that different from the one I use today. Certainly, it's faster, can handle more stress, looks slicker and sleeker -- some of this because of Apple, some of it because of partners such as
Intel
(INTC) - Get Free Report
-- but, stepping back, we really haven't seen a revolution with the laptop. Same goes for iDevices -- a series of evolutions, which, at some point in the life cycle, add up to a revolution or two.
Also see: Tax Tips
Instead, iPad revolutionized the laptop just as iPod revolutionized the Walkman and iPhone revolutionized the BlackBerry.
I reckon if Apple made iPod, iPhone or iPad into something completely different, there would be blowback. There's a reason why Levi's have not messed with the button fly for about a century.
If it ain't broke, don't fix it
(or at least don't break it!).
Revolution at Apple must occur with something new. That something new could replace something that exists inside or outside of Apple
or
it might be something entirely new and novel. A brand new product. Or such a major improvement on something already out there -- like iPod, iPhone and, to some extent, iPad were -- that it's as good as new.
>>>>Also see: 6 Surprising Taxes Headed Your Way
So the bullishness associates with the reality that Apple's current line of products does not have to and should not change. I hold out hope that all of the noise about evolution vs. revolution will not cause Tim Cook to keep fixing things that are not broken. At the same time, I hope Cook understands that we absolutely do need a revolution at Apple. Without one, it's not gonna be alright. That's where the bearishness comes in.
--
Written by Rocco Pendola in Santa Monica, Calif.
Rocco Pendola is
TheStreet's
Director of Social Media. Pendola's daily contributions to
TheStreet
frequently appear on
CNBC
and at various top online properties, such as
Forbes
.