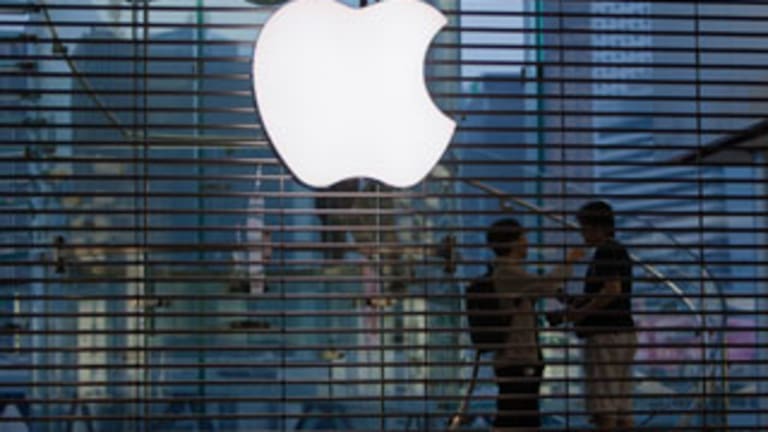 Look at the iPad mini. People are willing to pay for something of quality that they know will give them a lot in return. It's no longer a case where it's a race to the bottom to create the cheapest and most easily-produced product. People are realizing that you frequently get what you pay for.
-- Eric Kuhn,The Wall Street Journal
NEW YORK (
) -- That's an excellent excerpt from an excellent article that reveals where so many otherwise excellent people miss with errant emotional reactions to
Apple
(AAPL) - Get Apple Inc. (AAPL) Report
over the last several weeks. If these folks credit
Google
(GOOG) - Get Alphabet Inc. Class C Report
with any perceived weakness at Apple, they're really far gone.
Anton Wahlman writes
solid articles for TheStreet
. I don't agree with him very often, but that doesn't mean his work isn't strong. We just don't see eye-to-eye on much.
While I don't think he dislikes Apple, Wahlman appears in love with Google. A quick glance at his article history reveals that his Google love stems largely from the company's strategy to produce relatively inexpensive ("cheap") hardware.
Wahlman particularly digs
Google's low-priced Chromebook laptops
. Most recently, he waxes bullishly about Google leading
.
Wahlman claims there's not much room left to innovate with the smartphone and that it will go the way of the flat-screen television in terms of pricing. He might be right, but that's not the issue.
The meaningfully scary part: Wahlman's not alone. In fact, Google Chairman Eric Schmidt
waxes delusional about a "platform fight" between Apple and Android benefiting the consumer with "lower prices"
.
Frightening: This notion that producing cheap products somehow makes things better for consumer, company and sector. That's a load of short-sighted, sounds-good-to-cheer, but really-isn't nonsense.
Consider a comparison between Apple's iPad mini and
Amazon.com's
(AMZN) - Get Amazon.com, Inc. Report
Kindle Fire.
Here's a refresher of my take on the mini
before
it was released (you know when people were saying it could never sell at a premium price) via
CNBC
:
Handle an iPad mini after playing around with a Kindle Fire.
I did yesterday. We have two Kindle Fires in my house. Nice little device. I'm on record several times praising Jeff Bezos for doing this, however I know full well this is not about some "platform fight" or device battle.
. He knows he cannot beat Apple here so he produces a tablet -- and takes a loss or breaks even (whatever) on it -- to further Amazon's e-commerce dominance just a little more.
That's a sound strategy that strengthens your core line of revenue. No delusions of grandeur like Schmidt has at Google.
Because, clearly, it would be folly for Bezos to think his $199 tablet can compete competently with anything Apple puts out. He might feign some competitive juice, but he's no dummy.
When you pick up an iPad mini, it just feels right. Down to the last detail. In your hand, I don't know how to explain it, it's like dashing kisses along a beautiful woman's collarbone on the way to intimate, absolutely perfect ecstasy.
The Kindle Fire ... more like going in to kiss your Grandmother and awkwardly bumping heads because you were going for the cheek and she was going for the lips.
It's all good. You love her. She's even nice to have around, but it's just different you know. And it should be.
People are willing to pay for premium products. Apple continues to prove that
with jam-packed retail outlets
, compared to
relatively low-key and often painfully empty Microsoft (MSFT) - Get Microsoft Corporation (MSFT) Report stores
.
Somebody has got to get it right to take the crown away from Apple. Cheap crap doesn't cut it. People will always be there to buy it, but not with the same collarbone-kissing intensity they have for Apple products. And if you're going to price products at a premium -- like Microsoft has with the Surface tablet -- you better come to play. Half-assed efforts ain't going to cut it, muchacho.
There's something to be said for paying for quality, beautiful design, flawless user experience, a seamless ecosystem, overall attention to detail and, yes, status. On every count, that's how it has been, currently is and will be forever. There's no fervor on the streets this month about getting your hand on a Surface or Nexus or Kindle. All people want are Apple products. Want, buy. Aspire. Whatever.
That's the market force that will win out as long as Apple doesn't trip over itself. A cheaper glass panel for a smartphone screen or a slightly higher-grade plastic at a lower price for the back of a tablet -- don't fool yourself. They don't mean a damn thing on the ground in the consumer marketplace.
--Written by Rocco Pendola in Santa Monica, Calif.
Rocco Pendola is
TheStreet's
Director of Social Media. Pendola's daily contributions to
TheStreet
frequently appear on
CNBC
and at various top online properties, such as
Forbes
.