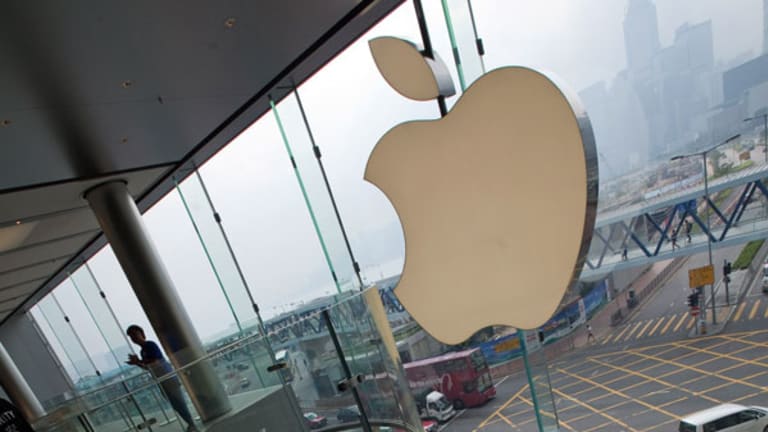 Apple Hate Has Spun Out of Control and It Needs to Stop
Rocco Pendola isn't happy about some of the reaction to Apple's 128GB iPad announcement.
NEW YORK (TheStreet) -- Call me emotional. That's fine. I am emotional about Apple (AAPL) - Get Apple Inc. Report. No question. However, there's a difference between my emotion and the emotion of folks who make some show of loyalty with their long position in the stock.
I'm clearly and firmly on record with a seemingly confusing dichotomy: #1- Love the company, hate the haters and push back on the nonsense, alongside #2- Don't buy the stock right now. And, whether you have profits or losses, in most cases, it makes sense for long-term investors to stay away.
My CNBC hit
with
made the case in plain English: This is a depressing situation.
It hit the most absurd mini-crescendo this morning when
Apple issued a press release to announce availability of a 128GB iPad
. Pardon my Canadian French, but we're all adults here -- I'm straight pissed off about some of the reaction I saw to this news on
Twitter
.
But first,
our resident he's so geeky he needs professional help tech authority Chris Ciaccia
-- a man who can control his emotions much better than I (though I know he must be seething as well) -- gives us his take on this slightly different version of the existing iPad. Enter the sane and logical voice of reason:
The 128 GB iPad is a smart move by Apple. Not only is it expanding its reach to include people who want content on their devices and not in the cloud, like artists, it's really geared towards enterprise. The business community is increasingly using the iPad instead of PCs when it comes to document creation, spreadsheets, presentations and the like, and added storage is what they need to replace PCs to get the job done.
Not only does it expand the reach of more buyers for the iPad, it should also aid margins. By charging $100 more for an extra 64 GB worth of storage, Apple is increasing margins as it relates to NAND flash, of which Apple is one of, if not the largest buyer of flash storage in the world. It's a very shrewd move by Apple, and one that should benefit shareholders over the long haul.
SPOT freaking on!
That's what Chris sent me via email. Whenever big tech news breaks, I ask him for reaction. It's always like that -- sound, straight and to the point. So follow Chris on Twitter.
But here's why I'm angry.
Apple is not here for our entertainment. It doesn't exist to fill the voids we have in our lives.
Yeah, I'm getting older as well. I can't quite lose this slight gut I have developed. I don't have sex as often I used to. I suck at playing guitar. At times, I can be bitter towards the world. I live in a perpetual state of fear that "The Big One" will hit California. We've all got our "problems."
But, for some reason, and I am not sure the haters even realize what they're doing, we expect Apple to come along and ease our anxiety, Moscone Center presentation after Moscone Center presentation.
Guess what? Apple doesn't owe you that. It's not Tim Cook's job and it wasn't Steve Jobs's job to give you a life. To fill in the gaps. They have/had a company to run.
This isn't a Roman slaughter or the running of the bulls or the Super Bowl halftime show where we expect (and receive) climax after climax and nonstop action. This is tech. This is business. Like it or not, Apple needs to do relatively uninspiring things from time to time. Sometimes, it will just lay there and not give you the time of your life with every single piece of news.
Sadly, our need for fulfillment and instant gratification falls on Apple. When we perceive it has not delivered, the stock market, the media and the Twitterverse kicks the noise, nonsense and inanity into high gear.
NEWSFLASH! Apple already enriched our lives. It has changed the world several times over in the last few years. Want perspective -- okay, fine. It changed significant aspects of our lives.
Apple hasn't solved the human carnage that comes along with the intersection of
supposed "communism" and crooked capitalism in China
. Tim Cook won't cure cancer. Sadly, Steve Jobs died from it. Too many other awesome souls have as well. Apple contributes to skyrocketing rents in San Francisco. Its recycling program probably doesn't do much for the environment anyway.
But, Apple
is
the reason you are on your phone 24/7 to do everything. Not to just check email.
Research in Motion
(RIMM)
followed amazing success with miserable failure. Then, Apple changed the way you listen to music, work, play, compute -- you name it. Even if you don't use an Apple device, you owe Apple that much.
Apple owes you absolutely nothing. Even if you are shareholder.
This 128GB iPad is exactly as Chris explained it. A smart move. A way to further Apple's dominance in the enterprise and with some creative types, while it addresses the faux margin "problem" all of the self-entitled critics continue to blather about.
I'm angry and emotional. And I have every right to be. If you appreciate innovation, believe in promoting the best America has to offer and long for a rational stock market, you are as well. Just don't stand on the front lines locked and loaded with a presently limp Apple stock.
--Written by Rocco Pendola in Santa Monica, Calif.
Rocco Pendola is
TheStreet's
Director of Social Media. Pendola's daily contributions to
TheStreet
frequently appear on
CNBC
and at various top online properties, such as
Forbes
.