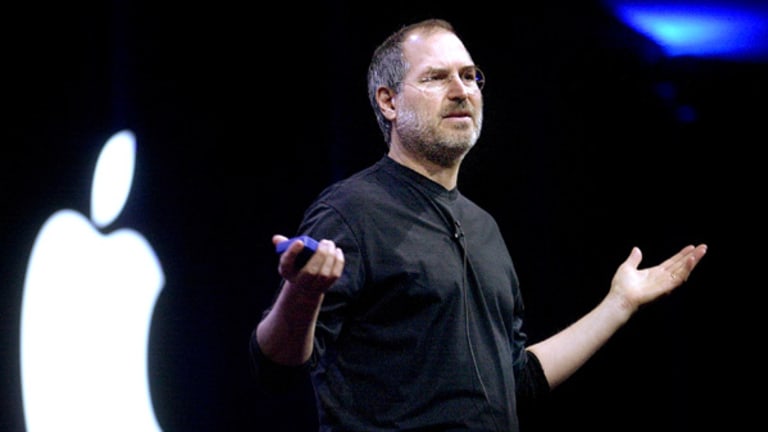 Apple: Don't Believe Haters, Hype and Hysteria
Expect iPad mini bearishness from pundits to pick up as consumers load up for the holidays.
NEW YORK (TheStreet) -- As I watched Apple (AAPL) - Get Apple Inc. Report blow the doors off of a San Jose, Calif., convention hall, I experienced conflicting thoughts.
Tim Cook's excellent performance -- overuse of adjectives not withstanding -- and the lineup of
stunning
"new" Apple products does not erase long-term concerns over the company's ability to break new ground in a post-Steve Jobs world.
That said, on the basis of yesterday's event and how its offspring will impact the holiday quarter, Cook and Apple crushed it.
In fact, Apple did such an amazing job I was embarrassed for its competitors.
We've heard all sorts of hype about competitive products and consumer tastes and expectations. And, after what Apple revealed Tuesday, not one bit of it means a thing. Almost across the board, it's wholly irrelevant.
Apple's side-by-side comparison of the new iPad mini with
Google's
(GOOG) - Get Alphabet Inc. Report
Nexus 7 tablet put it all to rest.
What Springsteen said in 1980's
The River
holds true for Apple's so-called competition today:
No wedding day smiles/no walk down the aisle/No flowers/no wedding dress
.
It's a shotgun wedding. And, given the pathetic state of its opposition, Apple barely has to pull the trigger. It can put its head down, produce the most aspirational products and price them at a premium.
It doesn't matter what anybody else does.
And, more importantly, it doesn't matter what anybody else says.
I riff more about Apple's clear superiority in
Apple Versus Amazon: Don't Call It a Price War
, but that's not what this article is about.
This article is about the things people say. The things you read. The pieces of information that come together and, for better or worse, help inform your due diligence.
Investors need to not only ask
Is it relevant?
, but
Is it well-thought out and rigorous?
I use one specific example here because it's apropos, but it also helps sound the caution you should exercise when reading everything from data presented as objective to opinions from guys like me.
Simply stated, consider it all for what it's worth.
For example, if you're bearish iPad mini, you might have latched onto survey results that made the rounds earlier this month.
Mashable
a
BusinessNewsDaily
story that regurgitated data from a
TechBargains
survey of "1,322 consumers contacted by" the firm.
We get a whole host of seemingly bearish numbers and opinion in the report.
The findings show that "only 18% of respondents plan to purchase an iPad Mini," while "45% of respondents from the same survey" say they will buy the new iPhone.
TechBargains
president and editor-in-chief Yung Trang provides this loose analysis of the results:
Given Apple's recent success, it would be easy to assume that all new Apple products will be wildly popular. Our survey results indicate that theory is no longer the case. According to our survey respondents, the so-called iPad Mini will not be highly coveted because consumers are questioning the necessity of a smaller iPad, especially if they own an iPad or an iPhone
.
While I give Trang credit for not generalizing the results beyond the
TechBargains
' sample, I'll pass on further props.
TechBargains
obviously shopped its research around. I received an email from the company gauging my interest in using it.
When I receive these requests, I respond asking for a detailed description of research methodology, particularly
How did you draw the sample and who comprises it?
I rarely receive an answer that warrants broadcast of the findings and conclusions.
TechBargains
told me that the crowd it surveyed is "tech savvy" and made up of "early adopters." Stop right there. Red flag number one. And it's the only one you need.
The person who emailed me was either being honest, figured that the sample composition would impress me or a mix of both.
In any event, the results provide zero visibility into how Apple's iPad mini will do. They're useless. For goodness sake, the respondents knew nothing about the product, including actual price, screen size and quality of construction or design. Yet the results make it to print and a solid outlet,
Mashable
, picks the story up, prompting a moderate level of sharing across social networks.
So, chew on that and understand that Tuesday's sell-off was way overdone.
In my other iPad mini article today
, I get deeper into the reason why and how I think investors should play it.
Given the dismal reaction, expect more errant surveys and thoughtless analyses of Apple's market to come out.
More people will decide that my long-term view of an Apple without Steve Jobs actually makes sense. While I appreciate the validation, they're all jumping the gun. It's a long-term story that I don't expect to come to by Christmas.
In the short-term, AAPL closer to $600 than $700 is a screaming buy. That's because it's light years ahead of the competition and its products will dominate the holiday season.
That has nothing to do with future innovation; it has everything to do with today's reality in tech.
At the time of publication the author held no positions in any of the stocks mentioned.
This article is commentary by an independent contributor, separate from TheStreet's regular news coverage.
Rocco Pendola is a private investor with nearly 20 years experience in various forms of media, ranging from radio to print. His work has appeared in academic journals as well as dozens of online and offline publications. He uses his broad experience to help inform his coverage of the stock market, primarily in the technology, Internet and new media spaces. He has taken a long-term approach to investing, focusing on dividend-paying stocks, since he opened his first account as a teenager. Pendola, 37, is based in Santa Monica, Calif., where he lives with his wife and child.