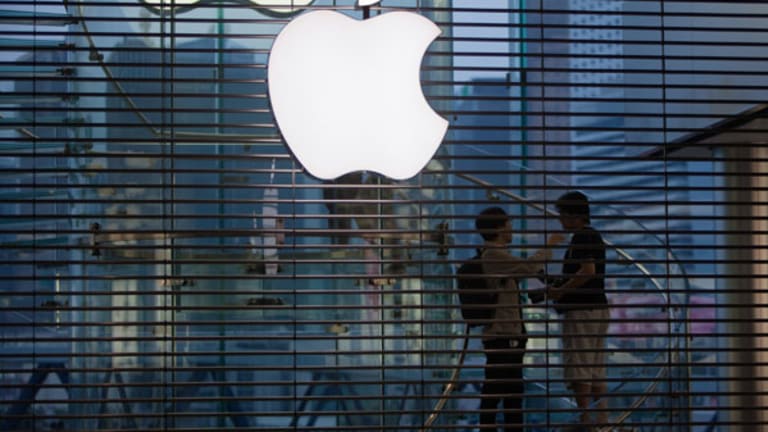 Apple Dividends and Buybacks Won't Hurt But Won't Help Much
The Apple buyback and dividend increase is smart and it certainly won't hurt the stock price, but it's no panacea for the company either.
NEW YORK (TheStreet) -- Apple (AAPL) fans in Silicon Valley are probably pulling their hair out this morning. They already think Wall Street is crazy and doesn't appreciate all the things Apple is doing.
After Apple announced Tuesday night an increase in the dividend and buybacks to be worth $100 billion by the end of calendar 2015 (from $10 billion), the tepid stock price reaction this morning must have Apple fans thinking: What does Apple have to do to satisfy Wall Street?
The Apple buyback and dividend increase is smart and it certainly won't hurt the stock price, but it's no panacea for the company either. I'll explain why on both of those counts.
First, here's why it's smart. The company had previously committed to $10 billion in buybacks and dividends. Yesterday, it was upped by $50 billion. Guess what Apple had in operating cash flow last year? Almost $60 billion. The company won't be depleting the cash hoard at all by this, especially considering this is being spent over three years.
>>Also see: Tim Cook Is Killing Apple >>
Also, Apple is going to borrow against its foreign cash to do this -- at ultra-low rates -- lowering the cost of capital and using foreign cash that's just sitting there gathering interest income.
Does it help the stock? Well, Wall Street is being fickle Wednesday with the stock around $400 again. The Street wants new products -- and we'll get to that. But, they're being short-sighted if they don't like the magnitude of the buyback.
For the sake of round numbers, let's say Apple will earmark $75 billion for buybacks at a pace of something like $25 billion a year. Does that matter?
Well, look at
Yahoo!
(YHOO)
. It's done about $2 billion in buybacks in the last six months. Let's say that it's been at an average price of $20 a share. That means the company retired about 100 million shares (probably a little more) over that time period.
Yahoo! does a daily average volume of 18 million shares a day. In six months, there are about 120 trading days. That means there's been a total trading volume over that period of about 2.1 billion shares. That means Yahoo!'s corporate buybacks have only accounted for about 4.7% of the overall trading volume over that period.
Now to Apple. If it's going to do $25 billion in share purchases in the coming year, let's assume it does that at an average price of $400. That means it'll retire 62.5 million shares. There are about 240 trading days in the year and Apple trades about 15 million shares a day. This means Apple's purchases in the open market will account for about 1.7% of the overall trading volume each year.
Yahoo!'s stock has gone up 60% in the past six months. A lot of this is due to the fact that it was trading very cheaply for a long time and its valuation is now "catching up" to the inherent value of its stakes in
Alibaba Group
(which will soon IPO) and
Yahoo! Japan
.
However, it's undeniable that a positive floor on the stock was created with knowledge that Yahoo! is often in the market providing a floor to the stock price with its incremental purchases. On days around when Yahoo! reports earnings -- and when Yahoo! cannot be in the market buying stock -- Yahoo!'s stock is much more volatile. When stock purchases resume, you can see the strength in the bids on the stock.
>>Also see: You Can Buy a Home After Foreclosure >>
By magnitude, Yahoo!'s purchases are about three times the size of the average daily volume as Apple's will be. So, Apple's purchases will certainly have a more muted effect than with Yahoo!, despite the fact that it is "the largest corporate buyback in history."
However, the question is: Will the market know that, every day, Apple is going to be in the market buying back about 2% of the daily volume provide a floor on the stock and confidence that will help it rise from here. I think it's unquestionably a positive.
So, let's talk about why this is no panacea for the stock. David Einhorn basically provoked Apple into action on this large cash pile and using it more effectively than it was before. So, I'm sure many other investors are happy about it. But the lukewarm reaction in terms of the stock price today also points to what investors really want from Apple -- growth. They're not going to get growth until Apple unveils new products.
That's not coming until autumn at the earliest. Too bad. Perhaps Tim Cook is learning a little something about being a symphony conductor: Variety is the spice of life. No one likes hanging around waiting for the horns to finally come back after some lull in the action for five minutes.
But it's all riding on the new products for Apple. If the company can come up with new stuff and people buy it in droves, we'll look back and wonder why everyone gave Tim Cook such a hard time. If I hear one more person come on TV and say that they're not excited about a watch or a TV.... It's silly to prognosticate now about the popularity of a product when it hasn't even been unveiled.
The iPad was greeted with a "ho hum" for weeks after its introduction. They only managed to sell a smidge less than 20 million in the last quarter of the product people initially thought had a terrible name.
Counterintuitively, I also believe Apple would generate much more excitement and upward movement in its stock price through some big acquisitions. If we woke up tomorrow and found Apple was using $30 billion of its nearly $150 billion cash pile to buy
Twitter
, Apple's price would jump up.
Why? Wouldn't some say they are "destroying" shareholder value by paying "so much" for a company that has yet to prove out its business model? I don't agree with this at all.
Currently, Apple's getting zero credit from Wall Street for its $150 billion cash. If the company is able to use 20% of something it's getting zero credit for to suddenly have the biggest force in social media/news today and likely moving forward, that's worth something additional to whatever's been priced in to Apple's stock at this point.
Apple also could do with a burst of fresh thinking/new eyes that would come to the company from the infusion of a group like Twitter. If Apple managed the integration properly and respected the different cultures and made the most of them, it could be a grand slam.
At the time of publication the author was long AAPL and YHOO.
This article was written by an independent contributor, separate from TheStreet's regular news coverage.
Eric Jackson is founder and Managing Member of Ironfire Capital and the general partner and investment manager of Ironfire Capital US Fund LP and Ironfire Capital International Fund, Ltd. In January 2007, Jackson started the world's first Internet-based campaign to increase shareholder value at Yahoo!, leading to a change in CEOs in 2007. He also spoke out in favor of Yahoo!'s accepting Microsoft's buyout offer in 2008. Global Proxy Watch named Jackson as one of its 10 "Stars" who positively influenced international corporate governance and shareowner value in 2007.
Prior to founding Ironfire Capital, Jackson was President and CEO of Jackson Leadership Systems, Inc., a leadership, strategy, and governance consulting firm. He completed his Ph.D. in the Management Department at the Columbia University Graduate School of Business in New York, with a specialization in Strategic Management and Corporate Governance, and holds a B.A. from McGill University.
He was previously Vice President of Strategy and Business Development at VoiceGenie Technologies, a software firm now owned by Alcatel-Lucent. In 2004, Jackson founded the Young Patrons' Circle at the Royal Ontario Museum in Toronto, which is now the second-largest social and philanthropic group of its kind in North America, raising $500,000 annually for the museum. You can follow Jackson on Twitter at www.twitter.com/ericjackson or @ericjackson.
You can contact Eric by emailing him at eric.jackson@thestreet.com.