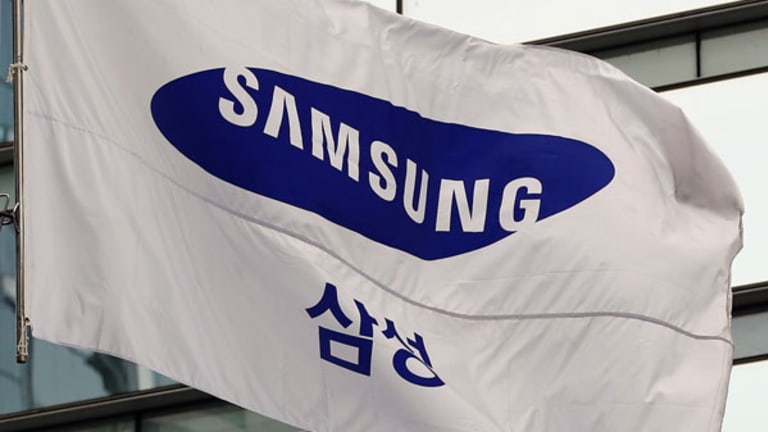 Apple Definitely Cares Less About an iWatch
While analysts and investors hope to see an iWatch from Apple, it is unlikely to make a difference in Apple's performance considering its current product lineup.
NEW YORK (TheStreet) -- My Dec. 12 article, I Still Don't Understand the Smartwatch, was steered largely toward Samsung's Galaxy Gear -- which I find completely unattractive in many facets. 
Today's focus, however, is not on Samsung's potential flop of a smartwatch, but rather, Apple's (AAPL) - Get Apple Inc. Report possible duplicate of such a product as I'm not buying into the concept that investors and analysts need to see an iWatch from Apple just to prove it can innovate.
We already know Apple can innovate. Though Apple didn't invent Smartphones, tablets and mp3 players, it was the first company to get them right and really make them into desirable products. Apple not only nailed the products, but it also nailed consumers' perception of them -- maybe I'm the only one feeling this way?
Apple shouldn't rush something to the market that's largely irrelevant. While compiling estimates on a product that has yet to exist seems rather meaningless and slightly idiotic, that hasn't stopped analysts from doing so. 
Piper Jaffray's Gene Munster suggested that if 2-to-4% of current iPhone users buy an iWatch, it will sell between 5 and 10 million units. Taking the best case scenario of 10 million units, that's good for about $3.5 billion in revenues -- based on a $350 price tag for the iWatch. 
If Munster's estimates for this nonexistent product are semi-accurate, the iWatch would hardly constitute as a needle-mover for a company the size of Apple. With fiscal 2013 revenues of $170 billion, the iWatch would have accounted for a minuscule 2%. 
Of course, this isn't accurate either, since it's based off of an estimate of something having a good chance of existing. See my point? We have no clue.
But at that rate, even 25 million units at the hefty cost of $350 would still have only accounted for 5% of revenue at the time. 
In actuality, an investor who is sitting on the sidelines -- ignoring Apple's valuation, current product line up, dividend and share repurchase -- and buys the stock because the company released an iWatch, has invested backwards. 
Apple can innovate, and releasing a product for the sole purpose of releasing a product is stupid. 
The Samsung Gear has reportedly shipped 800,000 units since its release in September. Analysts would be pounding Apple into dust if they saw a figure like that come from the Cupertino juggernaut. 
Even worse, the 800,000 only represents shipments, not sales. The Gear is also being found bundled with the Galaxy Note 3 and Galaxy S4, and in some cases, for free.
Forget Samsung in all of this. Focus on Apple. Investors and analysts are demanding an iWatch to prove innovation. But if it comes to market and sales do poorly, followed by product bundling, then game over. 
I don't want to see a low margin, revenue-irrelevant product bundled with iPhones and iPads. That's not the Apple way. Not even close. It doesn't need to spend billions of dollars in research, just to break-even and "prove" that they can do it. Of course they can. It's already been proven!
We've seen Apple create strong revenues out of thin air before. Look at the iPad, which sold 14.1 million units last quarter, good for $6.2 billion in revenues and accounted for ~16% of fourth quarter revenues of $37.5 billion, ahead of a new product refresh. Impressive. 
So it's quite possible that, if done correctly, the iWatch could be good for the company's bottom line, though it's likely not a game changer. The price tag will be too low and consumer adoption will be too faint for it to truly make a difference. 
Apple still has strong iPhone and iPad sales. Each received a nice face lift into the holiday season, which should help propel the stock to a strong first quarter when it reports in January.
Hell, just the current products will give Apple a push through 2014. Especially as investors' hope builds leading into its next big thing and optimism swells around the new -- for real this time -- deal with China Mobile Limited (CHL) - Get China Mobile Ltd. Report. 
That "next big thing" will need to be different and viewed as a must have by consumers for it to make a solid dent in Apple's current war chest of products. The iPhone accounted for roughly 52% of its sales in the previous quarter. 
Seeing another product come to life and reduce some of that risk exposure would be nice. Plus, that would prove Apple can innovate. 
The iWatch could be awesome, but I'm not betting the farm on it. Two to three years down the road, wearable smartwatches could be capable of doing some really cool things. 
But for now, I just don't need a watch to tell me that I have a text. The two seconds it takes to check my phone is certainly enough, but maybe Apple can change that mindset.
At the time of publication, the author was long AAPL. 
-- Written by Bret Kenwell in Petoskey, Mich.
Bret Kenwell currently writes, blogs and also contributes to Robert Weinstein's Weekly Options Newsletter. Focuses on short-to-intermediate-term trading opportunities that can be exposed via options. He prefers to use debit trades on momentum setups and credit trades on support/resistance setups. He also focuses on building long-term wealth by searching for consistent, quality dividend paying companies and long-term growth companies. He considers himself the surfer, not the wave, in relation to the market and himself. He has no allegiance to either the bull side or the bear side.