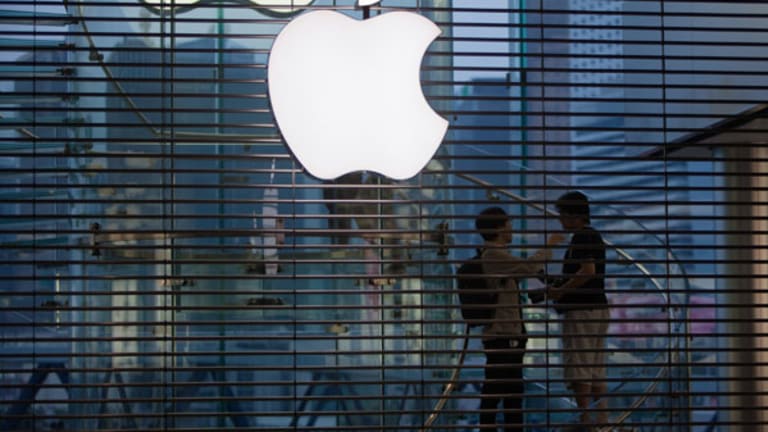 Apple: David Einhorn Responds to Being Labeled a 'Hustler'
Apple is not Microsoft or Intel. So don't wish for them to act like these underperformers.
NEW YORK (TheStreet) -- On Friday, I published Einhorn's a Hustler and He Doesn't Understand or Care About Apple.
Over the weekend, hedge fund manager David Einhorn sent me an email and we had what ended up a constructive exchange.
I'm not going to kiss the guy's tail. As much as I enjoyed his
, I don't buy Henry Blodget's repeated "You are vastly more sophisticated" and "way smarter than I am" act; that's a weak way to concede an argument. If you're not sophisticated or smart enough to make your case in the first place, then why make it?
That's why I never got into the merits of Einhorn's preferred stock proposal. Frankly, I don't understand it well enough. At the same time, I feel strongly that Einhorn -- and others -- miss big when they demand that
Apple
(AAPL) - Get Free Report
(A) has a responsibility to return even more cash to shareholders and/or (B) needs to do something
better
with its cash.
Apple has never acted merely for the sake of acting or because an MBA textbook prescribes that it should.
But I humbly digress. There's one thing I wish I would have done differently in Friday's article. And, for the record, Einhorn put no pressure on me to say this; I'm doing it of my own accord because it's simply the right thing to do.
In one of the emails we exchanged, Einhorn said this:
Hustling is what an energetic center fielder does to get a fly ball in the gap. A hustler is a con man, who operates on the edge of the law and at a minimum takes advantage of people.
Well-stated. As a person who takes the not-so-subtle differences between words seriously -- and appreciates well-done rhetoric -- I value Einhorn's distinction. I agree with it. I'm always hustling, but I'm not a hustler. Although trading a few emails doesn't make us buds, I'm confident the same applies to Einhorn. I think he's a good guy.
>>>Read "Buying What Is Cheap, Hated and in an Uptrend" on TheStreet
I called him out. Einhorn responded. In this business, you can't ask for much more than that. If he considered himself too big -- or me too small -- for engagement, all I could do is continue to speculate about his motives.
After conversing with Einhorn, it's clear that he has well-thought out and well-informed opinions on Apple. He's convinced that Tim Cook runs a software company; that Apple's hardware sells (and provides a lion's share of the company's revenue and profit) because it runs Apple software and the Apple ecosystem. But this view minimizes the design achievements of Apple devices.
Heck, when Apple Maps flopped, everybody wanted a Google Maps app. But they wanted it on their iPhones. It's not like more than a handful of people, if that, said
screw this, I'll just switch to Android
. Not at all, you keep the Apple hardware to run all sorts of platforms. Sometimes they're Apple platforms; however, quite often, probably more often than not, they're somebody else's, be it
Google's
(GOOG) - Get Free Report
,
Netflix's
(NFLX) - Get Free Report
or
Pandora's
(P)
.
It's a debate I find fascinating. Einhorn and I agreed to disagree on hardware versus software.
On his preferred stock proposal, Einhorn strongly believes Apple has an obligation to return cash to shareholders/allocate its capital differently. He reminded me that he feels the same way about several other companies he called out at last year's Ira Sohn conference. This helps illustrate another major point of departure between the two of us.
The rules other companies should supposedly play by do not apply to Apple. Or at least they should not. When it comes to capital allocation, Einhorn makes a strong argument (even if I don't agree with it), but he and practically everyone else who is on Apple's case falls limp when they say something to the effect of
Apple is not successful because it manages its cash well
and
It will not become unsuccessful if it gives up some of its cash
.
That's not the point.
There's clearly a relationship between all of the seemingly disparate parts that make up Apple's otherworldly whole. Chip away at too may of them because, in isolation, you think you're not making change that will disrupt the company's internal culture and competitive dominance and, lo and behold, you end up disrupting the roots of Apple's success.
The other thing I will not back down on -- and Einhorn did not seem to dispute -- is that he's in the business of maximizing his investments. While he did tell me that he's done well on his position, he's not concerned with the next $50 move in the stock, regardless of direction and, at this point, he has no plans to sell anytime soon. He still manages a hedge fund that needs to continue generating solid returns.
AAPL is down nearly 4% over the last year. It's off 13.5% year-to-date. That's not good for somebody like Einhorn, particularly when he believes in the company and intends to maintain his position in the stock. Apple can ease the brunt of this stock-related cold spell by providing other avenues for returns.
As a company, I see no reason why Apple needs to do this. They're not
Microsoft
(MSFT) - Get Free Report
or
Intel
(INTC) - Get Free Report
. They're Apple. So don't wish for them to act like these underperformers.
I won't even say, "Be careful what you wish for." Just simply reconsider exactly why you're wishing for it in the first place.
--
Written by Rocco Pendola in Santa Monica, Calif.
Rocco Pendola is
TheStreet's
Director of Social Media. Pendola's daily contributions to
TheStreet
frequently appear on
CNBC
and at various top online properties, such as
Forbes
.