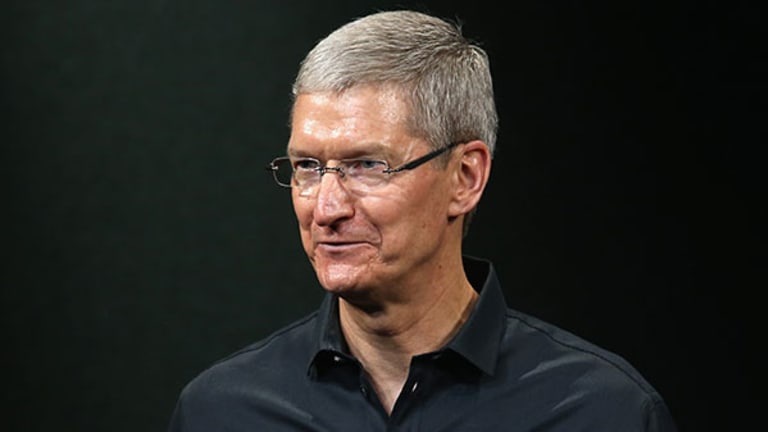 Apple Crash Portends Tech Stock Crash
Once an inferior name or two gets exposed, dominoes will fall and Apple will rise.
NEW YORK (TheStreet) -- Monday, in reaction, to Apple (AAPL) - Get Apple Inc. Report earnings, I published Apple Proves That Our Society Stinks.
It's a reflective little ditty about Jack, Diane, Timothy D. Cook and this toxic society we run in. An absurd and irrational one fueled by Internet beer muscles and social media cowboys who, out of what's likely bitterness, cut down those who ought to inspire them.
I have had as many questions as the next worthless hack about Cook's ability to innovate over the long-term, but I know when to let common sense prevail.
So, with that in mind, a few key thoughts pursuant to questions I have been asked via email and Twitter after the above-linked post-earnings article.
At the end of 2013, I argued that AAPL would soar to $1,000 in 2014.
Do I think that's still possible? Yes. Can I, in good conscience, stick to the prediction? No way.
Common sense tends to urge me to err on the side of caution. While AAPL looks like a bargain closer to $500, there's nothing rational about the way investors treat this company, particularly when you compare it to the relative dogs I'll bring up later in this article.
While you can see this as a buying opportunity, you have to check the emotion that might lead you to go against the grain.
For all the crap I'm taking for Netflix's (NFLX) - Get Netflix, Inc. Report quarter, it should be noted that from $60 (Summer 2012) through $300 not once did I step in front of that train.
Simply put, you can hate a company and love a stock. And you can love a company and hate -- or wax lukewarm on -- its stock. In this market, you have no choice. Cramer illustrated this notion quite well late last year in The Case for Amazon.
Common sense isn't prevailing in a way that would make things right. In the AAPL to $1,000 article I referenced iPad Air as a game changer. As a reason why skeptics should have more confidence in Tim Cook than they had, say, a year ago. But, again, throw logic out the window here.
You just can't convince the people who hate and/or misunderstand Apple that, as has always been the case, this company will disrupt and destroy when it's ready.
But even if Apple has relatively little on the horizon, go listen to the conference call and tell me that a) it's not in better shape -- no matter how you measure it -- than any of its competitors and b) doesn't have as lucrative opportunity, if not considerably more so, than any of its competitors.
On either point, it's just absurd -- objectively absurd -- to put anybody ahead of Apple.

You know I'm not a valuation guy, but sometimes it's a relevant thing to bring up.
How can investors value Netflix -- a company with scant free cash flow, another debt financing on the horizon, billion upon billions in off-balance sheet obligations and fierce competition in an environment where it simply cannot control its costs -- at a P/E ratio of 206 and Apple at just 13, before the crash (!)?
Consider Microsoft (MSFT) - Get Microsoft Corporation Report, a company investors assign basically the same value they do Apple (as of Monday's close).
We're running around cheering (MSFT popped 2% the day after earnings) the allegedly amazing quarter Microsoft had thanks, in part, to Surface tablet sales yet, as Timothy Stenovec first observed over at Huffington Post, the so-called success of this inferior tablet is tantamount to a lie.
As Stenovec points out, Microsoft reported Surface tablet revenue of $893 million, yet it cost $932 million to generate that revenue. At least in the consumer market, this is a desperate company with hardware -- outside of Xbox -- nobody wants. They have to give this trash away.
We could go on and on. We could go company by company through the broad tech sector. Point by point. And, over and over again, Apple would come out on top, by leaps and bounds. From its balance sheet to its product line to the prospects of what it might do next -- outside of Amazon.com (AMZN) - Get Amazon.com, Inc. Report and Starbucks (SBUX) - Get Starbucks Corporation Report -- no other tech companies compare.
All of this is not to say, NFLX is overvalued or MSFT should be valued lower. Not at all. Again, I don't play the valuation game. You can't in this market.
However ... and this is the important part ...
If this is the party we're going to snort coke at -- NFLX at a P/E of 200, AMZN at a P/E of 1,400 (forward P/E of 145) -- there's no reason not to let AAPL in on the fun. It deserves a glass coffee table (like the one Steve Ballmer fell through last year), a razor blade and a straw as much as the next guy.
However ... and this is the even more important part ...
If we're going to leave Apple out and, for all intents and purposes, assign it different rules simply because it has set the bar so high for itself, we better get ready for all hell to break loose. Because that's what we're setting ourselves up for.
If Amazon lays an egg even the greatness of Jeff Bezos cannot overcome on Thursday, the bottom could fall out of that stock. Same goes for NFLX down the line if that company's bears live to fight another day. When one of these names cracks, investors are going to start more critically considering other high flying stocks in tech.
If you're long tech, you don't want to see that happen.
Investors will look at social media companies that are doing little more than testing strategies they kind of, sort of think might have a chance at generating sustainable amounts of advertising revenue. And they're going to knock their respective blocks off. Once an AMZN or NFLX falls, expect Facebook (FB) - Get Meta Platforms Inc. Class A Report and/or Twitter (TWTR) - Get Twitter, Inc. Report to follow. And the dominoes will tumble down in market crashing succession.
Because the last thing you want if you're long companies that couldn't hold Apple's jock strap in a bye week is for investors to turn a critical eye to their businesses.
There's irony in this, albeit, speculative, hell just broke loose scenario -- tech investors will seek stability. They'll go bargain hunting and, lo and behold, they'll find AAPL sitting there bruised and battered.
Upon critical inspection (there's a concept!), they'll conclude that if they're going to get long anything tech it should be the most stable and promising company in the world. Apple will then lead the recovery and subsequent rally. And, finally, common sense will prevail as close as we're ever going to get to across the board.
--Written by Rocco Pendola in Santa Monica, Calif.
Disclosure: TheStreet's editorial policy prohibits staff editors, reporters and analysts from holding positions in any individual stocks. Rocco Pendola is a columnist for
TheStreet
. Whenever possible, Pendola uses hockey, Springsteen or Southern California references in his work. He lives in Santa Monica.