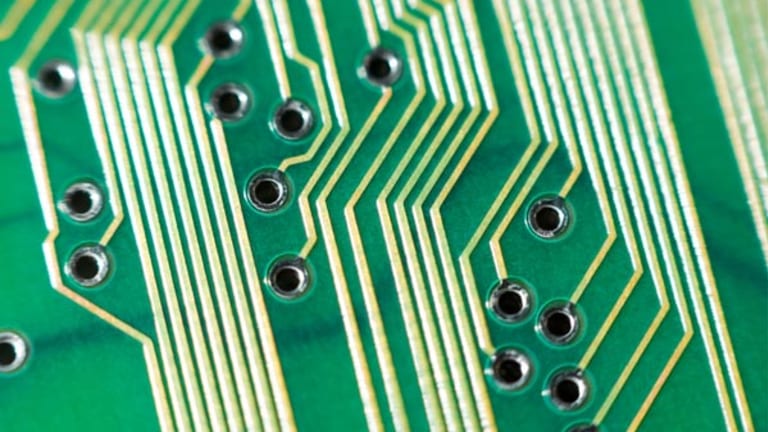 Apple Could Have 80% Market Share in Everything. Tomorrow.
A few basic points that rarely come up in discussions about Apple and market share.
NEW YORK (TheStreet) -- As I explained earlier this week, there's some really horrible Apple (AAPL) - Get Apple Inc. Report coverage making it to air. Really bad. Clueless. Brainless. No substance. No context. An absolute insult to our intelligence.
Even if you're not an Apple fanboy, fangirl, product lover, shareholder or iPhone/iPad data hog, this should concern you. Not quite to the level of the State controlling the media in China or Keith Olbermann searching for a gig, but pretty damn close.
The real problem is the no context part. We get Bushian dichotomy when certain segments of the financial media "analyze" Apple. Sure, there's the
Will Apple live or die?
Either/Or ... Okay, Okay ... We'll stop down and watch it just one more time:
But it's more than just this one example. Granted, that clip makes the ideal poster child of ineptness, but Betty Liu is hardly the only guilty party. How many times do you hear people reference "market share" and the growth of
Google's
(GOOG) - Get Alphabet Inc. Class C Report
Android platform as evidence of Apple's demise?
Too often.
It should never happen. When it does, make no mistake, you're witnessing a wholesale misunderstanding of Apple.
I enjoy seeing
as much as the next guy:
Gartner also measured sales by mobile operating systems and found that nearly 70% of all smartphones purchased in the fourth quarter of 2012 ran on Google's Android OS and about 21% used Apple's iOS ... 3.5% of phones ran on BlackBerryundefined, 3% on Microsoft's (MSFT) - Get Microsoft Corporation Report, 1.3% on Samsung's Bada featurephone OS, and 1.2% on Symbian.
But it serves to further pollute the waters vis-a-vis what Apple is about.
We'll see how he decides to proceed, but, for the time being, it appears Tim Cook is more like Steve Jobs than many of us gave him credit for at the outset.
>>>>Read "On Valentine's, Fall Back in Love With Your Job" on TheStreet
Granted, I don't agree with some of his moves, but Cook is who he is. He's a nice guy. Jobs, reportedly, wasn't. And, as a nice guy, he's going to run the company differently. As much as that, in some respects, concerns me, I can do nothing but accept it. And, frankly, I root for nice guys to win. I admire Jobs, but if I had to pick friends, based on what I know, I would go with Cook first.
At Apple's core, Cook looks as focused, committed and even stubborn as Jobs. For whatever reason, the media glosses over so much of what Cook had to say on Apple's most recent earnings call and at this week's Goldman Sachs' powwow.
Things like ... paraphrasing here ...
We could do lots of things to generate revenue, but we're not going to just produce random products because we can
. That's not a talking point. And, if it is, it's wholly genuine. Apple could -- tomorrow -- do several things to become the market share leader in everything. Not just tablets.
I'm not pointing to
. That's nothing. Means little to me.
If Apple decided to license its operating systems (iOS and OS X), with very few rules, to all those willing to run them, it would likely crush Android within a few minutes. Give up the logo, the branding, the image, everything. From there, you would have cats like Meg Whitman jumping on the gravy train and building $199, $249 "MacBooks" like we're seeing with
.
License the ecosystem out and iOS and OS X become, for all intents and purposes,
iTunes
. Run on inferior hardware purchased by enough people willing to compromise just so they can say they're having something like the Apple experience. It would be epic. The move would increase Apple's hardware sales because, users of licensed products would soon discover that iOS and OS X, like iTunes, simply ain't the same when it's not run on an Apple-designed and -produced device.
>>>>Read "Forget Apple! Bet on Big Media Conglomerates" on TheStreet
Apple would become
the Toyota (TM) - Get Toyota Motor Corp. Report Prius
of the mobile, laptop and desktop world. You know - you can't afford a
Tesla
Roadster or Model S so you buy a Prius because you can say, "Look at me. I drive what Hollywood celebrities drive."
Apple would thief loads of market share around the world. It might even save companies such as
Dell
(DELL) - Get Dell Technologies Inc Class C Report
and
Hewlett Packard
from their pending deaths. It would be earth shattering.
Of course, it will never happen. Shouldn't. Probably can't. But, the point here is that Apple is not a market share company. It's an aspirational brand with considerable social status. Apple needs to fight to hang on to that, not move in the opposite direction for no good reason.
Like I said, make a statement by
pulling its products from third-party retailers
. We're not going to slum it like the rest of the world with cheap products in
unimaginative, run-of-the-mill, drab and depressing consumer environments
.
--
Written by Rocco Pendola in Santa Monica, Calif.
Rocco Pendola is
TheStreet's
Director of Social Media. Pendola's daily contributions to
TheStreet
frequently appear on
CNBC
and at various top online properties, such as
Forbes
.