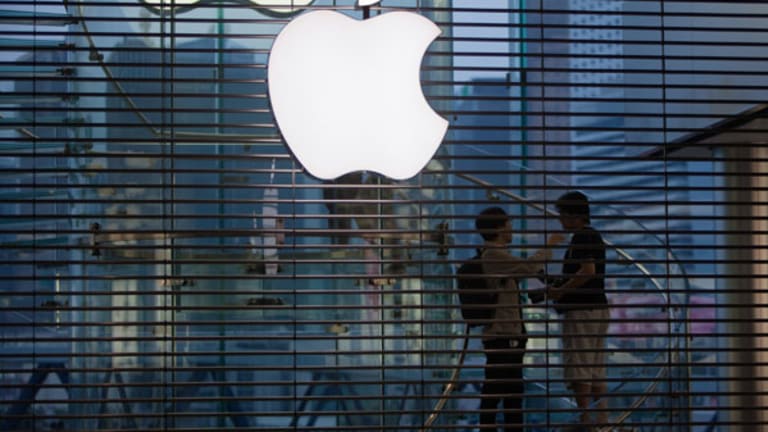 Apple Comeback Begins Attractively Priced
Investors who forget what makes this such a remarkable company do so at their peril.
NEW YORK (TheStreet) -- At the end of my most recent article was a postscript regarding Apple (AAPL) - Get Free Report. It was a reminder of the great reputation this superstar enjoys.
To recap, the announcement said:
Turns out, we spoke too soon. For the ninth time in a row, iPhone ranks 'Highest in Customer Satisfaction with Consumer Smartphones' by J.D. Power and Associates. iPhone ranked highest in a study that looked at the following categories: performance, physical design, features, and ease of operation. In fact, iPhone has ranked highest in each of these studies since the first iPhone was introduced.
Also see: Cramer Greets the 21st Century: Twitter
So many pundits and critics have virtually pronounced Apple shares doomed to a long, grueling descent into the dungeon of has-been companies. Yet, when you look at the following one-year chart you'll see that while the doomsayers prattled on about this cash-rich "Mercedes" of smart phones, tablet computers (iPad and mini iPad), laptops and desktop computers, it has started back up the price ladder.
data by
Look at the solidly positive direction of AAPL's trailing 12-month cash from operations and its quarterly revenue per share. Even at the current share price of around $462, AAPL is trading with a trailing PE of slightly more than 10 and a forward (one-year) PE of just 9.3.
This remarkable cash cow, which generates about $16 billion in cash per quarter, is selling at a price-to-earning-to-growth (PEG) ratio of 0.55. This indicates the price per share only reflects about half of the earnings growth rate of the company. Absurd and mouth-watering all at the same time!
Jim Cramer and Stephanie Link actively manage a real money portfolio for his charitable trust- enjoy advance notice of every trade, full access to the portfolio, and deep coverage of the latest economic events and market movements.
Also see: 10 Ways Your Credit Can Betray You
Although it's not an "apple-to-apple" comparison, when you consider that
Amazon
(AMZN) - Get Free Report
is selling for around $255 a share and lost money last quarter you begin to wonder. AMZN is selling at a forward PE ratio of over 71 (that's 71 times earnings) and has a PEG ratio (year-year expected) of 4.33suggesting overvaluation. So by comparison you can discern just how inexpensive the shares of AAPL truly are.
Over the weekend I was reading the March 18 edition of
Fortune
magazine. The publication asked 3,800 executives, directors and analysts to choose the 50 best, most-admired companies in the world. Amazon came in third. Guess which company was in first place for the sixth consecutive year?
Yep, Apple!
The magazine wrote about AAPL, "
It seems it will take more than a business moment to put a serious dent in Apple's image, at least in the eyes of its admiring corporate peers."
Investors forget this at their own peril. Apple scored Number 1 in a carefully selected nine-point evaluation of similar companies as well as a general poll of all those who responded to
Fortune's
Most Admired Survey.
When compared to its peers such as bumbling
Hewlett-Packard
(HPQ) - Get Free Report
, APPL shines like the top of the Chrysler Building in New York City. Its greatness and reputation are untarnished, absolute brilliance.
Also see: Program Matches Retirees With Nonprofits
There are many reasons to believe in Apple's "persistent potential" including its ability to maintain a low profile while it prepares to surprise both investors and shareholders, just as they've always done. In the past 10 years the company that gave us iTunes, the iPod, five iterations of the incomparable iPhone and three years' worth of the best-selling iPad and Mini iPad is probably working on its next blockbuster product.
When J.D. Power and Associates ranks you as the company that is "Highest in Customer Satisfaction with Consumer Smartphones," you have a lot to live up to.
The much-missed Steve Jobs wanted his company to be "insanely great." In my book it's "sanely successful." With zero debt and, by some estimates, over $130 billion in cash and cash equivalents hoarded around the world (not to mention it pays over a 2% dividend when the 10-year U.S. Treasury bond currently pays 1.91%) it almost pays us to own this dominating luminary.
At the time of publication the author was long AAPL.
This article was written by an independent contributor, separate from TheStreet's regular news coverage.
Most large cap stocks were once small and mid-cap stocks. Bryan Ashenberg is here to help you find the cream of the crop amongst the market chaos.