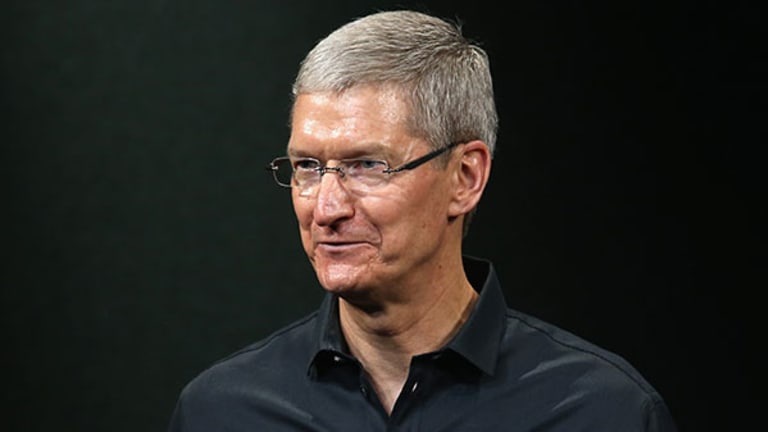 Publish date:
Apple Can't Lose Unless It Beats Itself
The competition can't touch Apple. Tim Cook knows this. So why take such a big risk on Beats Electronics?
The competition can't touch Apple. Tim Cook knows this. So why take such a big risk on Beats Electronics?
NEW YORK (TheStreet) -- The bandwagon jumpers in the tech and financial media have loaded their echo chambers with Apple (AAPL) - Get Report wants Beats because it wants Jimmy Iovine. That's what one scribe and talking head after another continues to regurgitate. While technically accurate, it's a surface scratch. But let's forge ahead for a deeper feel for what I think is really going on.
If Apple loved Jimmy Iovine so much, it would have offered him a trillion dollars in cash and stock to leave Beats. Pretty simple. There's no reason or logic behind Apple making a $3.2 billion acquisition just to obtain one -- or even a few individuals. It's intellectually lazy (and lacking) to latch onto the notion of an Apple takeout of Beats being an acui-hire.
Here's the deal as I have pieced it together via my own noodling as well as on-the-record conversations with people in the know and off-the-record winks and nods with other people also in the know ...
Yes, Apple wants Beats' headphone business. It makes money. And Apple can integrate and enhance it nicely. We've already established that.
Yes, Apple wants Beats Music, which, as even I have failed to realize, is an extension of Beats Electronics. So the profitable parent company (so to speak) bankrolled those Super Bowl commercials (and other marketing crash bang) to brand Beats Music as said extension of Beats Electronics. Beats Music is part of the trajectorial (my word) vision of the people behind Beats headphones. 
Clearly, music is the central focus of the overall Beats strategy, be it headphones or streaming media. Apple believes music can be and should be a central focus of its wide-ranging ecosystem which drives hardware sales and it's now relatively underwhelming mobile advertising business.
It's not simply that Apple wants Iovine. It's deeper than that. Each of the folks at Beats stand for something strategically. And it's all quite coherent as it comes together.
For example, Trent Reznor, as much as I don't care for his approach, is the musician obsessed with giving musicians control over their brand across the Web. Nobody does that yet. MySpace came closest, but that's as good as gone. Beats wants to assume and perfect that function.
Jimmy Iovine is not only the marketing mastermind with rock solid music industry footholds and relationships, he's also the guy who believes he -- along with the entire team at Beats Music -- can change behavior. He can get people, including young people, to buy streaming muisc subscriptions. Tall order, but that's what Beats aspires to do -- complete the transition from the death of downloads to the birth of buying as much music as you want in the cloud for ten bucks a month.
Now that that's established on to Page Two to pull it all together ...

So Beats pitched Apple on its view of the world, particularly as it pertains to music. And Apple bought it. Exepct Apple to hyper focus on being that central spot on the Web for musicians to locate and build their brands. And, in typical Steve Jobs-fashion, expect Apple to bring people what they want (the value of subscription-based streaming) before they know they want it.
Tall order. Apple can and will get the central sport on the Web for musicians part done. That's relatively easy. It's the second part of the equation I'm not so confident about. Attempting to change behavior is a risky proposition. Jobs did it several times. Amazon.com (AMZN) - Get Report basically did it once, but in very different contexts. Not in situations where people expect to get their music for free. I love subscription-based streaming, but most others do not. At least not right now. 
While I'm skeptical that Beats Music can succeed as positioned -- even inside Apple -- I'm impressed not merely that they want to try, but how deeply they believe in the righteousness of what they're doing (even if it might be ill-advised). I'm impressed that Apple, as it seems to me, wants to give Beats Music the opportunity to realize its vision. That says a lot about Tim Cook, who appears, at least in this regard, to be every bit the dreamer as Steve Jobs.
And Beats will be better off inside Apple, particulalrly if Apple gives it the resources it needs alongside some breathing room. Beats Music can lose money under Apple and it won't matter because it will be subsidized by Apple. Like a coach who faces the media for his players, Apple will provide cover for Beats Music. It will be part of Apple's larger ecosystem strategy, which provides both the aforementioned cover and opportunity.
While Apple absolutely can't miss with iPhone 6 (it's going to freaking demolish Android), it might miss on this Beats deal. As I see it coming together, it's an incredibly risky undertaking. But I'm proud of Apple for going there (assuming it actually does!). I also realize it's sort of like a half risk for Apple. If Apple fails or just barely succeeds with Beats, it's not going to impact the dominance of iPhone 6, which will probably be the central Apple story of late 2014 going into 2015 anyhow. If Beats Music comes through on or ahead of schedule, that'll be icing on the cake. Otherwise, it's spun as a long-term opportunity still in its infancy, coupled with an already successful and quite killer headphone brand.  
--Written by Rocco Pendola in Santa Monica, Calif.
>>Read More:
What Happened to Microsoft's Surface Mini?
How Netflix Intends to Take Over the World
Target's Heart-Wrenching Issues Explained in Two Graphic Photos
Rocco Pendola is a full-time columnist for
TheStreet
. He lives in Santa Monica. Disclosure: TheStreet's editorial policy prohibits staff editors, reporters and analysts from holding positions in any individual stocks.