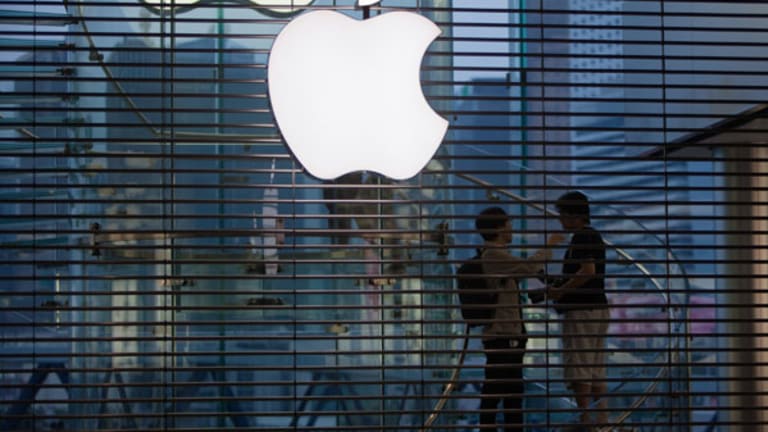 Publish date:
Apple Broke; Stock Market Will Follow
Apple's fate is inextricably linked with the fate of many companies.
Apple's fate is inextricably linked with the fate of many companies.
NEW YORK (TheStreet) -- In my article, If Apple Breaks $419, the Stock Market Will Break, I warned that a break of that critical support level would spell trouble for the entire stock market.
Apple
(AAPL) - Get Apple Inc. (AAPL) Report
is the most valuable and influential stock in global stock markets based on a combination of market capitalization and its trading volume.
Although Apple's stock price decoupled from the broader market several months ago due to idiosyncratic factors specific to Apple, I believe that any further downside for the stock will serve as an indicator of more widespread worries about sales growth and profit margins for the stock market as a whole.
>>Also see: Apple Shares Tank on Cirrus Logic Results >>
The importance of Apple does not merely arise from the huge weighting (about 5%) that Apple's EPS represents in the overall EPS for the
S&P 500
undefined
.
The situation with
Cirrus'
(CRUS) - Get Cirrus Logic, Inc. Report
earnings warning today is just one example of how the fate of Apple is inextricably linked with the fate of many companies in the stock market, particularly those that comprise technology sector indices such as
Nasdaq 100
and index ETFs such as
PowerShares QQQ
(QQQ) - Get Invesco QQQ Trust Report
.
But troubles with Apple will merely serve as a psychological trigger that will likely prompt many investors and traders to examine the deteriorating fundamentals in other sectors besides technology.
For example, as a result of the ongoing crash in commodities prices, the EPS estimates of the entire basic materials sector of the S&P 500 are going to be have to be revised drastically lower. And the entire energy complex which has a huge weighting in the S&P 500 (about 11%) and ETFs such as
Energy Select SPDR
(XLE) - Get Energy Select Sector SPDR Fund Report
is likely to have its EPS estimates seriously downgraded as well due to declining oil and gas prices. Here the key level to watch is $84 on WTI crude oil. I would expect a break of that level to trigger a 15% correction in energy sector stock prices.
Consumer discretionary stock prices and ETFs that follow this sector such as
Consumer Discretionary Select Sector SPDR
(XLY) - Get Consumer Discretionary Select Sector SPDR Fund Report
are also far too buoyant given the deterioration of global growth indicators.
A variety of key leading sectors are either testing or breaking through their 50 day moving averages. The
Dow Transports
just broke through its 50-Day and the all of the energy indexes have crashed through their 50 day moving averages.
>>Also see: Through Apple's Pain, Amazon Remains >>
All of this suggests a garden-variety stock market pull-back developing that should ultimately take stocks down to the 1475 to 1500 level on the S&P 500. A major exogenous shock would probably be necessary to propel a pull-back beyond this level. We are still in a cyclical bull market and most intermediate term macro-fundamental and technical indicators remain quite strong.
At the time of publication the author held no positions in any of the stocks mentioned.
This article is commentary by an independent contributor, separate from TheStreet's regular news coverage.
James Kostohryz has accumulated over twenty years of experience investing and trading virtually every asset class across the globe.
Kostohryz started his investment career as an analyst at one of the US's largest asset management firms covering sectors as diverse as emerging markets, banking, energy, construction, real estate, metals and mining. Later, Kostohryz became Chief Global Strategist and Head of International investments for a major investment bank. Kostohryz currently manages his own investment firm, specializing in proprietary trading and institutional portfolio management advisory.
Born in Mexico, Kostohryz grew up between south Texas and Colombia, has lived and worked in nine different countries, and has traveled extensively in more than 50 others. Kostohryz actively pursues various intellectual interests and is currently writing a book on the impact of culture on economic development. He is a former NCAA and world-class decathlete and has stayed active in a variety of sports.
Kostohryz graduated with honors from both Stanford University and Harvard Law School.
View Kostohryz's LinkedIn profile and connect with him
; follow him on Twitter
and Google+
. When connecting, be sure to identify yourself as a reader from
TheStreet
.