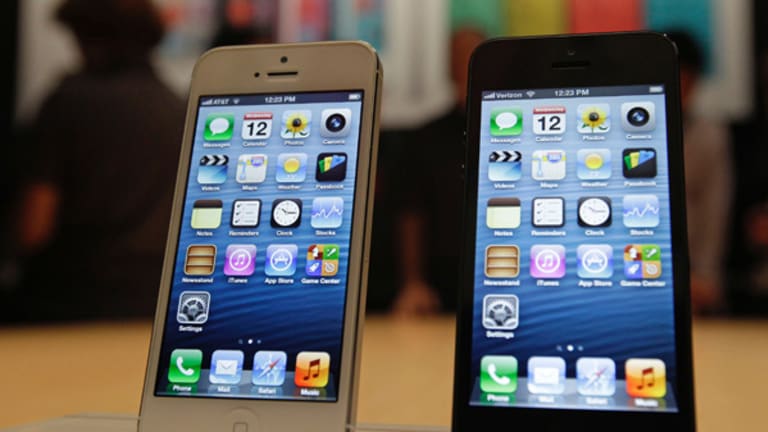 Apple at $500 -- No, Apple at $600
Apple's upcoming product releases will help keep Apple's stock moving higher.
NEW YORK (TheStreet) -- Remember this article, "Apple Just Signaled the Bottom You're Waiting For?"
A month later, it appears
Apple
(AAPL) - Get Report
has found the bottom and the support level investors were willing to draw a line in the sand at. Shares in Apple are steadily climbing, and the daily Grim Reaper arrival sightings are finally dissipating.
But Apple shareholders have something else to look forward to as well.
It's that time again: the Applephere is buzzing over the possible features and costs of the upcoming dual iPhone products. iFanatics are highly anticipating two new flavors in September.
One is targeted at the mid-level market, dubbed the 4C, presumably because "iPhone 4 mini" doesn't have quite the ring to it even though it's the likely sales model Apple will follow considering the enormous success the tablet has enjoyed. Another mid-level model from the 5 series is expected as the 5C.
Skeptics of Apple's ability to maintain margins, revenue and profitability need to look no further than the iPad Mini's introduction to comprehend Apple is firing on all eight cylinders.
The other product is likened to an iPhone 5 on steroids or, as described by some, an incremental update. Regardless of what you call either product, don't forget to call both products highly profitable.
Google's
(GOOG) - Get Report
Android-based phones may have greater market share, but you put cash into the bank, not market share.
Microsoft
(MSFT) - Get Report
, through
Nokia
(NOK) - Get Report
and
BlackBerry
(BBRY)
, are left picking up any scraps falling from the table and have relegated themselves to insignificance from an Apple earnings point of view.
data by
The question Apple investors need to ask is, if the upcoming release is a "buy-the-rumor, sell-the-news" type of event. You may recall that's exactly what I
. In Apple's case, if the stock can break above, and stay above, the 200-day moving average -- which I believe will happen long before the expected launch date of Sept. 10 -- I think the next stop for Apple is a retest of $500.
I also view $500 as just a short pit stop on the way back closer to $600. The negative drum beaters and pundits have kicked the dead horse of Apple failure about as long as anyone wants to hear it. Apple doesn't need this phone to keep the momentum going. Apple's upcoming iPhones may not set the world on fire; however, they don't hold a "make-or-break" outcome from Apple, and don't let anyone convince you they do.
Apple and the shareholders want the launch to have success, but don't need it. That's the difference between BlackBerry's long-awaited, and Apple's not-so-long-awaited releases. So look forward to a rising share price between now and then, but don't expect it to mark the top of the current move higher.
If you are worried about it, however, one way to protect yourself is sell call options against some of the shares you own. Covered calls allow investors to hedge their positions while capturing what should be an increase in volatility premium about September 6th, the weekend before the rumored launch date.
If everything goes according to plan and shares increase, you can buy the options back at what is likely a lower-volatility premium. If Apple does fall, you have the premium sold to cushion the impact.
At the time of publication the author had no position in any of the stocks mentioned.
This article was written by an independent contributor, separate from TheStreet's regular news coverage.
Robert Weinstein is an active trader focusing on the psychological importance of risk mitigation, emotion and financial behavior of market participants. Robert co-founded the investing blog
, where he writes a journal about his trading activity and experiences.
In addition to
TheStreet
, Robert also contributes to
Real Money Pro
, providing real-time trading ideas for stocks, options and futures.