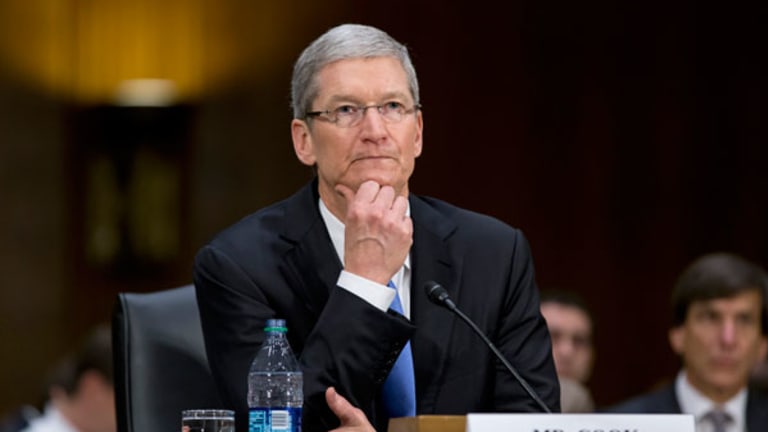 Apple Annihilates Android, Crushes Stock Market in 2015
iPhone 6 will change the game. And Apple will own the 2014-15 holiday shopping season.
NEW YORK (TheStreet) -- I stand by what I said -- Apple's (AAPL) - Get Apple Inc. Report iPhone 6 will demolish Android. The larger screen alone will catapult Apple past Google's (GOOG) - Get Alphabet Inc. Class C Report lame hardware partners, particularly in the United States.
The gravity of what you're about to read here steps to an entirely new and otherworldly level when you consider it in conjunction with reports that Apple will not only release a new iPhone, but couple iPhone (and maybe iPad) with a "Smart Home" software platform to seamlessly connect your iOS mobile devices to key everyday, in-home functions. Apple looks as if it's getting set to change the game (again) in myriad ways. 
"Smart Home" aside, simply by overcoming one of the last remaining significant objections of smartphone owners, iPhone 6 will obliterate sales numbers leaving a bruised and battered Android in its wake. Upgrades from older model iPhones alone will lift Apple and do Android in. Check some numbers, compiled by Andrew Sebastian over at The Motley Fool:
At Verizon (VZ) - Get Verizon Communications Inc. Report, 56% of iPhone customers still own the 4 or 4s. Twenty-four percent still pack iPhone 5. I'm part of the latter group, will be eligible for and fully intend to upgrade to iPhone 6 come late summer/early fall.
The floodgates open in waves as the upgrade cycles stagger. Apple could very well make 40 or 50 million iPhones sold in a quarter -- it's max to date -- look small.
Call me an Apple fanboy and an 'iTool.' Doesn't matter. The proof will reside in Apple's January 2015 earnings report that covers the 2014 holiday shopping season.
And, hey, look out ... Morgan Stanley says it's time to buy Apple so it must be so. That (sensible) projection aside, the whole lot of Wall Street masters of the obvious have jumped on the Apple bandwagon. But where were they 3, 4, 5, 6 months ago? And where will they be 6-12 months burning down the road?
They're a fickle bunch lacking vision beyond their quarterly bonuses.
The "thesis" on Apple, as they like to call it, hasn't changed much over the last six months to a year. There's an indirect and direct perspective. Both should have led long ago to conclusions that Apple's a screaming buy. That AAPL to $1,000 (do the math for the split) isn't a recent phenomenon made so by Morgan Stanley and the rest of their fickle Wall Street cronies. (Let's not forget the same Morgan Stanley analyst quoted widely last week had AAPL going to $1,000 within a year back in 2012 when it actually made logical sense to be bearish. AAPL shares plunged approximately 23% from mid-2012 to mid-2013 -- when I was bearish -- but have since moved 38% higher, a pop that commenced a few months ahead of my return to bullishness).
It's all about thinking ahead of the game. Not merely making market predictions, but making what amount to pop culture predictions. And you know as well as I that come September or thereabouts the media -- from the tech clique to the financial regurgitators to the mainstream -- will go to their file cabinets and prepare one story after another listing the hottest gifts for the holiday shopping season. Apple products, particularly the hot new iPhone 6, will inevitably top the list. From there, Apple stock will gain even more steam than it has during its recent ascent past $600.
It has taken way too long, but Apple has finally regained its rightful place as the market's go-to stock. As I consistently lamented over the last year or so, it's beyond comprehension how companies with loads of serious question marks could outperform AAPL for all or parts of 2012 and 2013. But finally and thankfully -- yes this still happens -- rationality is in the process of prevailing.
Out and out pathetic dogs such as Hewlett-Packard (HPQ) - Get HP Inc. Report and Best Buy (BBY) - Get Best Buy Co., Inc. Report are showing their true colors. In their most recent earnings reports, HP and Best Buy proved they're working no meaningful strategies to speak of. They're burning the furniture to build fires and blaming others for their visionary and creative ineptitude.
When these stocks go up, they go up on nothing real ... it's all false optimism, short-term traders pumping out opportunity and dead-cat bounce type stuff such as more Meg Whitman spin. Meg can milk a paycheck better than any CEO in the business. When Apple goes up, it goes up on something real that -- despite media tripe and hype -- never actually went away.
While growth may have (naturally and expectedly) moderated in pockets of Apple's business (while remaining steady and growing strong in others), the company never ceded its dominance or rescinded potential. In fact, just the opposite occurred. Apple has probably never had more opportunity in front of it than it does now.
iPhone 6 and whatever comes of the Beats Electronics situation will reveal that statement as fact. The market's an insane place right now, however Apple's turning into the flight to safety it should have been all along.
--Written by Rocco Pendola in Santa Monica, Calif.
Rocco Pendola is a full-time columnist for
TheStreet
. He lives in Santa Monica. Disclosure: TheStreet's editorial policy prohibits staff editors, reporters and analysts from holding positions in any individual stocks.