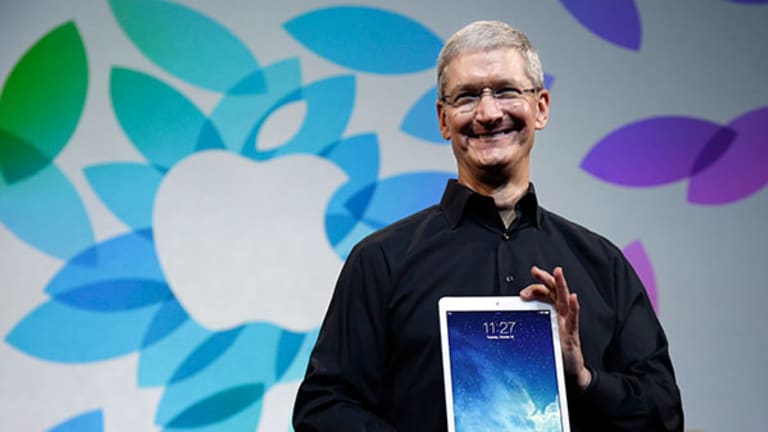 Apple and Tim Cook Critics, It's Time to Shut Up
With the focus of the Apple-Beats deal on music, Tim Cook has set out to fix a major Steve Jobs' mistake.
With the focus of the Apple-Beats deal on music, Tim Cook has set out to fix a major Steve Jobs' mistake.
NEW YORK (TheStreet) -- For my reaction to the news that Apple (AAPL) - Get Reportfinalized its deal for Beats Electronics see Tim Cook Just Took Apple Away From Steve Jobs.
In the present article, we expand on the notion that this is now Tim Cook's Apple.
I know it's not socially acceptable to say, but Steve Jobs missed on Apple's digital music strategy. And Tim Cook's about to fix his predecessor's mistakes.
Apple made the iTunes Store a one-trick pony for far too long. Jobs was well aware of Pandora (P) . In fact, prior to the launch of iPhone, he hosted the company in Cupertino, putting them through rigorous rehearsals so Pandora could be on stage for the pomp and circumstance and to demo how a great app functions. But Jobs never thought -- or at least never acted on the thought if he had it -- to either buy Pandora or create one of his own. He didn't vision streaming as the future. As the way people would want to consume music before they knew that was the way they wanted to consume music. Granted -- it's easy to say in hindsight, but, any way you sever it, Jobs dropped the ball.
Apple's response to what amounts to a Steve Jobs' error ended up being iTunes Radio, which came several years late. Pandora was long past the point of exploding onto the scene (thanks, ironically, to Apple's iPhone) before Apple got around to debuting a streaming product. A streaming product that, thus far, has failed to do what Apple intended -- keep sales of music downloads alive.
So, pursuant to the underwhelming start for iTunes Radio, Apple scrambled. It needed to do something. Would it create it's own subscription-based streaming service (something Jobs apparently never believed in) or would it pick off an existing platform? It decided to go the M&A route.
And that's where the Steve Jobs story ends and the Tim Cook era -- unfettered and minus the Jobsian overhang -- begins.

WATCH: More tech videos on TheStreet TV | More videos from Debra Borchardt
As Apple's Eddy Cue said in the official press release announcing the $3 billion deal:
The addition of Beats will make our music lineup even better, from free streaming with iTunes Radio to a world-class subscription service in Beats, and of course buying music from the iTunes Store as customers have loved to do for years.
That should have been the plan all along. Like four or five years ago. To have every corner of the digital music marketplace covered. Not to do what Apple did -- isolate yourself with a dying download business and a late-to-the-party Pandora knockoff.
It wasn't that this strategy would make Apple suffer -- quite the contrary. Apple's overall download business is on fire -- app downloads and other types of media are doing well. It's just the music part of the equation that lags. And, if you're going to be in it, you might as well be in it to win it.
Steve Jobs's Apple changed the game with iTunes. Don't talk to me about Napster. Apple engineered the change that matters, effectively crushing the record industry in the process. The $15 record album turned into a $0.99 a pop a la carte business. But, for whatever reason, Apple stopped innovating with respect to music. It stood still. It's not only that it didn't jump into free streaming radio or subscription streaming soon enough, it did very little to make the old iTunes platform better or otherwise exciting.
But, suddenly, thanks to the Beats buyout, the game has changed. And, make no mistake, Tim Cook changed it.
As I reported last week, the folks at Beats -- Jimmy Iovine, Dr. Dre, Ian Rogers -- sold Apple on their wide-ranging, but undoubtedly hyper-focused vision for music. And Tim Cook -- smartly -- bought it.
Now, as Cue said, Apple has all the pieces in place to dominate every facet of this dynamic market. But it doesn't stop at the obvious. Apple has an opportunity to succeed where Pandora has failed miserably by building partnerships with bands, brands and the music industry. These relationships will yield more lucrative advertising revenue and a robust data business that'll help Apple do everything from save the music industry to create a musician working class (a promise Pandora could not keep) to sell more iPhones and iPads.
--Written by Rocco Pendola in Santa Monica, Calif.
>>Read More:
Helping Apple Haters Understand Why Android Is Doomed
How the iPad Can Get Even Bigger
Herb Greenberg: Cracks at Kors
Rocco Pendola is a full-time columnist for
TheStreet
. He lives in Santa Monica. Disclosure: TheStreet's editorial policy prohibits staff editors, reporters and analysts from holding positions in any individual stocks.