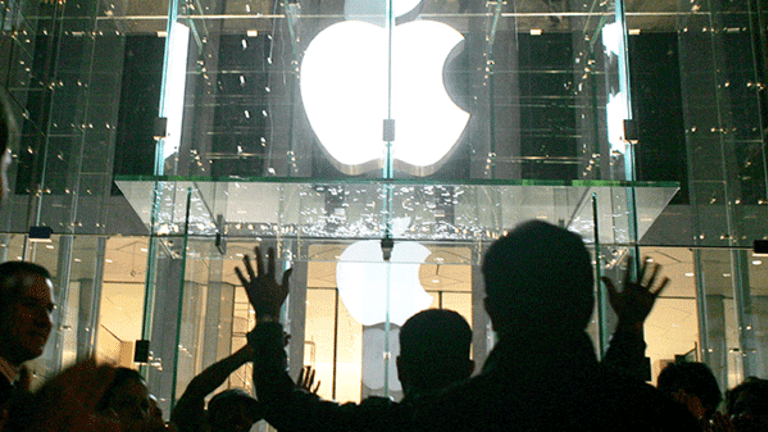 Apple and Google Are Doing Business in China Very Differently, and the Stakes Are High
Apple CEO Tim Cook says he has 'great hope' that some apps that Apple previously pulled will return to its Chinese App Store.
To say that Apple Inc. (AAPL) - Get Free Report and Alphabet Inc./Google (GOOGL) - Get Free Report have taken very different approaches to engaging China in recent years is quite the understatement. A series of 2017 moves from Apple drive home just how different the company's mainland Chinese strategy remains from Google's, as its sales to the country close in on $50 billion.
This column has been updated from July 16 to note recent remarks made by Tim Cook while in China, as well as recent Chinese app removals and new figures and analyst estimates for Apple's Greater China sales.
In July, Apple complied with Beijing's demand that it remove a number of VPN apps from its Chinese App Store that allow local users to visit blocked sites. And more recently, it removed Microsoft Corp.'s (MSFT) - Get Free Report Skype, which had run afoul of a government crackdown on foreign communications apps. The moves follow the 2016 removal of the New York Times' app, and the 2015 removal of the Apple News app.
Following complaints by U.S. senators over the matter, Apple defended the VPN app removals by insisting its presence in China "helps promote greater openness and facilitates the free flow of ideas and information." At a conference taking place in the city of Huangzhou, Tim Cook insisted he has "great hope" and "great optimism" that some of the apps that Apple has pulled will return to the App Store.
Also recently mentioned by Cook: iOS developers have earned $17 billion via the Chinese App Store. With Apple getting a 30% cut on most App Store transactions, this suggests the company's lifetime Chinese App Store revenue is around $7 billion.
Apple's attempts to keep Chinese regulators happy also extend to data storage. The company disclosed in July it's building a data center in the Chinese province of Guizhou, as part of a broader plan to invest $1 billion in the region. Though the data center could improve the performance of iCloud services Apple delivers to its massive Chinese user base, Apple's primary motivation appears to be a wish to comply with a Chinese cybersecurity law that among other things restricts the movement of Chinese users' data outside of the mainland.
The law effectively means that user content such as photos, documents and messages need to be stored on Chinese servers. Apple will retain control over its new data center's encryption keys. However, as the Wall Street Journal notes, it isn't clear if the company will have access to stored data, given that a company owned by Guizhou's provincial government will be operating the facility. In 2014, Apple agreed to store some of its data at China Telecom Corp. (CHA) - Get Free Report facilities to address security concerns.
Many of Apple's Chinese investments are also arguably done with political goals in mind, even if they're not the only reason that they're made. The company's Guizhou spending plans follows a March commitment to spend over $500 million on Chinese R&D centers, and a $1 billion 2016 investment in Chinese ride-sharing leader Didi Chuxing.
In addition, Apple PR efforts within China show a high level of sensitivity to both public and government opinion. In 2013, CEO Tim Cook issued a formal apology to Chinese customers for Apple's warranty policies, a week after state-run media began criticizing the company over the matter. The only instance of Cook issuing an apology like that outside of China was in 2012, over the botched Apple Maps launch. And while Apple has been outspoken at times on U.S. political issues, it has mostly avoided publicly criticizing Beijing's policies.
To be fair, just as Apple has strong incentives to keep the Chinese government pleased, the reverse is also true. The company employs a substantial number of Chinese workers via its R&D centers and retail stores, and more importantly is indirectly responsible for hundreds of thousands by having the lion's share of its hardware manufacturing done in China, via contract manufacturers such as Foxconn and Pegatron. The many subsidies and perks local governments have provided (generally with Beijing's approval) to contract manufacturers building iPhone plants show that appeasement is very much a two-way street.
Regardless, there's quite a contrast between Apple's conciliatory approach towards Beijing and Google's fairly uncompromising stance. Google shuttered its mainland Chinese search engine in 2010 rather than continue censoring its services, and to this day, most of its core services remain blocked by China's "Great Firewall." Thus, while over 80% of Chinese smartphones run Android, they largely come with non-Google apps and services pre-installed.
Google still has advertising and R&D offices in mainland China, and -- like Facebook Inc. (FB) - Get Free Report , which is also blocked on the mainland -- sells ads to Chinese firms looking to reach overseas buyers. And there have been occasional reports about a Chinese Google Play launch possibly happening. But for now, Google's interactions with Chinese consumers are mostly restricted to those using VPNs to circumvent the Great Firewall...and even that option might not be around for long.
Apple, Alphabet, Microsoft and Facebook are holdings in Jim Cramer's Action Alerts PLUS Charitable Trust Portfolio. Want to be alerted before Cramer buys or sells AAPL, GOOGL, MSFT or FB? Learn more now.
The financial implications of Apple and Google's incredibly different Chinese strategies aren't hard to grasp. Whereas China appears to account for a small percentage of Google's revenue, even after accounting for ad sales to local businesses, Apple's "Greater China" revenue, which covers mainland China, Hong Kong and Taiwan, totaled $44.8 billion in fiscal 2017 (ended in September). And on average, analysts polled by FactSet expect fiscal 2018 Greater China revenue of $51.7 billion.
The iPhone undoubtedly accounted for a big portion of these sales -- with IDC estimating 44.9 million iPhones were sold in mainland China in calendar 2016, the region's iPhone revenue last year may have been close to $30 billion. But as Cook's recent remarks drive home, the App Store is also a big contributor. Analytics firm App Annie believes Chinese App Store publisher payouts more than doubled annually in Q4 2016 to over $2 billion, leading China to surpass the U.S. and Japan as the world's most valuable iOS app market.
Perhaps more than any other Apple business, the App Store shines a light on the consequences of Apple and Google's very different approaches to China. Google Play is the App Store's primary rival in nearly all non-Chinese markets, and (though its monetization rates trail the App Store's) a pretty successful one overall. But in China, Google Play is virtually non-existent -- locally-sold Android phones typically come with app stores from the likes of Baidu Inc. (BIDU) - Get Free Report , Tencent and Qihoo 360 -- while the App Store has grown into a 10-figure business.
One can argue at length about the ethical and political merits of Apple's Chinese strategy relative to Google's. But it's hard to argue about its financial merits.
More of What's Trending on TheStreet: