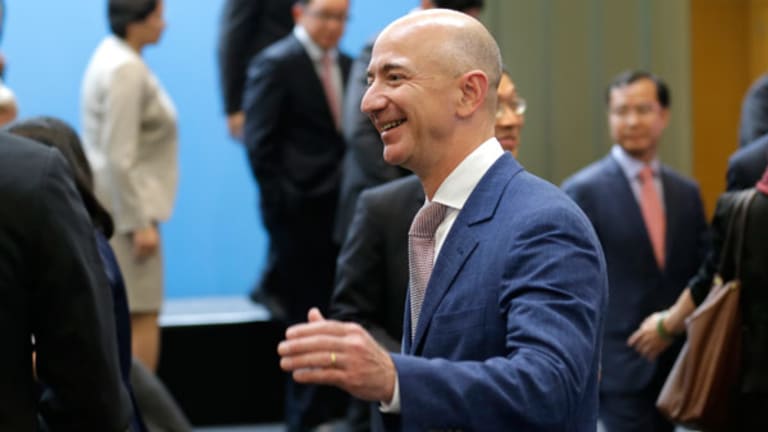 Apple and Amazon Show You Need to Think About Growth Stocks Differently Now
Apple and Amazon are moving in opposite directions and their stories help point the way for the next generation of growth stocks.
Growth stocks Apple (AAPL) and Amazon (AMZN) are moving in different directions. And one is still truly growing while the other isn't. 
Let's look at Apple first. 
One of Apple's mantras is to "Think Different" and that perspective has led to a number of industry-revolutionizing developments like iTunes, the iPhone, and the App Store, to name a few. Each of those has disrupted the prevailing business model and created opportunities for those investors that were prepared, but carnage for those that were not. The impact of the Internet provides countless other examples, and even after all the years we've witnessed its impact and the destruction it has wrought upon newspaper and other publishing business models, as well as the travel industry, we are on the cusp of seeing it now rock the retail industry to its core.
Apple is a holding in Jim Cramer's Action Alerts PLUS Charitable Trust Portfolio. See how Cramer rates the stock here. Want to be alerted before Cramer buys or sells AAPL? Learn more now.
Now, let's look at Amazon, which is a holding in Growth Seeker, a portfolio I manage. The company delivered super-sized March quarter results, is benefiting from the accelerating shift to online and mobile commerce as well as the ubiquitous migration to the cloud. By comparison, companies like the Gap, Sears, Sports Authority, to name a few retailers, are shutting locations while others are filing for bankruptcy.
In a world of connected devices, higher-speed networks, social media and immediate gratification, we've seen a pronounced change in how consumers communicate, shop, transact, save,invest, and consume content. From chips and devices to networks and data centers to the Cloud, streaming and downloads, it all falls into our Connected Society investing theme. Developments to watch include the connected car, connected home and the Internet of Things and security within this new virtual universe.
In the case of Apple's innovations, in each of the cases there was a demonstrative tailwind created by a confluence of factors leading to dramatic developments which altered the course of an industry and changed the competitive landscape. Some companies adjusted their courses correctly, shifting their businesses into the slipstream of those tailwinds, while others missed or misread the signs and for them that tailwind became a headwind.
If we continue to look at the world from the standard view of industry classifications, we'd likely miss the impacts of the changing economic, demographic, psychographic, technological, regulatory and legislative landscape. This reminds us of those great words on insanity attributed to Albert Einstein, "Insanity: doing the same thing over and over again and expecting different results."
Doing things differently, like Apple used to do and like what Amazon does today is the key to growth. It's been elusive, however, over the past few quarters. 
Just look at the small and mid-cap heavy Russell 2000 or its iShare Russell 2000 Index (IWN) equivalent. Despite the market rally since the February lows, the Russell 2000 is still down more than 8% over the last 12 months while the iShares Russell 2000 Growth Index ETF (IWO) is down -11%, the iShares Russell 1000 Growth Index (large cap) ETF (IWF) is down -1.8% and the iShares Russell Midcap Growth Index (IWP) is down -6.1%.
What is an investor to do? 
If we had simply followed the herd, and by that we mean invested in the S&P 500's exchange traded fund equivalent the SPDR S&P 500 ETF Trust (SPY) , we'd still be modestly in the red over the last 12 months and probably would have spent more than a few sleepless nights during the market's ups and downs. 
Following the herd or thinking about investing and picking investments the same way it has always been done is going to lead to disappointing returns. Worse yet, if a person continues to look at industries and companies the same way, odds are that person will miss something. 
In our new book Cocktail Investing: Distilling Everyday Noise into Clear Investment Signals for Better Returns (I wrote it with Lenore Elle Hawkins, who manages the Growth Seeker portfolio), we tackle how investors, both novice and experienced, can think differently on these shifting and oftentimes interweaving landscapes, recognizing thematic shifts and those companies best positioned to benefit from them. Rather than analyze an industry looking for a potential catalyst, we identify the catalysts first and the companies second, which helps us sidestep those that are staring headlong into a headwind or in some cases running headlong into a wall. 
While many are transfixed by the low-to-no growth environment, this view askew that we are describing reveals a number of secular changes occurring in the world in and around us.
The United Nations estimates that the global population will grow from 7.3 billion in 2015 to 9.7 billion in 2050, 100 million more than was estimated in the UN's previous report two years ago. As the global population expands, competition for natural resources like water, food, and energy as well as commodities like gold, tantalum, copper will intensify. The laws of supply and demand tell us that as demand outstrips supply, prices will climb for companies that best address this scarce resource investing theme. We've seen this with the price of water -- between 2010 and 2015 water prices in 30 major U.S. cities rose 41% on average, which is the equivalent of adding roughly $20 per month to what was a $50 monthly water bill in 2010. Shares of American Water Works (AWK) have been a strong beneficiary of the growing domestic water shortage, but that is just one company and one scarce resource.
Here in the U.S. the headlines constantly bemoan the shrinking middle class, but in countries like China, India and other emerging economies, the middle class is growing rapidly along with improving disposable incomes. According to the Organization for Economic Co-operation and Development, in 2009 the middle class comprised 1.8 billion people, but is expected to nearly double to 3.2 billion by 2020 and nearly triple to 4.9 billion by 2030, with the overwhelming portion of the new middle class coming from Asia Pacific. As the shrinking domestic middle class looks to stretch its disposable income by shifting to companies like Costco Wholesale or SuperValue, the thriving middle class outside today's developed economies is trading up in its purchasing decisions, which stands to benefit companies like Starbucks, McCormick & Co., Pilgrim's Pride, and Proctor & Gamble.
Those are but a few of the thematic investing themes we discuss in Cocktail Investing. In total there are more than a dozen investing themes and we're always on the lookout for new ones, such as the recently added asset-lite business models that are used by Uber and Airbnb. As we look to position The Street's Growth Seeker investing service for growth, we'll be drawing on these investing themes to think differently than the herd and identify those companies poised to benefit from the obvious and sometimes not so obvious secular tailwinds.
-- Lenore Elle Hawkins contributed to this story
This article is commentary by an independent contributor. At the time of publication, the author held no positions in the stocks mentioned. The Growth Seeker portfolio, which Versace co-manages with Hawkins, owns AMZN.
Follow Chris Versace on Twitter and Facebook.