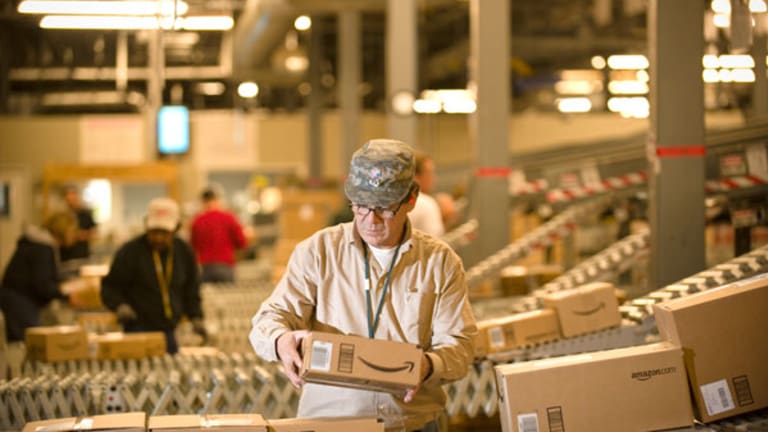 What kind of topsy-turvy world do we live in where heroes are cast as villains, brave men as cowards?
-- George Costanza, Seinfeld, Episode No. 84
NEW YORK (
) -- I understand -- emotion, a hysterical media and
clueless Wall Street analysts dictate what happens with the stock market
, but we've come to a point of unacceptable obscenity. Seriously, if my kid said the F-word while we were fixing a flat on the side of the road, she would get a pass before this market craziness.
So very topsy-turvy.
Apple
(AAPL) - Get Apple Inc. (AAPL) Report
can't get legs because,
as TheStreet's Chris Ciaccia Tweeted
, "Apple down another 1% today. This doesn't change until Q1 earnings change perceptions (if it does)." And, instead of continuing its run and busting out above $260,
Amazon.com
(AMZN) - Get Amazon.com, Inc. Report
tanked harder Wednesday, down $9.99 (just to throw off bargain-hunting bulls), or 3.9%, to $248.63.
Who knows what will happen the rest of the week? And who cares? It doesn't matter. None of this inanity matters. Or at least it shouldn't matter.
Allow me to lay out some data -- from the rigorously measured to anecdote -- that's lost on bears who question Apple and Amazon's holiday quarters.
I'm just going to spew the important stuff through your screen of choice, in no particular order. If it doesn't make sense to you, short AAPL and AMZN. I'm sure a relative will help you put dinner on the table for the family during February.
iPad accounted for 90.5% of Cyber Monday tablet traffic. The top online destination: Amazon.com.
According to comScore, Green Monday sales (the second Monday in December) increased by 13% year-over-year to top out at $1.275 billion.
comScore reports a 16% year-over-year increase in online spending over the first 51 days of the November-December period with total revenue at $38.7 billion.
Sure, it's not scientifically rigorous, but dig this, Christmas Eve 24-hour "First Tweet from my ..." new tablet data graph that went somewhat viral last night via Wired reporter Andy Baio's Twitter feed. It shows iPads outselling Microsoft (MSFT) - Get Microsoft Corporation (MSFT) Report Surface tablets by a 50-to-1 ratio.
We also have photo evidence showing packed Apple Stores and empty Microsoft shops: Is Your Local Microsoft Store Empty This Weekend and Apple Stores Packed Over Holiday Weekend: Your Twitter Pictures, not to mention dozens of additional global Twitter testimonials corroborating the same theme.
Even if DigiTimes is correct and iPad mini shipments "only" topped out at 8 million due to low touch panel supplies, why the hysteria? Since when did long lines, sold-out stock and intense consumer interest -- pent-up demand -- become a bad thing? If Apple ships 13 million iPad minis in Q1 2013, will that satisfy people?
This is not complicated.
Most companies would cut off crucial body parts to have the types of "problems" Apple and Amazon have:
Brick-and-mortar and online retail dominance;
Supply unable to meet demand; and
Tight margins because the long-term opportunity is so freaking huge, you have no choice but to spend -- and spend aggressively -- to take full advantage of it.
What has
this rigged casino of a stock market
come to if we punish companies, particularly Apple, for having #firstworldproblems?
--Written by Rocco Pendola in Santa Monica, Calif.
Rocco Pendola is
TheStreet's
Director of Social Media. Pendola's daily contributions to
TheStreet
frequently appear on
CNBC
and at various top online properties, such as
Forbes
.