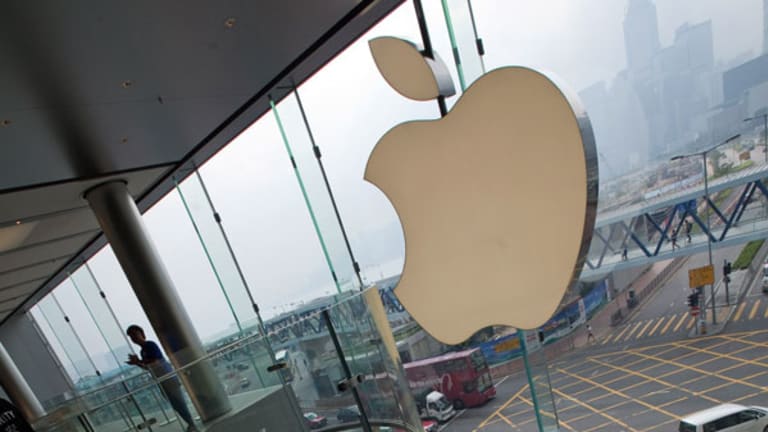 Apple Absolutely Crushed Samsung, and Why It Does/Doesn't Matter
On battleground stocks like AAPL, traders, investors and opinion makers must do a good job of marrying short- and long-term news and perspectives.
NEW YORK (TheStreet) -- I came across a couple of things Wednesday that perfectly illustrate the Apple's (AAPL) - Get Apple Inc. Report Apple versus the media's Apple dichotomy we're pathetically living through.
Short-term perspective versus long-term perspective. That provides the context for so much of the Apple-related writing I do. It's critical. The media, Wall Street and swaths of others -- obviously -- have a difficult time marrying the two.
Apple Board Chairman Arthur D. Levinson to Stanford's Graduate School of Business the other day via
:
There are long-term signs of how a company is doing and whether or not Apple sells 47 or 48 million iPhones -- let somebody else worry about that.
Flashback to my
Do not buy AAPL ahead of earnings
rant
circa
January 22
via
:
And then there's the news that
Apple absolutely annihilated Samsung in the fourth quarter
, shipping 27.4 million iPhone 5s and 17.4 million of the "old" iPhone 4S (44.8 million combined) versus 15.4 million Galaxy S3s.
Now, I am not about to wax hypocritical and say,
see, Q4 smartphone sales data tell the story
. I will, however, put this short-term news in perspective
vis-a-vis
Apple's present dominance and long-term potential to continue dominating.
Last week, I wondered
why we're so willing to believe brainless members of the media over people on the inside at Apple
, re: the company's health. We have become so cynical (or deranged, desensitized and deluded) that we'll go with uninformed noise from the media over the calmly spoken words of Tim Cook on earnings calls and at investor conferences.
Don't invest on the basis of these short-term numbers, as impressive as they are. Use them to cut through the noise and inform your long-term perspective a bit more:
A meaningful relationship exists between a calm, cool and collected Tim Cook, who speaks of not building crappy products for the sake of easy revenue and market share, and 45 million iPhones out the door. There's a significant, even if qualitative, correlation between Cook, at the recent Goldman Sachs conference, saying, The huge demand for iPhone 4S surprised us. (See, he wasn't lying! And he knows more than Betty Liu!). Apple will not produce, and does not need to produce, a "cheap" or "inexpensive" iPhone. You could have missed it through all of the noise and hysteria, but that's what the most sane and logical voices of reason have been saying all along!
This might not be the sexiest Apple article I have ever written, but, it's important.
Marrying the short term versus the long term on a battleground stock -- whether you're trading, investing or just having an opinion like everybody else -- you must become really good at making critical connections between fact and fiction and objective reality versus hysterical noise and confusion.
--
Written by Rocco Pendola in Santa Monica, Calif.
Rocco Pendola is
TheStreet's
Director of Social Media. Pendola's daily contributions to
TheStreet
frequently appear on
CNBC
and at various top online properties, such as
Forbes
.