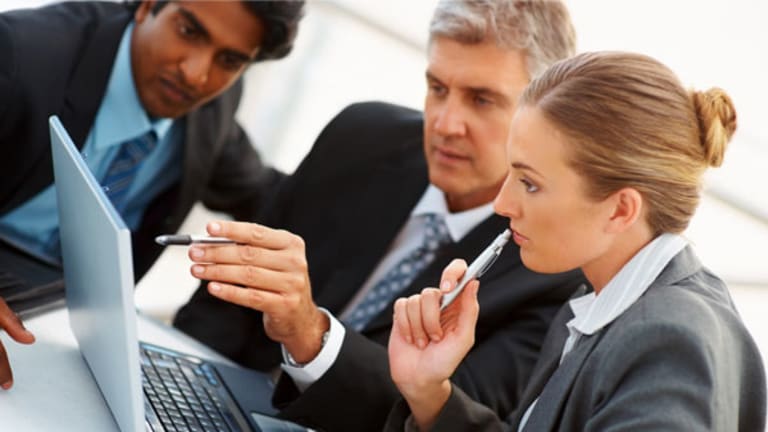 Apple: A Heavenly Stock, but a Devil of a Company
Although Apple often projects an angelic image, venom pours from its veins.
NEW YORK (TheStreet) -- I took a severe beating by readers last week for having described technology giant Apple (AAPL) - Get Apple Inc. Report as a company that is shrewd and offers no apologies. What these readers failed to realize is that it was said with a great deal of respect and admiration.
Name me a company that is neither shrewd nor unapologetic and I will show you either its bankruptcy papers or those that are pending. The fact of the matter is, Apple remembers being taken out to the woodshed several times by several of its rivals, including
Microsoft
(MSFT) - Get Microsoft Corporation Report
, during some of the companies darkest periods.
However, this time the company is reveling in the moment as it offers merciless punishment of its own to the likes of
Research in Motion
(RIMM)
,
Hewlett-Packard
and even its new chief rival,
Google
(GOOG) - Get Alphabet Inc. Class C Report
, if it gets in its way.
The fact of the matter is, when it comes to business competition, there is no "right way to win." Although Apple often projects a somewhat angelic image, it knows that it has to have venom in its veins in order to withstand the onslaught from rivals who want nothing more than to put it out of business. It operates in a cut-throat environment.
Apple understands that the only guarantee on Wall Street for market leaders is that they don't remain market leaders forever -- only the length of reign varies. Both Research in Motion and Microsoft are prime examples.
However, Apple continues to show that it is far from ready to give up the
on innovation in exchange for its market leader position. The company continues to push in its endeavor to provide consumers what they haven't realized that they need.
In the process, it either creates new markets or, like a Roman army, it collapses those that previously existed -- currently by having its sights set on the dashboard. This area is now dominated by
Sirius XM
(SIRI) - Get Sirius XM Holdings, Inc. Report
,
Pandora
(P)
and whatever "standard control feature" provided by the car manufacturer helps you manage your air conditioning. However, Apple along with its Siri voice control technology plans to take this a step further.
It doesn't take a genius to see where this is heading. Within 24 months, its mobile IOS will likely be a standard in each vehicle. I mean just think about it, it's called "mobile IOS." This is precisely the reason that
the company has finally adopted
social media giant
Facebook
(FB) - Get Meta Platforms Inc. Class A Report
into its operating system while having also spoken positively about Twitter. Apple understands that the automobile or "the smartcar" is the next huge market once smartphones are saturated.
So while it battles the likes of
Google
,
Nokia
and
Samsung
in the courts and in the stores as the constant fight for device supremacy continues, Apple has already answered the question that market leaders struggle with each day -- what's next? Its rivals are chasing a ghost that has already moved on -- essentially proving how shrewd the company is and how it has become
of its competition.
Bottom Line
There has never been a company that operates with the "Star Trek mentality" in the way that Apple has. Its corporate mission continues to be "to boldly go where no man has gone before." Not content with just getting there, the company also takes pride in looking in its rearview mirror to see what road kill it has left behind.
It has taken on Research In Motion's best shot and won, leaving RIM on life support. It continuously brushes off threats from the likes of Google and
Amazon
(AMZN) - Get Amazon.com, Inc. Report
. It stands tall above everyone else as the leader of the tech sector and shows no meaningful signs of slowing down.
The reason for this is that aside from its apparent investments in Kevlar, the company has loads of cash to spend on R&D and future projects. However to me, the more likely reason is that as much as Apple understands that it is being hunted, it also enjoys a good hunt. Unfortunately for its rivals, not only is Apple a good shot, but its targets don't discover they are in the crosshairs until they find themselves on the roof of Apple's car.
This article is commentary by an independent contributor, separate from TheStreet's regular news coverage.
At the time of publication, the author was long AAPL, FB and held no positions in any of the stocks mentioned, although positions may change at any time.