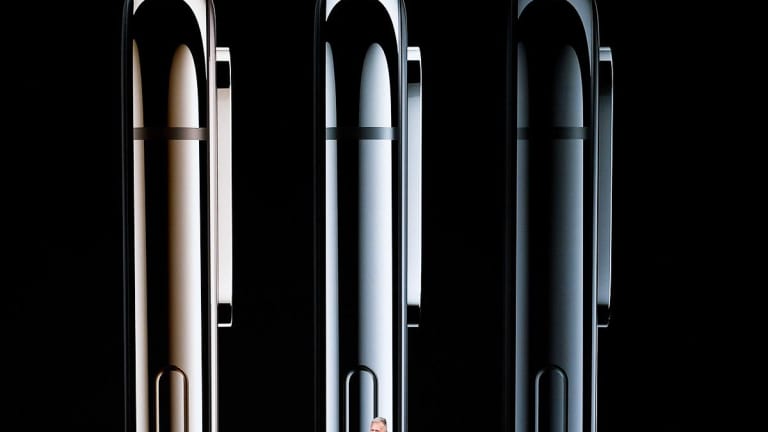 Apple's Reported 5G iPhone Plans Fit With Its Traditional Hardware Philosophy
The tech giant reportedly plans to wait until 2020 to launch 5G iPhones. That fits with its historical hardware strategy, but also spells more pressure to pack other compelling features into its 2019 iPhones.
The tech giant reportedly plans to wait until 2020 to launch 5G iPhones. That fits with its historical hardware strategy, but also spells more pressure to pack other compelling features into its 2019 iPhones.
Apple  (AAPL) - Get Report has long proclaimed that it doesn't care about being the first company to adopt a new technology, but about using new technologies when they're ready to deliver a better user experience.
That probably goes a long way towards explaining the company's reported plans to wait until 2020 to launch 5G-capable iPhones.
5G Phone Reports and Announcements
and (more recently)
have each reported that Apple, unlike many other smartphone OEMs, doesn't plan to launch a 5G phone next year. Fast Company explicitly wrote that a 5G iPhone "will come to market in 2020," while Bloomberg says such a phone won't arrive "until at least 2020."
Either way, it's hard to imagine that Apple will want to wait longer than 2020 to make 5G iPhones available. Numerous Android OEMs plan to launch 5G phones in 2019, and those phones will work on 5G networks that major carriers in the U.S. and elsewhere will begin to build out in earnest next year.
On Monday, not long after Bloomberg published its 5G iPhone report, Verizon (VZ) - Get Report and Samsung (SSNLF) announced that they plan to bring a Samsung 5G phone to market in the first half of 2019. There's a good chance that the phone in question is a 5G Galaxy S10 model. Two weeks ago, The Wall Street Journal reported that a 5G S10 model codenamed "Beyond X" -- it's said to feature a 6.7-inch display and six cameras -- will launch in the U.S. and South Korea in the spring of 2019.
The fact that Samsung and other Android OEMs launching 5G phones will be relying on Qualcomm's
(QCOM) - Get Report
Snapdragon X50 modem has fueled speculation that Apple, which remains locked in a bitter patent-licensing dispute with Qualcomm and is using only Intel
(INTC) - Get Report
 modems in its 2018 iPhones, is waiting until 2020 to launch 5G iPhones simply because it wants to avoid relying on Qualcomm. Last month,
that commercial devices containing its XMM 8160 5G modem, which provides many improvements relative to its first 5G modem (the XMM 8060), are expected to start launching in the first half of 2020.
Apple is a holding in Jim Cramer's Action Alerts PLUS member club. Want to be alerted before Jim Cramer buys or sells AAPL? Learn more now.
Why It Could Make Sense for Apple to Wait Until 2020
Despite the speculation, it's worth keeping in mind that the first phones to support a brand-new radio interface tend to feature compromises in areas such as battery life, weight, thickness and heat dissipation. And though phone OEMs and chip suppliers have tried to downplay such concerns, comments from Qualcomm, Huawei and others suggest first-gen 5G devices will feature compromises in at least some of the aforementioned areas.
Some of these considerations, it should be noted, contributed to Apple's decision to wait longer than rivals to launch its first 4G phone. Whereas Samsung and many other OEMs had launched 4G phones by 2011, the first 4G iPhone (the iPhone 5) didn't arrive until Sep. 2012.
Moreover, in its 5G iPhone report, Fast Company indicated that heat dissipation has been a problem for both Intel's XMM 8060 and Qualcomm's Snapdragon X50. The heat issues are said to be related to 5G's support for high-frequency, millimeter-wave spectrum bands.
There are some other considerations that could make Apple comfortable waiting until 2020 to embrace 5G. By and large, 5G networks are expected to be limited to densely-populated urban areas next year, with coverage due to gradually expand in the following years. And while 5G networks can support much higher peak download speeds and network capacities than 4G networks, many consumers in urban areas might not see a huge difference in their phone-using experience, given that average 4G download speeds are now
in many locales.
The Risks Involved
Though there are good arguments for waiting until 2020, it can't be ignored that high-end phone buyers tend to pay attention to specs when looking to upgrade their devices -- just consider how much time Apple spends going over the technical features of its newest processors, displays and cameras at iPhone events. And even if 5G coverage remains limited as of the fall of 2019, some high-end buyers will undoubtedly want to make sure their phones will work on 5G networks once coverage improves.
In addition, across both iOS and Android, high-end smartphone upgrade cycles have been gradually lengthening, even as high-end buyers prove more willing to pay top dollar for a phone when they do upgrade. Apple's shares have been hit hard in recent weeks over worries about how its 2018 iPhones have been performing -- worries heightened by sales warnings from chip suppliers and more aggressive promotional offers by Apple itself.
For all these reasons, while it's unlikely -- given Apple's very high customer loyalty rates and ecosystem stickiness -- that a large percentage of iPhone owners will defect to Android in order to get a 5G phone ASAP, a lack of 5G support in 2019 does up the pressure for Apple to pack other compelling new features within next year's iPhones to drive strong upgrade activity within its base.
To date, reports about Apple's 2019 iPhone plans have suggested the phones will have three rear cameras, an improved TrueDepth front camera and (unsurprisingly) a faster processor called the A13. As 2019 unfolds, it's worth keeping a close eye on what other features are planned for next year's iPhones, as carriers and rival phone OEMs make one 5G-related announcement after another.