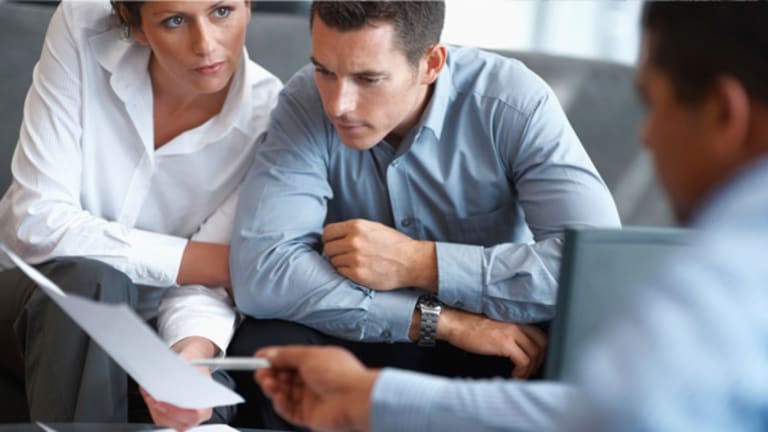 Apple: 5 Things Bringing us Down
Apple's defense goes on the offensive over its antenna defect.
Apple's defense goes on the offensive over its antenna defect.
CUPERTINO, Calif. (
) --
Apple
(AAPL) - Get Report
defended its iPhone 4 antenna and offered free bumpers, but the critics just wouldn't pipe down.
First came
Consumer Reports with a hearty "nice try
, but how about a real fix" statement Friday. Then, Monday, JPMorgan analyst Mark Moskowitz weighed in with a call for Apple to go beyond a Band-Aid approach and solve the problem completely.
"We think a permanent fix needs to occur," Moskowitz wrote.
But Apple is done making apologies. Now the company will go back to making cool stuff. And if you want to know why, here's Apple's list of things that really suck:
No. 5: You
We made the best phone in history and you went looking for the most miniscule flaw you could find. There's a little black band on the lower left of the phone that kills the antenna if you cover it.
Here's the thing: Don't cover it.
Do you hold your TV remote upside down? Do you grip a golf club by its head? Do you hold a knife by its blade? There is a correct way to hold the iPhone. Would it kill you to do it right? If you can't do it right, at least put a bumper on it?
No. 4: The press
"This has been blown so out of proportion that it is, it's incredible," Steve Jobs said Friday at the Apple iPhone 4 press conference. "I guess it's just human nature, when you see someone get successful you just want to tear it down."
Why does the press even exist? Imagine how much better life would be without journalists?
No. 3: Blogs
The only thing worse than the press is the "pretend press" and outfits like
Gizmodo
.
The
Gizmodos
of the world should be made illegal and should shut down immediately. With any luck, and some the help from California law enforcement authorities, we will bring an end to
Gizmodo
and its ilk.
That move, however, would not include John Gruber's
Daring Fireball
or our friends at
MacDailyNews
, who have shown that they get us and what we are all about.
No. 2: Other phone makers
You want to see a crappy phone? Have you seen
Research In Motion's
(RIMM)
BlackBerry? How about the
HTC
Droid Eris or the
Samsung
Omnia II?
They'd love to have our problem. Well, that is if we had a problem, which we don't. If you want to see problems, go read the blogs and watch YouTube about the other phones. Then tell us we're the ones with a problem.
No. 1: Consumer Reports
Who made these nerds boss?
How about if this gang of pocket-protector pansies stick to toaster oven tests and blow drier reviews?
You can't have it both ways. You can't rate our iPhone 4 as the top phone and withhold your precious little recommendation. When our new version of the iPhone 4 comes out in September, you are going to soil your chinos. So go back to those impactful steam iron reviews you do so well. Dorks.
More on iPhone 4 5 Reasons Apple Won't Recall
--Written by Scott Moritz in New York