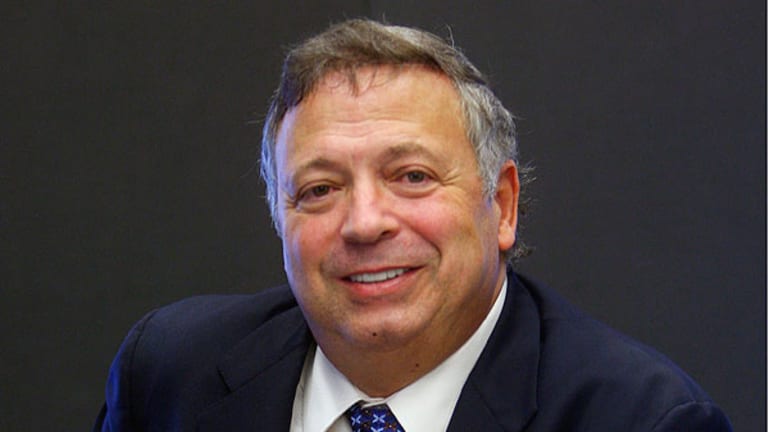 Apple: $4 Billion Man Hits the Mark
Tom DeMark breaks the Apple curse in less than five minutes.
NEW YORK (TheStreet) -- Late Tuesday after the regular session ended, CNBC hosted Tom DeMark on "Fast Money."
DeMark in less than five minutes broke the Apple curse. It's the curse where anything they do is bad (including increasing revenues and earnings). How do I know DeMark broke the curse? Because I had a front row ticket. I will describe the Apple exorcism performed in a moment, but allow me to describe the setup first for context.
I started writing
Stealing Apples While Others Panic early Tuesday. Apple completed a TDCombo 12 on Monday, and if Apple continued lower on Tuesday, the chart would indicate a 13 at the close.
Apple's price action generating a TD13 laid the foundation for me to write two Apple articles. One for
Real Money Pro
titled
Panic Selling in Apple Opens the Door with exact entries and exits, and the previously mentioned article.
As I wrote the first article,
CNBC
announced Tom DeMark was making an appearance to talk about Apple. Keep in mind I have 14 monitors around me, and one displaying several Apple time period charts. The TD13 market timing indication is staring right at me.
Imagine having a five minute advanced notice that the top market timer in the world is about to go live on
CNBC
and declare Apple is now a buy. That is how I felt on Tuesday late afternoon. Obviously Apple is going to increase in price, so it's only a matter of how big of a position I want or can place as DeMark goes live. After a moment to reflect the best course of action, I do the unthinkable.
I decide not to push the order submit button, and instead I watch DeMark while simultaneously observing Apple charts. I decide I want to know what to expect for future events. Why can't I do both? I can, but maybe not as well.
If you study behavior finance as much as I, you understand that once an investor is in a position, chemical reactions occur in the brain that can't be felt and may create unwanted biases. It's the reason why I use a very mechanical approach to trading and investing. I try to map out my entry and exits (one for profit and one for a stop loss) before I enter.
In three minutes, DeMark was able to do what Tim Cook and every Apple investor had wanted to accomplish since September, that is, break the Apple curse. DeMark increased the valuation of Apple by more than $1 billion per minute he was on the air. By the time DeMark was finished, Apple was worth $4 billion more than when he started.
In return for not taking a quick dollar or two, I was able to learn more of what to expect in similar situations. I wanted to enter into a long position on weakness Wednesday, but the curse is now broken and I don't expect to see a sub $490 price any time soon.
Fortunately, Apple is less than a week away from reporting earnings. Stock option premiums tend to increase in front of earnings giving me a second kick at the can. Before Apple fills the gap and moves above $520, the price will encounter resistance near $515. If Apple offers a buying dip after touching $515, I will look to sell $500 put options to capture the elevated premium.
I expect very favorable earnings numbers that will turn into a wake-up call for those that believed the next stop was $400 or lower.
Don't know what TDCombo and TD Sequential are? Get a copy of
"DeMark Indicators" by Jason Perl and published by Wiley. It's one of the best DeMark books I have read.
Two excellent books about behavioral finance include
"Neuroeconomics, Decision Making and the Brain" published by Academic Press and
"Behavioral Investment Management: An Efficient Alternative to Modern Portfolio Theory" by Davies and published by McGraw-Hill.
If you're not reading investment books, keep in mind your counter-parts are.
At the time of publication the author held no positions in any of the stocks mentioned.
This article is commentary by an independent contributor, separate from TheStreet's regular news coverage.