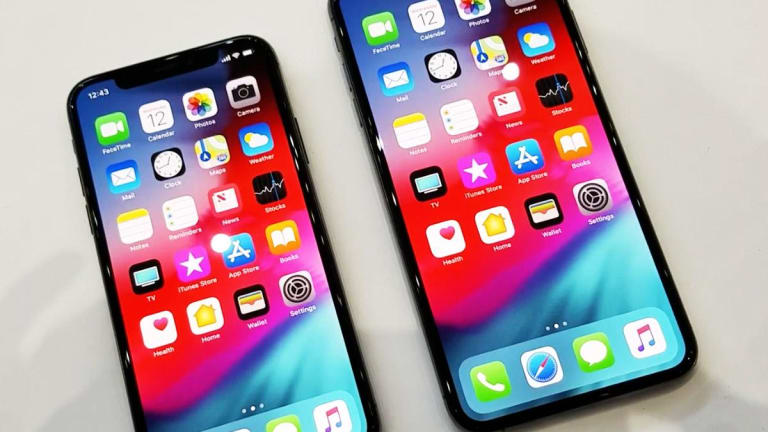 Apple's 2020 iPhone Lineup Should Pack a Punch
Reports suggest next year's iPhones will contain 5G modems and 3D rear-camera systems, and will solely rely on OLED displays.
Though Apple's (AAPL) iPhone franchise might be staring at a tough 2019, some recent reports give reasons to think its 2020 iPhones will be well-received.
Earlier this week, in a report about a potential bailout for iPhone LCD panel supplier Japan Display, The Wall Street Journal stated (citing people familiar with Apple's production plans) that Apple is "likely to drop LCD displays altogether in its 2020 iPhone lineup" in favor of OLED panels. The report follows one which indicated Apple will launch an iPhone XR successor in 2019 that still features an LCD panel, partly because it's too late to change production plans.
The XR, which (unlike the iPhone X, XS and XS Max) has an LCD rather than an OLED screen, appears (judging by reports as well as iPhone usage data) to have contributed heavily to Apple's recent iPhone pressures. Three weeks ago, the company issued a sales warning that suggested its iPhone revenue was down about 15% annually in the December quarter, thanks in part to soft Chinese demand.
Meanwhile, a number of reports indicate that 2020, rather than 2019, will also be the year that 5G-capable iPhones arrive. While many top Android OEMs are expected to launch phones containing Qualcomm's (QCOM) Snapdragon X50 5G modem, it looks as if Apple, which might be worried about the battery life and thickness/weight of first-gen 5G phones and is also in the midst of a bitter patent-licensing dispute with Qualcomm, plans to wait a year, at which time Intel's (INTC) XMM 8160 5G modem should be ready for use.
Also reportedly on tap for 2020: A 3D rear-camera system made possible by the integration of a time-of-flight (ToF) sensor. A ToF sensor, which calculates how long it takes a laser to reach an object picked up by a camera, could improve image quality and the performance of Apple's ARKit augmented reality developer platform. Importantly, much as Apple's TrueDepth front camera system enables its Face ID unlocking system and Animojis, a ToF sensor could also allow users to obtain 3D models of captured objects that could subsequently be used by various augmented reality apps.
Some Android OEMs have already shown an interest in launching phones featuring a ToF sensor (Analog Devices (ADI)  and STMicroelectronics  (STM) are two notable suppliers). And in late December, Bloomberg reported iPhone image sensor supplier Sony  undefined plans to boost its ToF sensor production in late summer after getting interest from Apple and other OEMs.
Sony's comments have fueled some speculation that an iPhone with a ToF sensor could arrive in 2019. However, Apple analyst Ming-Chi Kuo, who has been pretty good at reporting on what new features will go into upcoming Apple hardware, recently stated that while Apple's 2019 iPad Pros will feature ToF sensors, iPhones won't get them before 2020. In addition, while some January reports have stated Apple plans to launch an iPhone with three rear cameras this year -- the WSJ says one 2019 model will feature three rear cameras, and two others will have dual cameras -- they haven't mentioned a ToF sensor.
Outside of the triple rear camera, the improvements currently expected for 2019 iPhones are generally of the incremental variety. A new processor is naturally expected, and there's some speculation that one or more models will support the Apple Pencil stylus. The TrueDepth system is believed to be getting a revamp, and it's safe to assume that Apple will continue improving things such as display quality, camera image quality and battery life.
Jim Cramer's Action Alerts Plus portfolio, which owns Apple, is optimistic about some of these potential innovations coming in 2020.
"We're happy to see that these key emerging technologies could potentially make their way to the handsets in 2020, since the iPhone still represents about 60% of sales," said Zev Fima, research analyst for the portfolio. "But we maintain that the real long-term driver of shares will be Apple's Services due to the segment's higher margins and recurring nature."
With the qualifier that Apple could very well be prepping a compelling new feature or two for its 2019 iPhones that haven't been picked up by the rumor mill, the changes currently expected might not be enough to produce a sharp rebound in sales at a time when smartphone sales in general are under pressure amid lengthening upgrade cycles.
The good news, however, is that analyst estimates already assume as much. Currently, the consensus is for Apple's iPhone revenue, which still accounts for over half its total revenue, to be roughly flat in fiscal 2020 (ends in Sep. 2020) to $145 billion, after dropping 13% in fiscal 2019.
Perhaps more importantly, analysts also aren't forecasting a major improvement in iPhone sales in fiscal 2021, when sales could get a meaningful boost from the launch of a 2020 iPhone lineup that features 5G radios, one or more models containing 3D rear-camera systems and no models containing LCD displays. With Apple's fiscal 2021 revenue consensus only implying 4% annual growth in spite of expectations for its services and wearables business to continue seeing healthy double-digit growth, many on the sell-side still clearly forecast little or no iPhone revenue growth that year.
Given what has been reported to date about Apple's 2020 iPhone plans, such forecasts might end up being too pessimistic.