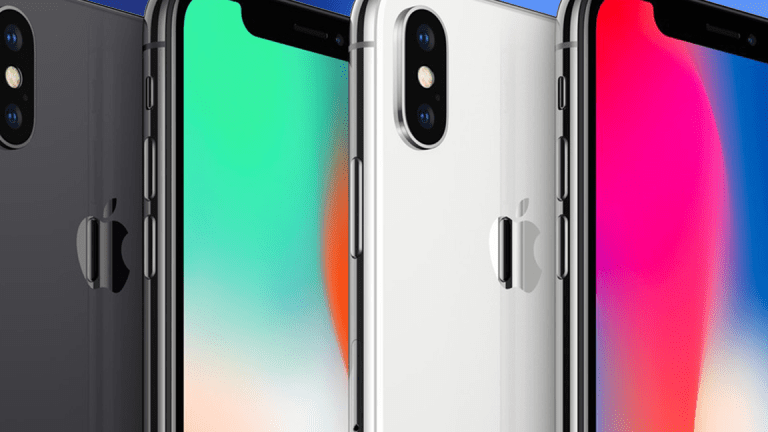 Apple's Rumored 3 New iPhones Should Let It Cash in on the iPhone X's Advances
This year's iPhone and iPad launches are unlikely to create the kind of buzz the iPhone X did. But they should still expand Apple's reach.
After launching a phone last fall, the iPhone X, that promised to "set the path" for smartphone technology for the next decade, it's probably not realistic to expect Apple Inc. (AAPL) - Get Apple Inc. Report  would follow that up with something equally headline-grabbing in 2018. And based on what's been reported thus far about the company's plans by Bloomberg, KGI Securities and others, Apple indeed will be delivering incremental rather than massive feature improvements to the just-launched iPhone X.
But while the new iPhones might not push the envelope technology-wise as much as the iPhone X, the launches could leave Apple with its most comprehensive iPhone lineup to date, both in terms of form factors and pricing. And along the way, the company will likely make some waves in the tablet market by bringing some of the technologies it first supported via the iPhone X to its iPad Pro line.
On Monday, Feb. 27, Bloomberg reported Apple that is set to launch three iPhones this fall: A new 5.8-inch iPhone X, a 6.5-inch phone (from the looks of things, also an iPhone X model) and a cheaper iPhone that, like the X, will contain an edge-to-edge display and support Face ID. Whereas the X sports an OLED display and a stainless steel frame, the cheaper iPhone will reportedly have an LCD display and an aluminum frame.
Bloomberg's report has much in common with prior scoops from KGI analyst Ming-Chi Kuo, who's got a pretty good track record of predicting Apple's moves. Kuo wrote late last year that Apple plans to launch 5.8-inch and 6.5-inch iPhone X models this year, along with a 6.1-inch, LCD-based iPhone supporting the Face ID unlocking system.
This column has been updated from Dec. 9 to discuss Bloomberg's latest report on Apple's 2018 iPhone plans, and to mention recent KGI Securities reports on Apple's iPhone modem and production plans.
Also reported by Kuo: Unlike in 2016 and 2017, when Apple relied on both Intel (INTC) - Get Intel Corporation Report  and Qualcomm (QCOM) - Get Qualcomm Inc Report for its iPhone modem needs, Intel might be the exclusive model supplier for Apple's 2018 iPhones. However, this time around, the phones will support Gigabit LTE transmission speeds -- of the modems going into 2017 iPhones, only the Qualcomm chips support Gigabit LTE, and Apple decided not to support it on any of the devices.
The phones will also reportedly sport larger batteries, and not just because two of the devices will have 6 inch-plus displays. Kuo estimates the 5.8-inch iPhone X due next year could have a battery capacity of 2,900 to 3,000 mAh, higher than the 2,716 mAh capacity of the battery going into the current X. Battery life has long been an iPhone selling point, one made possible in part by the fact that Apple is solely responsible for the phones' chip, hardware and OS engineering.
Notably, Kuo stated that the new LCD iPhone will feature a starting price in the $649 to $749 range, which suggests it would take the position currently held by the iPhone 8 and 8-Plus in Apple's lineup.
Assuming Kuo is right, chances are that Apple would keep the 4.7-inch iPhone 8 and 5.5-inch iPhone 8-Plus around at discounts to their current starting prices of $699 and $799. And since the company decided last year to keep offering iPhone 6S and 6S-Plus around at starting prices of $449 and $549 -- if it had followed past convention, the phones would've been discontinued -- it's likely that the iPhone 7 and 7-Plus would hang around at prices similar to what the 6S and 6S-Plus currently go for.
For more cost-sensitive buyers and those who prefer smaller screens, Apple should still have a version of the 4-inch iPhone SE, which starts at $349, around. Reports have suggested the SE, which launched in the spring of 2016 and hasn't been refreshed since, is set to see an update in the first half of 2018. One report states the device will feature the A10 Fusion system-on-chip (SoC) that powers the iPhone 7.
Meanwhile, on the other end of spectrum, the arrival of a 6.5-inch iPhone X -- it shouldn't be too unwieldy, since it would have an edge-to-edge display -- should give Apple another chance to raise the bar for its high-end pricing. If the 5.8-inch X maintains the $999 starting price of its predecessor, a $1,099 or $1,149 starting price for the 6.5-inch model is likely.
On the other hand, given recent iPhone X sales pressures that appear to have much to do with the phone's pricing (the X starts at over $1,200 in many overseas markets), Apple could choose to give the new 5.8-inch iPhone X an $899 starting price and price the 6.5-inch model at $999. Time will tell.
Another unanswered question: Would Apple continue offering the original iPhone X at a discounted price, or would it break with convention and discontinue it after just a year? Should Kuo's predictions about the 6.1-inch LCD iPhone prove accurate, there would still be room to price it between the LCD iPhone and the new X models. But it would arguably make sense for Apple to avoid doing this, both in order to avoid creating confusion for an iPhone lineup that might already feature 8 models and to drive sales of the newer X models. Kuo has reported that Apple plans to stop production of the current iPhone X this summer, ahead of the launch of the new models.
As for the iPad, Bloomberg has reported Apple plans to launch a new model (presumably an iPad Pro) that does away with the home button, features slimmer bezels and supports Face ID. Naturally, narrowing the bezels and eliminating the home button while retaining the form factors of 2016 iPad Pro models (they have 10.5-inch and 12.9-inch displays) would yield larger display sizes.
Unlike the iPhone X, the new iPads are expected to (like their predecessors) sport LCD displays; Bloomberg says "technical and financial constraints" are responsible. They'll reportedly arrive "a little more than a year" after the launch of this year's iPad Pros, which debuted in June.
In addition, Digitimes -- better at reporting about new product features or production than pricing or launch dates -- reports Apple plans to launch a new 9.7-inch iPad that will feature a starting price of just $259, $70 less than the starting price of the model (known as just the iPad) launched in March.
The popularity of the $329 iPad helped Apple's long-pressured iPad unit sales rise 15% annually in the June quarter to 11.4 million. And a solid debut for the new iPad Pros helped units rise 11% in the September quarter to 10.3 million.
Though a lack of OLED models would be a disappointment, launching new iPad Pros with larger displays and Face ID and a cheaper standard iPad should help Apple maintain some of the tablet line's renewed momentum. Particularly since the launches would follow the recent arrival of iOS 11, which comes with a slew of multitasking features meant to strengthen the iPad Pro's standing as a notebook substitute.
Overall, Apple's reported 2018 iPhone and iPad plans position the company to better cash in on several of the envelope-pushing moves it made in 2017. This particularly holds for a larger iPhone X that Apple could charge over $1,000 for, and iPad Pros with Face ID and larger displays to leverage iOS' latest multitasking features.
The hype cycle for Apple hardware launches probably won't be as strong next year. But assuming recent reports are generally accurate, volumes are well-positioned to keep growing.
Apple is a holding in Jim Cramer's Action Alerts PLUS Charitable Trust Portfolio. Want to be alerted before Cramer buys or sells AAPL? Learn more now.