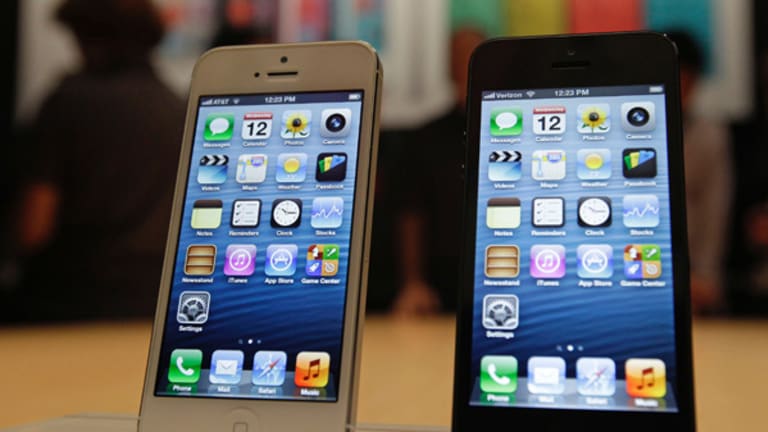 Apple: $1600 Target by End of 2014
The markets are going to explode in the next year or two, and so will Apple.
NEW YORK (
) --
Apple
(AAPL) - Get Apple Inc. Report
has had a rough time of it over the past six months or so, and many have lost the faith. These fair weather fans, that once extolled the virtues of the all things iMaker, are now calling for its demise. Well, after close exhaustive technical analysis, and corroboration with Master Elliottician, Ted Aguhob of
Wave Genius
, we have determined the markets are going to explode in the next year or two, and so will Apple.
What we are experiencing right now in the major indices is a massive third wave breakout in its very early stages. The interesting thing is that Apple normally leads the way in such market-wide events, but this time it's a lagger.
Also see: Cramer Greets the 21st Century: Airbnb
It appears now that the pullback that has shook the Apple faithful, is actually a massive two wave. And looks like it may have bottomed, or come very close to bottoming. Upon closer scrutiny, the pullback off the all-time high of 705 has formed a classic ABC corrective wave. Normally the A wave equals the C wave, but in this case the C wave has truncated, turning up just short of the ideal formation.
Of course, Apple may still reach for this low, which measures to 390, before forming the third wave. But it's not unusual for C waves to become truncated (ending prematurely), before starting another impulsive wave up.
There are several trigger points, over the next few weeks and months, that will confirm a third wave has started. It's like climbing a ladder that gets easier as you reach each trigger. The first is minor resistance at 480, which is also 23.6% retracement. The second is retaking the neckline of a massive head and shoulder, which fueled the breakdown, that's at 530, which represents 38.2% retracement, then 590, which represents 61.8% retracement.
Also see: 10 Ways Your Credit Can Betray You
The interesting thing about each of these levels, beside representing significant areas of consolidation and the exact tops of minor waves, is that they also represent perfect Fibonacci ratios. After each of these levels is taken out, the odds of a third wave confirming grows.
There's no doubt that this call is very early, and anything can happen between now and then. But when taken in conjunction with our major index calls, it all falls into place. The timing of this move is not determinate, but advances usually move slower than declines, so we expect the call to be realized by the end of 2014.
-- Written by Ernie Varitimos, author of the Apple Investor blog.
This article was written by an independent contributor, separate from TheStreet's regular news coverage.
Ernie Varitimos has a long history with Apple as an investor, trader and consumer of its technology. He started his career as a rocket scientist and has spent the past 25 years driving, controlling and influencing technology in the financial industry. Ernie is a former hedge fund manager and current futures trader.