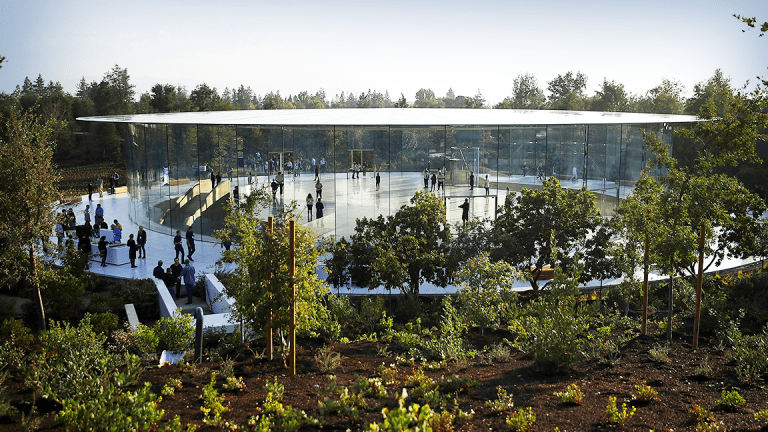 Strange Days at Apple
Two bizarre things have transpired at Apple of late that calls into question something very basic. In short, what's up with the world's largest tech company?
If you'd like to receive the free "Morning Jolt" newsletter, please register here.
Weird days at Apple (AAPL) , no?
Looks like the road to being the world's first trillion dollar company will come with a few bumps along the way. First, there is the now infamous Apple Watch Series 3 connectivity issue. How in the world could Apple release this product probably knowing full well of the problem? The reality is that the product shouldn't be released until the problem is fixed -- dropping a software update on a $400 plus product months later is unacceptable. This is something that causes erosion in the foundational belief that all Apple products are best in class (this belief helps Apple charge high prices for its tech gadgets). Secondarily, there is the very existence of the iPhone 8. By most accounts, there is no reason to buy this phone when for a few more dollars you can buy the fancier iPhone X. Apple in effect has created an instantly obsolete smartphone. 
Both of these happenings raise a larger question on Apple: is there a breakdown in internal planning and development as the company is pushed by rivals such as Alphabet (GOOGL) and Samsung to move even faster. Everything that has transpired around Apple of late seem quite un-Apple like and indicative of a company that needs to improve its infrastructure (beyond a flashy new HQ campus). And all in all, it's a thought that deserves watching as we enter 2018. 
What's Hot
Amazon Is Pure Madness
Armed with its organic food prize Whole Foods, Amazon (AMZN) is all in on getting your weekly grocery budget. Look out Costco (COST) and Kroger (KR) .
At least that is the broad brush takeaway via a new note from Wolfe Research's Scott Mushkin. According to Mushkin's analysis, Amazon recently slashed prices on groceries for Prime members in a bid to gain market share.
"The company recently rolled-out a special discount for its Amazon Prime credit card holders to save 15% on grocery orders through September 22nd, significantly more than the 5% that card holders regularly receive. Post the closing of the Whole Foods merger, Amazon appears to be re-doubling its efforts to grow its market share in the $1 trillion-plus market for everyday consumable items. In traditional Amazon fashion, the company is using aggressive pricing to entice customers to use its services. Our expectation is that Amazon will become increasingly active with its Whole Foods and Amazon Fresh offerings through further integration of the two and additional discounts. Amazon, upon the close of the Whole Foods transaction, indicated that it was moving quickly to integrate Whole Foods' POS system into AMZN's infrastructure so that it could provide an enhanced benefit for Prime members shopping WFM stores. We would anticipate the debut of at least a preliminary program by the upcoming holidays. This further underscores the unprecedented changes taking place in the consumables industry, which are only likely to accelerate over the next 12-24 months, and we continue to believe investors need to avoid most equities in the sector."
Mushkin included a screen grab of the discount.
Source: Wolfe Research.
PayPal On the Hunt for Big Deals
PayPal (PYPL) is on the hunt.
Shares of the digital payment's giant have surged 61% this year, blowing away Facebook (FB) , Apple and JPMorgan (JPM) . After talking with PayPal CEO Dan Schulman at length, you can see why Wall Street has embraced the stock. PayPal is really reinventing itself. In short, it's striking new deals to open up its platforms to others such as Facebook and Baidu (BIDU) . Meanwhile, Schulman explains the coming Apple Pay Cash may not instantly be a major threat to PayPal's popular Venmo service -- building a Venmo won't happen overnight for Apple.
And amidst such heightened competition and rising cash on its balance sheet, Schulman revealed PayPal is hunting for an acquisition. Nothing is imminent Schulman said, but the hunt is on. If you have ideas on who would be a good fit with PayPal, tweet them to me at @BrianSozzi -- curious to hear your thoughts!
Is PayPal Hunting for a Big Deal?
Apple and Facebook are holdings in Jim Cramer's Action Alerts PLUS Charitable Trust Portfolio. Want to be alerted before Cramer buys or sells AAPL and FB? Learn more now.
More of What's Trending on TheStreet: