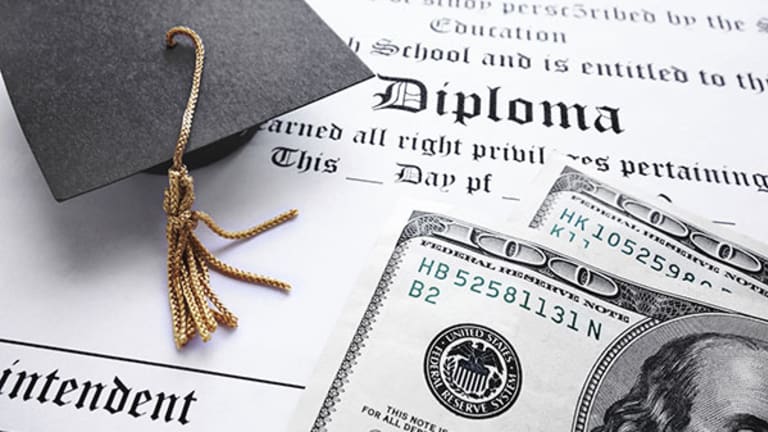 Apollo Education's Growth Is Uncertain Amid For-Profit Education Glut
Apollo Education plans to report quarterly results Wednesday.
NEW YORK (TheStreet) -- Supply and demand remains one of the key challenges for for-profit education companies such as University of Phoenix operatorApollo Education (APOL) . There are simply too many schools competing for students.
Complicating matters is President Obama's proposal to make community college free for the first two years, which could turn the federal government into the industry's biggest threat.
Although Apollo has struggled to grow its student population at its University of Phoenix subsidiary, the rate of decline has slowed. And the company is transitioning to a new online classrooms platform, hoping to raise its retention rate.
There are signs that the company's focus to improve its online offerings, which will better diversify its programs, has begun to work.
Although new degreed enrollment fell 5% year over year in first fiscal quarter, which ended Nov. 30, that was less than the the 5.9% year-over-year decrease from the fourth fiscal quarter. What's more, new degreed enrollment grew 2.5% in the first fiscal quarter compared with the fourth. So there's hope that the company can finally turn things around, helped by its marketing initiatives.
Still, with Apollo shares down 56% in the past five years and almost 30% in the past three, how long will investors wait? Even more important, if President Obama's community college proposal takes effect, do investors want to hold these shares and potentially suffer more losses?
Apollo, headquartered in Phoenix, will report fiscal second-quarter earnings results Wednesday before the opening bell. And Wall Street estimates from Yahoo! Finance, have been on the decline.
In the past three months, the average estimate for Apollo's second quarter, which ended Feb. 28, has fallen to a loss of 16 cents a share from a profit of 9 cents a share. Projections have also declined for the fiscal third quarter, which ends in May and for all of fiscal 2015, which ends in November.
Revenue estimates don't look promising either. Revenue for the fiscal second quarter is projected to be down 14% year over year to $584 million. And expectations for the third quarter and full year suggests declines of 7% and 10%, respectively.
This suggests it will be a while before investors will see the benefits in Apollo's recent initiatives. So although the stock has suffered 17% losses so far in 2015, things may get worse before they get better.
That said, these shares are cheap, trading at just 16 times what the company is expected to earn per share in the next year. That's one point lower than the industry average, according toThe Wall Street Journal. And that's the conundrum investors are in. With Apollo having the benefit of lowered expectations and weak year-over-year comparisons, there will be some quarters ahead where Apollo may surprise Wall Street by beating estimates.
What's more important to consider is the industry's broader struggles and the possibility these companies will have to compete against free education offered by the government.
This article is commentary by an independent contributor. At the time of publication, the author held no position in the stocks mentioned.