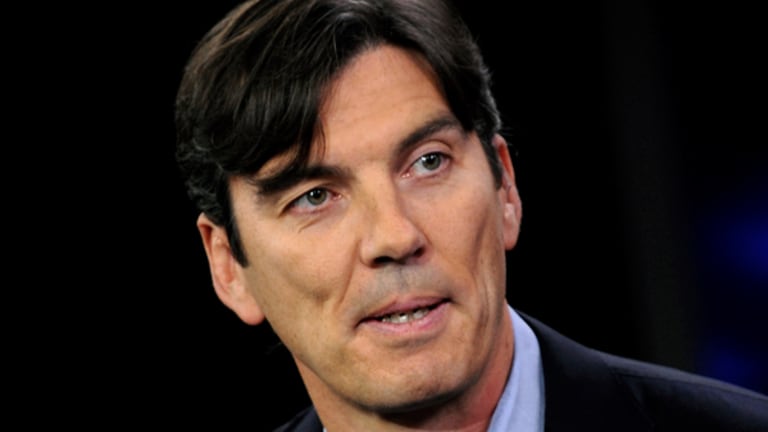 AOL's Tim Armstrong Under Consideration for Uber COO Job - Report
Armstrong is reportedly among several executives being considered to help CEO Travis Kalanick manage the company.
Armstrong is reportedly among several executives being considered to help CEO Travis Kalanick manage the company.
Just days after the very public resignation of Uber president Jeff Jones, the San Francisco-based ride-sharing company has begun interviewing candidates to serve as the chief lieutenant of embattled company co-founder and CEO Travis Kalanick.
Candidates suggested by some of Uber's investors include Tim Armstrong, CEO of AOL, which is owned by Verizon Communications (VZ) - Get Report ,  Thomas Staggs, the former COO at Walt Disney (DIS) - Get Report , and John Martin, CEO of Time Warner's (TWX) Turner, according to a report by Bloomberg. The three men declined to comment, Bloomberg said.
Jones, who apparently clashed with Kalanick, resigned on Sunday after just six months in the job. "The beliefs and approach to leadership that have guided my career are inconsistent with what I saw and experienced at Uber," Jones wrote in a widely distributed email.
Meanwhile, Uber board member Arianna Huffington told reporters during a conference call Tuesday that Uber has already begun interviewing candidates for the COO job, according to a report by CNBC. She also said that Kalanick, who has weathered several scandals during the past few weeks, was not in danger of being replaced at this time.
Huffington and Armstrong are well-acquainted. Six years ago AOL, with Armstrong at the helm, purchased The Huffington Post, which was founded by Huffington in 2005. She left the company last August, a year after Verizon purchased AOL.
On March 7, a week after admitting that he needed "leadership help," Kalanick announced in a blog post that he would be looking for a chief operating officer to help him run the company.
Shortly before that Kalanick publicly apologized to a Uber driver after a video surfaced showing Kalanick arguing with the driver over the company's compensation policies. Kalanick and two guests had taken a Uber ride on the evening of Super Bowl Sunday.
In addition to his argument with the driver, Kalanick has been in non-stop damage control mode over several other highly publicized developments.
The New York Times reported that, according to unidentified Uber employees, the company used a secret program for clandestine snooping that was used to circumvent authorities that did not want the company operating in their region.
In addition, Kalanick announced on Feb. 20 that the company was retaining former U.S. Attorney General Eric Holder to look into allegations of discrimination and sexual harassment made by Susan Fowler, a former engineer at the company.
Kalanick also dismissed a top Uber executive over a prior harassment claim at Alphabet (GOOGL) - Get Report .
In January the privately held Uber, which has a valuation of about $69 billion, faced a growing #deleteUber campaign after some said the company was trying to capitalize on a New York taxi drivers' protest against President Trump's travel ban. Kalanick was also criticized for participating in Trump's economic advisory council. He eventually resigned from the council.
TheStreet's Paul Springer, who also writes for The Deal, a sister publication, contributed to this report.
This article was written by a staff member of TheStreet.