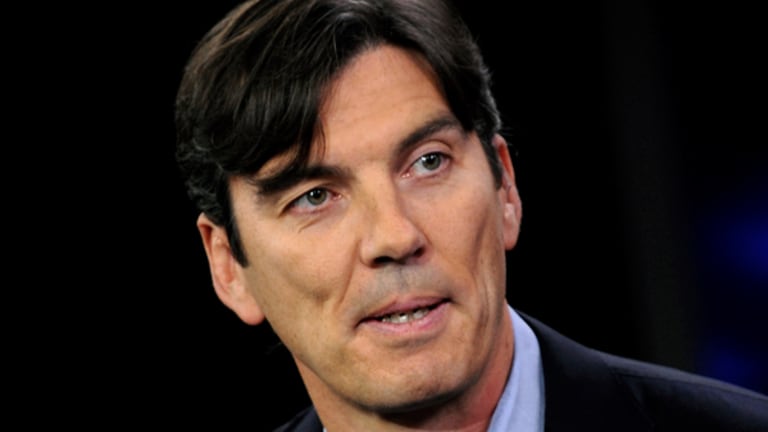 AOL Chief Tim Armstrong Has the Last Laugh With Verizon Deal
Tim Armstrong wasn't a perfect leader of AOL, but ultimately he did a lot more things right than wrong.
Tim Armstrong wasn't a perfect leader of AOL, but ultimately he did a lot more things right than wrong.
NEW YORK (The Street) -- Tim Armstrong comes off really well this morning after agreeing to sell his company AOL (AOL) to Verizon (VZ) - Get Report for $4.4 billion.
AOL gets more attention than any other $4 billion market cap company because it pioneered the Internet and was part of the mega $154 billion tie-up with Time Warner (TWX) in 2000.
But with that attention comes a lot of AOL dial-up jokes. Armstrong and AOL have been portrayed for years as out of touch with what the cool kids have moved on to. And Armstrong was lampooned for having left a plum job running sales at Google (GOOGL) - Get Report to take over a basket case at AOL.
Armstrong isn't perfect. Who among us is? I'm not sure he would take this job again in 2009 if he had the choice. If I were him, knowing how tough the last six years have been like, I would think that Randy Falco (his predecessor in the role) would have been welcome to keep that job.
But most of us have taken lousy jobs or ones that weren't quite what we expected them to be when we said yes. The measure of any of us is what do we do after we take the job. Armstrong could have quit. Armstrong could have sold shares. He didn't. He actually dug into his own pockets along the way and bought more than $30 million of it with his own post-Google wealth.
When AOL's stock hit $11 per share a few years ago, he could have joined the rest of the naysayers on Twitter and walked away. He didn't.
When Starboard Value LP came after him in an activist campaign shortly after that low in the stock price, he could have rolled over. Instead, Armstrong went to Steve Ballmer at Microsoft (MSFT) - Get Report and said, "I want to sell you some of my patents from Netscape's browser and then license them back from you for free. And I want you to pay me as much as my current market cap."
When Armstrong announced the patent deal, his stock increased by more than 40% in a day. The proxy contest with Starboard was essentially over.
Armstrong probably held on to his baby Patch longer than he should have, but he eventually sold it off to private equity interests.
He burned through a lot of execs around him on his management team as well.
But his M&A track record worked out extremely well for shareholders.
As a Yahoo (YHOO) shareholder, I can only wish Yahoo's Marissa Mayer had had half as good an M&A record as Tim Armstrong. Even though critics howled about buying The Huffington Post and TechCrunch, AOL could sell both for a lot more than they paid for them if they wanted to today.
Probably Armstrong's biggest achievement, though, was realizing his brand strategy a few years ago wasn't going to be enough to save the company. Given the cards he was holding and where the world was moving, Armstrong realized he needed to move into programmatic advertising in a big way.
He was way ahead of people and companies like Yahoo in doing so. It wasn't easy, as it meant that margins would take a hit. But it was like swallowing bitter-tasting medicine: the sooner you did it, the sooner you would come out the other side.
Had AOL remained independent, the shift to programmatic advertising would have continued to be tough on the company. But ultimately, it's AOL's combination of content and programmatic assets that is making Verizon pay $4.4 billion for it.
Congrats, Tim Armstrong. Take a victory lap on behalf of your shareholders.
This article is commentary by an independent contributor. At the time of publication, the author held a long position in Yahoo.