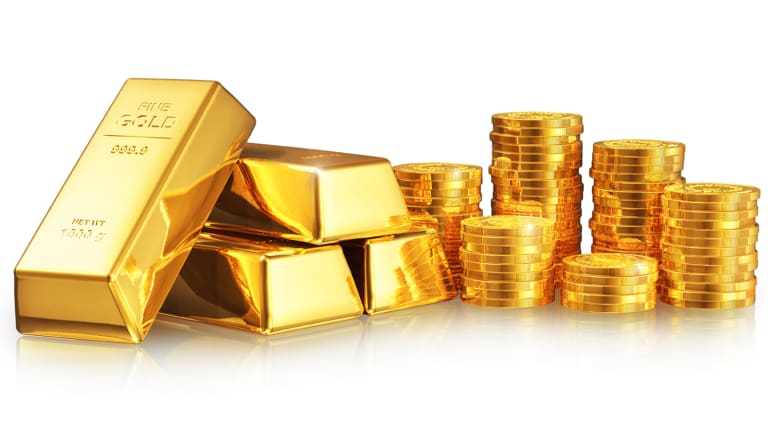 Anxious Over Global Market Turmoil? Here Are Your Best Gold Investments Now
The classic crisis hedge of gold will regain its luster in 2016. Here's how and why to invest in the yellow metal.
The year of the Fire Monkey is upon us, according to traditional Chinese astrology, and it has gotten off to a rather inauspicious start.
With Chinese markets holding global equities hostage -- once again -- and the dollar falling as well, gold has hit a nine-week high. The logic for this upswing is simple: Investors are channeling money into what they believe are safe, hard assets that can weather times of uncertainty. Gold futures have risen five sessions in a row.
Gold is popular now because weak equities are collapsing. As 2016 gets off to a rocky start, you should learn these dangerous investment traps and resolve to avoid them.
Beyond the Chinese situation, the dismal market scenario across the U.S., Europe, Asia and Africa is being linked to geopolitical unrest, driven by the Middle East's tense circumstances and North Korea's announcements about testing nuclear weapons. 
Is gold then truly a great alternative? What are your possible investment options in gold?
2015 wasn't half as good for gold as early 2016 is turning out to be early on.
Expectations for a Federal Reserve rate hike, rising equities and a low inflation landscape diminished enthusiasm for gold last year, and it fell 10%.
2016, of course, is a very different story. If equity markets continue to slump downward, gold should certainly witness a rise. Any intermediate pullbacks in equity markets will, however, halt this curve.
Gold bullion is trading at more than $1,102 per ounce midday Friday after rallying for much of the week.
The outlook for gold will be influenced by the pace of U.S. interest rate hikes. If current market turbulence and the deflationary impact of plummeting oil prices drives the U.S. Federal Reserve to be extra cautious, it may not raise borrowing costs as quickly as expected. (Right now, financial markets are predicting two rate hikes in 2016.)
A word on the "emotional" nature of gold as a commodity. It usually jumps in price when uncertainty hits global stock markets. Market observers such as Peter Schiff have spoken about how gold is a solid "buy" now. In a Bloomberg interview from March 2014, Barrick Gold  (ABX) CEO Jamie Sokalsky said gold prices could rise toward the $2,000-an-ounce mark within two or three years. That timeline indicates 2016-2017.
If financial markets remain as fear-stricken as they are, gold should continue its ascent.
As an investor, there are several options available, if you want to profit from potential increases in the price of this precious metal. Depending on the extent of your risk appetite, you could opt for shares of gold-mining companies. Buying physical gold (bullion and coins) is another possibility. Your simplest option: gold exchange-traded funds.
Gold-mining companies have received a boost from the gold rally. Newmont Mining (NEM) is up 2.5% year to date. Randgold Resources (GOLD) is up 2.6%. Franco-Nevada  (FNV) is up 6.7%. Goldcorp  (GG) is up 7.7%. Barrick Gold (ABX) is up 15%.
Although some gold-mining stocks are already nearing their 52-week highs, Goldcorp, Newmont Mining and Barrick are still significantly below their 52-week highs, even after recent gains.
China's moves to devalue its currency are fuelling fears that other Asian countries will adopt similar strategies. Conversely, this could bode well for further gold price upsides as well as for gold mining stocks.
Amid the appalling stock market environment, a few gold mining companies are offering monthly dividends (Goldcorp is one example).
Investors could also look at ETFs. SPDR Gold Shares (GLD) is a popular example. COMEX Gold Trust (IAU) , Physical Swiss Gold Shares (SGOL) , DB Gold Fund (DGL) are Gold Trust (OUNZ) are among the other options.
Additionally, bear in mind that gold ETFs offer the cheapest (in terms of expenses) way to track gold prices. The ETF price will move up if gold rises and will fall if gold slides down. You don't need to physically own gold or store it if you purchase a gold ETF.
Further, if niche gold ETFs interest you, there are some strong possibilities. For instance, leveraged gold ETFs help investors gain exposure to gold that is double (or triple) the price movement, up or down, of gold bullion or of a specific gold index. You could look at PowerShares DB Gold Double Long ETN (DGP) .
Buying into a mutual fund that invests in gold bullion is a common way to invest in gold. It should be noted that most of these funds are down 20%-30% in the past three years, thanks to how gold stocks and their other underlying assets have fared.
Most of these funds carry expense ratios of 1%-2%. They include First Eagle Gold Fund (SGGDX) , U.S. Global Investors Gold & Precious Metals Fund (USERX) , Vanguard Precious Metals and Mining Fund (VGPMX) , Gabelli Gold Fund (GLDAX) , Franklin Gold and Precious Metals Fund (FKRCX) and Invesco Gold & Precious Metals Fund (IGDAX) .
Don't forget to factor in currency risks - a major cog in determining returns from these gold mutual funds due to their investments.
And finally, if you would prefer the time-tested route of purchasing gold coins, do remember to ask for the coin's melt value. Conduct the essential market research. Locate a trustworthy dealer or financial adviser you have faith in before the transaction. It's always better to have an independent assessment of the specific gold product, as a part of your consideration.
As we've just explained, gold is a great hedge in these troubled times. But there's also a group of dangerous stocks right now that are poised to completely collapse. Problem is, they're popular equities found in many retirement portfolios. Do you own any of these ticking time bombs? To find out, download our free report, which lists the worst stocks in the world today.
This article is commentary by an independent contributor. At the time of publication, the author held no positions in the stocks mentioned.