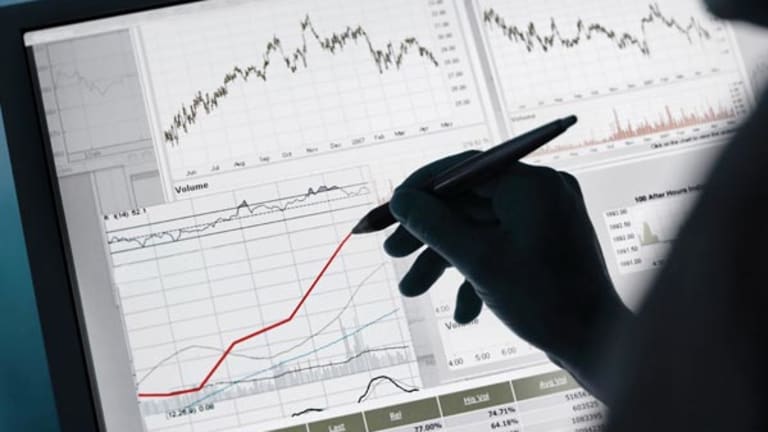 Another Trading Day Without Significant Volume Up or Down
The stock indexes finished on the downside Monday as profit taking set in from all-time closing highs.
NEW YORK (TheStreet) -- Just another day in the stock market -- only this time all four major indexes closed on the downside. The volume was once again pathetically low.
The DJIA finished down 44.05 points at 17024.21 while the S&P 500 was down 7.79 to finish at 1977.65.  This was the 53rd consecutive trading day that the S&P 500 Trust Series ETF (SPY) - Get SPDR S&P 500 ETF Trust Report has not had a 1% move up or down. Is this a sign of complacency?  
The Nasdaq was lower by 34.40 to close at 4451.53 and the Russell 2000 was down 21.41 to close at 1186.74.
Thursday, the last day of the holiday-shortened trading week, the Russell 2000 was the only index that had not surpassed its March 4 high. Well, it is now much lower today. It may not mean that much now but on the other hand it could mean much more than we think. Only time will tell.
>>Arena CEO Dumps Stock as Share Price, Investor Confidence Slide
The momentum technology stocks that allowed the S&P 500 and Nasdaq indexes to climb higher this year finally had a day of intense selling pressure. Facebook (FB) - Get Meta Platforms Inc. Class A Report was down $1 while Twitter (TWTR) - Get Twitter, Inc. Report was down $1.10. Netflix (NFLX) - Get Netflix, Inc. Reportwas down $11.73 and Splunk (SPLK) - Get Splunk Inc. Report was down $1.95.
Earnings season is upon us. The next couple of weeks should tell us a lot as to where this stock market is headed. The semiconductor stocks are priced for perfection. Any hiccup and this market can head much lower in a heartbeat.
The setup for Tuesday trading is anyone's guess. I can very well see the hedge fund community take this market higher again. They also can continue the selloff that we saw in Monday trading. I have no idea right now. The overbought condition of the market has been worked off.
One overriding factor for me is that I cannot find many large-cap or small-cap stocks that are oversold. This is a signal that the market needs to go lower.
I will continue to play defense until I receive the setup and the buy signals that I am looking for. There are entirely too many large-cap and small-cap stocks showing up on my overbought scans.
Apple (AAPL) - Get Apple Inc. Report had a huge upside move on Monday. This large-cap technology stock has been on a tear for two weeks now since its last extreme oversold signal. It is now overbought but I see continued upside over the next couple of days as it has broken above its upper channel price, according to my internal indicators.
In Monday trading, I closed my long position in UltraPro Short QQQ (SQQQ) - Get ProShares UltraPro Short QQQ Report that I purchased Thursday based on the extreme oversold signal. It was another 1% plus gain. I started a new long position in the S&P Goldman Sachs Crude Oil Trust Index ETN (OIL) - Get iPath Pure Beta Crude Oil ETN Report. OIL has an extremely oversold algorithm number. Again, this is all found at www.strategicstocktrade.com.
At the time of publication the author had a long position in OIL.
This article represents the opinion of a contributor and not necessarily that of TheStreet or its editorial staff.