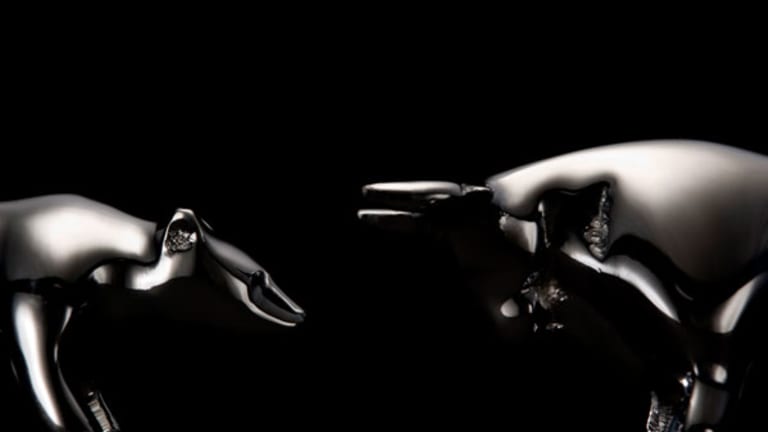 Publish date:
Another S&P Closing High -- Do Traders Have a Sense of Capitulation?
All indexes are now extremely overbought. Just wait until Janet Yellen speaks Friday.
All indexes are now extremely overbought. Just wait until Janet Yellen speaks Friday.
NEW YORK (TheStreet) -- The hedge fund community continued its buying frenzy on Thursday ahead of Friday's speech by Federal Reserve Chair Janet Yellen in Jackson Hole, Wy.
Whatever she has to say, it may very well be met with a selling frenzy.
The DJIA continued its winning streak on Thursday, gaining 60.36 points to close at 17039.49. This is not quite a record closing high but getting close. The S&P 500 did set a new all-time closing high again, up 5.86 at 1992.37. The Nasdaq was up 5.62 at 4532 while the Russell 2000 closed up 2.52 at 1160.03.
At last check, the Russell 2000 is still down for the year to date. Also, once again the S&P 500 Trust Series ETF (SPY) - Get Report volume was a pathetic 68 million shares traded on Thursday. This was the fourth up day in a row on air.
The Nasdaq finished the trading day with an extremely overbought algorithm number of 99.10 out of 100. The DJIA and the S&P 500 will both have an extremely overbought algo number on a green open Friday. The fact of the matter is, these are not sustainable levels. The hedge fund-programmed machines have created an environment that is set up for a down draft of major proportions.
As Raghuram Rajan, the governor of the Reserve Bank of India, recently said, "We are taking a greater chance of having another crash at a time when the world is less capable of bearing the cost. Investors are counting on easy money -- they put the trades on even though they know what will happen as everyone attempts to exit positions at the same time. There will be major market volatility if that occurs."
Traders and investors who are throwing in the towel and succumbing to the emotional state of chasing this market higher will end up in failure.
It is not very often that I have algorithm numbers that have the stock indexes at extreme overbought levels. When it does happen, which is rare, it always ends badly. There are no exceptions.
Thus, be patient and look for those opportunities to short this market. I have the feeling that we have asymmetry at the present time.
There are currently 137 large-cap stocks on my extreme overbought scan. Those are stocks with more than $4 billion in market cap. That, my friends, is a huge amount of stock.
As we wait for the Janet Yellen speech on Friday, I sold most of my Direxion Small Cap Bear 3x (TZA) - Get Report on Thursday morning for better than a 2% gain. I have a starter left. I also added to my Brinker Intl. (EAT) - Get Report short position. EAT has an extraordinarily overbought algorithm number. I started Ultra Short S&P 500 (SDS) - Get Report long. It is all about risk/reward at these levels.
I am having a free chat Friday at www.strategicstocktrade.com. All are welcome to join.
At the time of publication, the author was long TZA and SDS and short EAT
This article is commentary by an independent contributor, separate from TheStreet's regular news coverage.