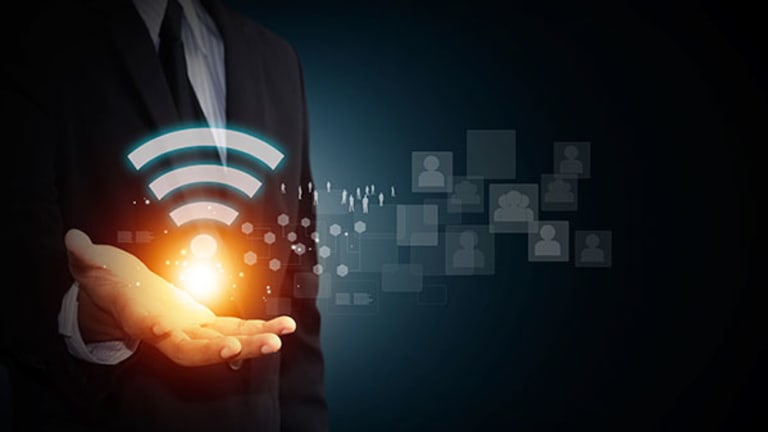 Another Reason Globalstar's Future Looks Cloudy: New Wi-Fi Technology
Embattled wireless communications company Globalstar has many hurdles it needs to overcome to bring its core asset to profitability, including new technology.
NEW YORK (TheStreet) -- That once-shiny, new 2.4 gigahertz wireless router you just installed to set up your home network could be joining the junk heap sooner than you think.
The future is 5 GHz, according to several experts, and that means bad news for Globalstar (GSAT) - Get Globalstar, Inc. Report , an embattled company that has staked its future on people paying to use a tranche of 2.4 GHz spectrum it owns.
Many devices, including wireless routers, garage door openers and other remote-controlled gadgets, operate using the 2.4 GHz wireless frequency, which works well for today's needs because it easily penetrates solid objects and can work over long distances. But as more of our lives become connected, the 2.4 GHz signal will become more crowded, meaning interference and poor performance. In fact, the advantages of 2.4 GHz will become disadvantages in the future.
"2.4 GHz's penetration is far more often a significant drawback rather than a benefit," said Devin Akin, founder and CEO of Divergent Dynamics, a Las Vegas-based Wi-Fi consulting firm, and founder of the Certified Wireless Network Professional accreditation. "The more penetration a signal gets, the more likely it is to interfere with a signal on the same or an adjacent channel."
The higher-frequency signal that Akin and others say is the future, 5 GHz, overcomes this obstacle.
"There are more available channels and less prone to interference," said Jussi Kiviniemi, vice president of Wi-Fi tools at Ekahau, a Reston, Va.-based wireless networks company. "2.4 GHz is considered as a fallback or a frequency for legacy devices. The ground rule is push everything you can to the 5 GHz space."
Hence the problem for Globalstar. The company owns a part of 2.4 GHz spectrum and has the rights for its use among satellites; it is currently petitioning the Federal Communications Commission to be able to use it terrestrially as well. The plan is to create pay-for-use wireless networks that alleviate congestion on free Wi-Fi channels.
With 2.4 GHz being phased out, there may not be much of a future in it. 
"People can use 5 GHz if the 2.4 GHz band is congested but for them to use Channel 14 [the one Globalstar owns], which already has interference on it, doesn't make sense," said Akin. "Within five years, using 2.4 GHz for Wi-Fi connectivity will be unthinkable."
Globalstar has been under pressure of late. Hedge fund Kerrisdale Capital sent shares down in Nov. after announcing it was short GSAT. The fund released negative research on the company, claiming that the technology is a "non-solution for a non-problem" and that the stock is worthless. There has also been criticism of GSAT's balance sheet, noting several years of losses, poor stock performance and that the company has greatly diluted shareholders by issuing more stock -- there are now 1.2 billion shares outstanding, up from just under 400 million a year-and-a-half ago. Globalstar has not yet responded to request for comment.
The company has said that Wi-Fi network congestion is a real problem and that it has the solution. Executive Chairman and CEO Jay Monroe said on Mad Money in Nov. that the company would not be further diluting the stock by issuing more equity. He defended the company's fortunes, saying that it would have plenty of "good customers" -- those people who have congested Wi-Fi networks -- but admitted that it all rested on the upcoming FCC ruling, which he expects in "a little while."
Monroe has been an active buyer of GSAT stock, "a sure sign of conviction," said Mad Money host Jim Cramer during the CEO's appearance.
Despite the CEO's conviction, the FCC could submarine Globalstar's plans. Even if the company gets FCC approval, it will need to find a partner -- a wireless carrier, cable company or technology firm like Google (GOOG) - Get Alphabet Inc. Class C Report or Amazon (AMZN) - Get Amazon.com, Inc. Report , according to Monroe -- to sell its paid Wi-Fi network. Even so, once those things happen, consumers may have already moved on from its core technology. 
This article is commentary by an independent contributor. At the time of publication, the author held no positions in the stocks mentioned.