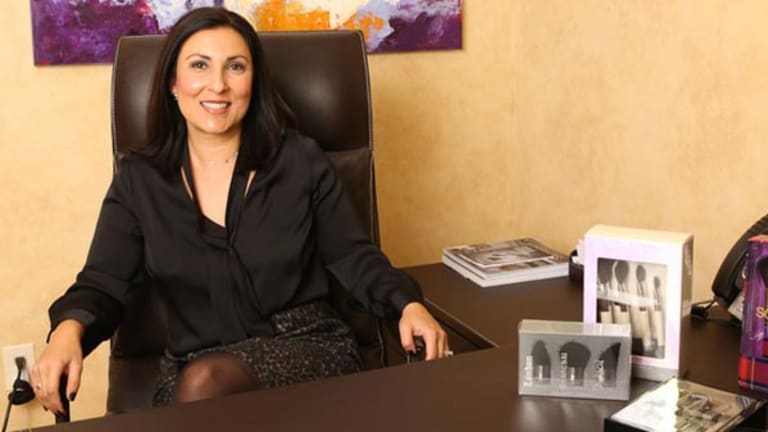 Anisa International: Starting a Business Out of Adversity
Anisa International's founder and CEO Anisa Telwar says she almost lost her business when her partner went out on his own. Telwar had to learn the basics of manufacturing - quickly.
(Anisa International's Anisa Telwar is the eighth female executive to be profiled in our series highlighting women in business.)
NEW YORK (
) - Anisa Telwar's meeting in 1992 with a cosmetic brush producer in Asia through her family's import/export business changed her life.
That meeting led to a distribution partnership between Telwar and the producer, which ultimately became the stepping stones for
as it is today -- a leading global designer and manufacturer of cosmetic brushes and tools based in Atlanta.
With more than 600 employees, Anisa has offices in the U.S., U.K. and China (including its manufacturing plant in Tianjin, China).
But the path for Telwar, 46, was not always easy.
Recently, Telwar was nominated to be included in
, an elite organization comprised of the world's most successful women executives and entrepreneurs.
>>>Woodhouse Day Spa's CEO: Act Locally, Think Globally
Earlier this week, Telwar shared with
TheStreet
her road to success.
How did you get into cosmetic brush industry? Did you know anything about manufacturing the brushes and if you didn't, where did you learn?
Telwar:
I had worked with my family's business in international trade for five years. I had met this gentleman who came from a family of manufacturers of cosmetic brushes. He did not have sales and marketing experience, however. I was able to support him and become a distributor for him. And through our partnership, I was able to learn from him the tricks of the trade. He was the craftsman and I was his prodigy. The technical aspect of brushes is always changing and it's a handcraft, so it's still very fascinating to me, and I don't know everything about it today even after 20 years.
After 15 years of working together he decided to go out on his own after I had built quite a bit of opportunity for us and for him. So I almost lost my business, and that's when I had to start my own plant in China in 2003. That was pretty scary for two years, and still is very scary to have a China manufacturing arm that I own 100%.
It was not expected ... But it was really the best thing that happened because after that happened and I started my own facility in China that's when my company really grew.
>>>Great Clips' Rhoda Olsen: Company CEO (and Mom-In-Charge)
>>>Fastsigns CEO Catherine Monson: 5 Traits to a Successful Career
>>>BrightStar Care's Shelly Sun: From Frustrated Consumer to CEO
How were you able to make the business successful?
Telwar:
I realized that I had entered into an industry that was very much commoditized, and I was going up against a lot of male-driven businesses that were coming out of New York and I was not located in New York. I needed to be very, very creative. I started focusing on how was I going to stand out, what was going to be my niche and what was I going to do to make sure that I could be competitive, but still be able to make money.
What did you come up with?
Telwar:
Marketing. It was all kinds of ways of communicating about the product in a way that had not been done. People had never looked at pairing product -- the cosmetic itself -- with the actual makeup artist tool. They always did it separately. So when I started talking with the different product managers, asking, "How does the brush perform that you currently use?" They were like, "We don't know. It's really soft. That's all that matters." I said, "Not necessarily." Because
the industry was so dominated by men at the time, who didn't use the product, I was looking at it in a very different way.
Now the adversities that we deal with are, of course, growth. Every company needs to grow to survive. And looking at infrastructure in China, looking at our processes, looking at our culture, not that it's adversity, just that it is a constant
concern. We cannot stand still.
Where are the brushes sold? You have private-label products that you design for other companies, but then you also have your own proprietary line?
Telwar:
We create for other brands. We're partners to them in manufacturing and design. My brand
is a really small pipeline that I use for innovation, where I incubate new ideas and deal directly with makeup artists and some consumers. But it's not meant to be a substantial investment. It's mainly so I can get information quickly, do my launches quickly because the larger companies like
Mac Cosmetics
, it takes them longer to launch, and then I can bring them data. I can show them the ROI (return on investment) in certain types of innovative heads or fibers.
>>>Janska's Erickson Breaks Mold for Older Entrepreneurs
>>>How One Woman Broke Into the Auto Supply Industry
>>>Style Me Pretty's Larson: Women Business Leaders
So then who, exactly, is your target market?
Telwar:
Our target is more business-to-business. My true target market is the creative directors and the visionaries of these very big brands -- the founders. They have vision, they can create the strategy, they have the distribution and their consumers are the everyday woman and the makeup artists. It is very connected to fashion so you have lots of movement and it's very dynamic
especially with the changes and the innovation with skin care and color.
As CEO, what did you find as the company was growing that you needed to keep into perspective in order to lead well?
Telwar:
Good question. I cannot tell you the difficulty it has been for me year to year to elevate myself, to mature myself and to grow myself up and to put the right kind of people around me since I wasn't formally educated in a corporate environment. It has been a very intuitive process for me. It has been a lesson of hard knocks. Sometimes I make pretty good decisions, but most of the time I have had to learn from a lot of mistakes.
Where I am in my life 20 years later, I'm much, much more open to collaboration. I get it that I don't have to know it all, and I get it that I don't have to be the smartest person in the room anymore.
Were you ever concerned that your gender would inhibit you in any way from running the company or worried about a lack of respect shown to you?
Telwar:
There is something about the business we're in that woman are more drawn to possibly than men. I didn't hire a lot of men in the beginning, they were mainly on the manufacturing side. In the last year, I have hired a vice president of operations in the last year, a CFO
and others and initially when I hired them I was intimidated that they would know more than me, or they would not respect me for what I've done, but then I started to realize I lived it.
Yes they might have a lot more knowledge in a certain area, but I can complement them also. At the end of the day they are looking to me to make the final decision.
Have you considered or would you consider moving manufacturing to the U.S.?
Telwar:
I've spoken about this quite a bit this last year. Cosmetic brushes are an art. They started in Japan. They went to Korea and then they went to China. It's a craft. It has
specific raw materials. The raw material comes from China and the craftsmanship is innate in their culture. What they do with the hair, for instance. I do not have that resource pool in the United States. I do not even have that in Mexico.
I'm working with
DuPont
(DD) - Get DuPont de Nemours, Inc. Report
. They're one of my partners because I don't know what's going to happen with China eventually. My costs are going to keep increasing. They're never going to decrease. They may stabilize for a little bit, but odds are they're only going to increase. So we have to look for options that. The U.S. is not an option for us at this point.
So what's next for the company?
Telwar:
Right now I want to focus on our core, and our core has a lot to do with design, creativity and innovation. I would like to focus on product expansions that align with our core products and just do that for now. Really focus on our manufacturing, getting that very strong. I'm not looking to reinvent us on any level. I just want us to maximize who we are now. And we just rebranded our logo after 20 years, and I just feel like we have some real talent that is untapped. I want to bring all of that out right now.
How do organizations like The Committee of 200 benefit women entrepreneurs?
Telwar:
It's truly inspiring to see what these women have done from the very beginning. That's where I want to go as a leader now and having these examples, these women, who can show me the way and create inspiration about giving back. Like they are so open to sharing their success stories and I'm relatively young to them, you know. It's funny because some of them will call me young and I'm like, "Seriously?" But I mean they are doing things that really blow my mind. I feel like by being around them it's elevating what's possible for my organization and the impact that I can have.
What advice would you share with other female entrepreneurs?
Telwar:
If I could do anything differently it would have been from the very beginning the quality of people I would have surrounded myself with. I would not have sold myself short. I think the biggest asset in any kind of business, they need the right support and then creating the culture. Having that team support you in creating that culture, I think that really impacts an organization from the beginning.
-- Written by Laurie Kulikowski in New York.
To contact Laurie Kulikowski, send an email to:
Laurie.Kulikowski@thestreet.com
.
>To submit a news tip, email:
.
RELATED STORIES:
>> Subway Founder: Building a Sandwich Empire
>>Apple Fashion Accessories a Boon for Small Businesses
>>Smashburger Smashes the Better Burger Category
Follow
TheStreet
on
and become a fan on
.
Disclosure: TheStreet's editorial policy prohibits staff editors, reporters and analysts from holding positions in any individual stocks.