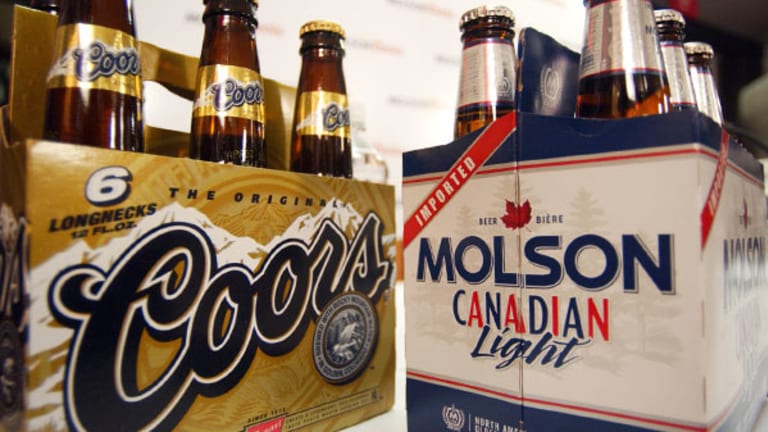 Anheuser Busch, MillerCoors Secrets Unveiled -- Will Beer Business Bubble or Fizzle?
A petition by consumer activists forced both Anheuser-Busch and MillerCoors to reveal the secret ingredients to their most popular products. So what will happen to their stocks?
NEW YORK (TheStreet) -- In a coup, consumer activists have forced beer makers to reveal their ingredients in an effort to bring more transparency to the industry. Investors will spend some time sorting out the repercussions.
On Thursday, both Anheuser Busch Inbev (BUD) - Get Anheuser-Busch InBev SA/NV Sponsored ADR Report and MillerCoors (a joint venture of SABMiller (SBMRY) and Molson Coors (TAP) - Get Molson Coors Brewing Company Class B (TAP) Report) posted the ingredients to some of their most popular brands online after food blogger Vani Hari created a petition on FoodBabe.com, questioning whether their beers contained harmful allergens.
Hari began the petition on Wednesday, amid suspicion that many mainstream beers contained harmful ingredients like high fructose corn syrup, stabilizers, artificial colorings and even fish swim bladders, as she wrote on her website.
The petition quickly gained steam, adding upwards of 40,000 signatures in 24 hours, as many food enthusiasts had similar questions.
"I grew concerned about the beer after discovering there is a long list of additives the government has approved for use," she wrote.
Both beer companies responded immediately, posting ingredients online within hours of the petition catching national spotlight.
As of Friday's close, Anheuser-Busch shares were down 0.66%, SABMiller shares were up 0.59% and Molson Coors shares were down 0.34%.
Anheuser-Busch posted the ingredients for its two top-selling brands on its website, tapintoyourbeer.com. It lists the same ingredients for Budweiser and Bud Light: Water, barley malt, rice, yeast and hops.
The company went on to say on its website that ingredients for its other popular brands would be posted "in the coming days."
Meanwhile, MillerCoors revealed the ingredients of Miller Lite, Coors Light and six other brands on its Facebook page. Most are made from water, barley malt, corn, yeast and hops, the company said.
Although, neither company responded immediately to phone inquiries as to why they felt transparency now was the best option, MillerCoors posted on Facebook, "At MillerCoors, we put quality and safety above all else. We also value transparency and are happy to comply with the request for additional information."
Salon reported that the Center for Science in the Public Interest has been trying to get beer companies to list their ingredients for decades. CSPI lobbied the government to require the disclosure from brewers, resulting in no change. In the end, the voice of the consumer turned out to be the most influential.
Consumers drive the revenue that is the lifeblood of brewers and others in the restaurant and food industry. With the interconnectedness of social media and constant reporting of harmful toxins in foods, people want to know that what they are drinking and eating isn't doing their body unnecessary harm.
Hari wrote that she initially started her investigation because her husband drinks beer and she wanted to know what was in the brews. When she found out the brewers weren't required to list their ingredients, she said she knew she had to act.
Now the question is how beer stocks will respond to the ingredient announcement. Currently the stock results look mixed, but we'll need to see how consumers respond.
Express Adopts Poison Pill as Sycamore Partners Buys Shares
Why Priceline's $2.6 Billion Buy of OpenTable May Be a Bargain
Parents, Educators, Politicians Share Blame for College Grads' Woes
Biotech Stock Mailbag: Vanda, Navidea, Provectus
At the time of publication, the author had no position in any of the funds mentioned.
This article represents the opinion of a contributor and not necessarily that of TheStreet or its editorial staff.