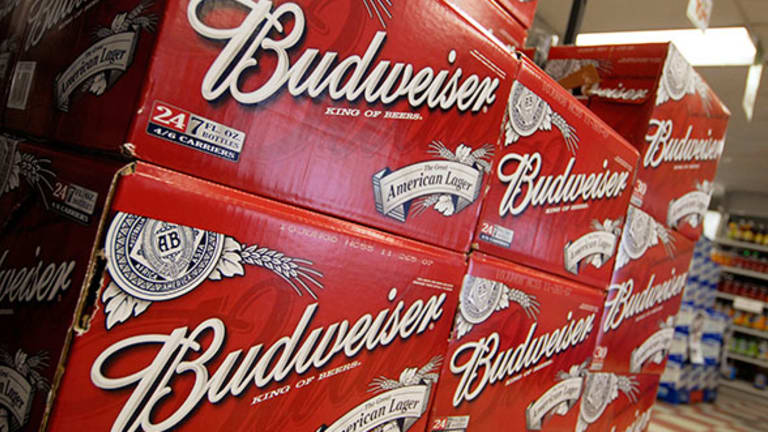 Anheuser-Busch Gives Global Reach to Beer-Loving Investors
There's a lot in the market that can drive an investor to drink. That's why the maker of Budweiser beer is an appealing holding ahead of earnings early Thursday.
This has been a volatile time in our world, and it should be of little surprise that among the sectors doing very well at present are beer and spirits. It's one of the reasons spirits superstar Constellation Brands (STZ) - Get Report has been hitting new heights as it buys wine and beer companies to diversify further into those areas.
That puts Constellation up against another giant company, Anheuser-Busch InBev (BUD) - Get Report , the product of a mega-merger between the American brewer of Budweiser and other beers and the Belgian company InBev. Anheuser is trying to get bigger still through its attempt to merge with SABMiller (SBMRY) , the brewer of, among many others, Miller beer.
At this point it is unknown if such a mega-merger in the beer world will even take place. But for now, is Anheuser-Busch for you ahead of earnings early Thursday?
BUD, at $117, is down 6.3% for the year to date. The S&P 500 is down 4.8% for the same period. But there is tons of value in BUD when you consider its rising earnings per share estimates for the full year and its solid 85.5-cent quarterly dividend that yields about 3% annually.
For the quarter that ended in December, analysts, on average, expect Anheuser-Busch to earn $1.23 a share on revenue of $11.23 billion, compared to the year-ago quarter when the company earned $1.51 a share on $12.02 billion in revenue. For the full year, earnings are projected to be $4.91 a share, down from $5.32 a year ago, while revenue of $43.98 billion would mark a decline of 6.6% from the year-ago quarter.
Despite Anheuser-Busch's large global operation, its revenue has been under pressure because of the strong U.S. dollar that devalues its overseas sales. Regions such as Mexico, where the company holds a large stake in brands including Corona, have been headwinds. But management continues to make efficiency improvements to grow profits.
In the third quarter, thanks to higher prices, the company reported solid double-digit organic growth (growth excluding mergers and deals) in Mexico and Brazil. Even with China's economic slowdown, a lot of Budweiser is being drunk in China -- organic growth there rose 6.6%. So, while BUD may not seem cheap at 25 times earnings, compared to a price to earnings multiple of 20 for the S&P 500 index, it would be a mistake not to invest in this market leader.
Aside from that 3% yield, BUD has a consensus buy rating and an average analyst 12-month price target of $130, suggesting 12% gains from current levels. So buy now.
This article is commentary by an independent contributor. At the time of publication, the author held no positions in the stocks mentioned.