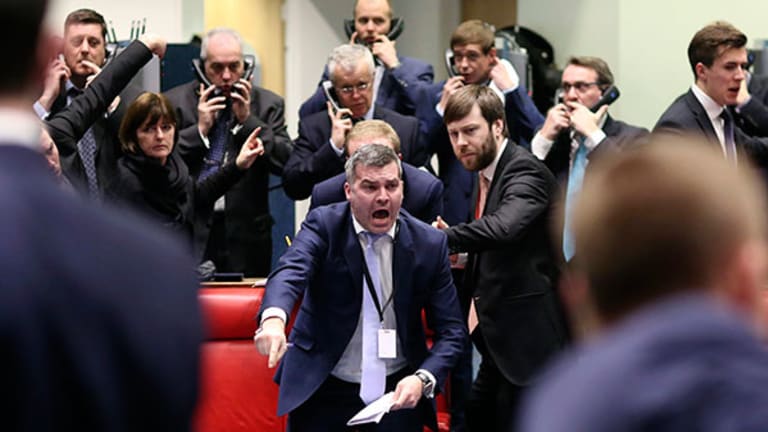 Angry Twitter Users Make Day Even Worse for Online Brokers
As brokerage and mutual fund Web sites went down and customers were frozen out of their accounts Monday, investors took to Twitter to blast the firms holding their money.
UPDATE: Adds comment from Vanguard spokeswoman in the eighth paragraph.

NEW YORK (TheStreet) -- Online brokers took a beating on Monday -- on Twitter.
Testy customers took to the social media site to blast their brokerage firms and mutual fund companies for Web sites that had crashed, leaving them unable to execute trades in a volatile stock market.
"Bad bad bad day for etrade to be acting up," wrote one investor.
"@TDAmeritrade seriously? your servers are crashing today?" wrote another at 10:45 a.m. From another frustrated Ameritrade customer: "What a disaster. Time for a new broker." 
Like its competitors, Ameritrade (AMTD) - Get TD Ameritrade Holding Corporation Report made an effort to appease the angriest customers with offers of one-on-one conversations. "We would hate to lose you -- we'd like the opportunity to discuss further," the firm said via Twitter to many of the clients who complained. 
Contacted by TheStreet, Ameritrade spokeswoman Kim Hillyer said the company's trading site was not down, but that its marketing site -- a popular gateway for clients to log in -- had "a slowness issue." She added the firm gave clients an alternate URL they could use to bypass the marketing site and log into their accounts until the issue was resolved.
As passionate as they might have been about dumping their current brokers for a more reliable place to trade, customers sometimes threatened to leave one firm for another that was having its own problems. "Made the decision to move all monies to Fidelity today; there (sic) system had no issues," wrote a Vanguard customer via Twitter.
Vanguard spokeswoman Arianna Stefanoni Sherlock said in an email that the firm "experienced a brief period of sporadic Web site inaccessibility at the start of the trading day," but added capacity to manage the volume, allowing clients to log on without a delay.
Fidelity, in the meantime, was itself the target of furious Tweets. One investor complained of trades that hadn't executed. Another called it a "complete fail" that orders weren't showing up and pages were freezing. Even as customers complained, Fidelity responded to the tweets with a rote response that volume was higher than usual and its systems were "operating normally."
Fidelity spokesman Steve Austin told TheStreet that during the unusually high trading volume when the markets opened, there were "a small number of initial delays in the morning," but that "overall, Fidelity's systems are operating normally."
Scottrade customers were most vocal of all, with one customer saying that even before the 9:30 a.m. start of trading in New York, he couldn't access the company's Web site. "Anyone else having issues getting into @scottrade's website/mobile app?" he asked at 9:21 a.m. ET.
Although Scottrade said minutes later that the Web site and mobile apps were working "at this time," complaints continued through early afternoon.
Scottrade spokesman Shea Leordeanu said in an email to TheStreet the firm "initially saw some slowness" when the market opened, but that its systems quickly returned to "normal functionality." It was one of the busiest trading days in the firm's 35-year history, he said.
Like Ameritrade, Scottrade invited the angriest customers to speak with the firm directly. "We would like the opportunity to speak with you," said Scottrade to certain clients. Among them was one customer who said the failed website "cost me a lot." Another had said, "I'll be switching to Charles Schwab (SCHW) - Get Charles Schwab Corporation Report." Yet another groused "Thanks for costing me thousands today."
And then there was the wise guy who was looking ahead to the inevitable when failed systems wind up costing investors money: "How do we join the class-action suit?" quipped the irritated Scottrade customer.