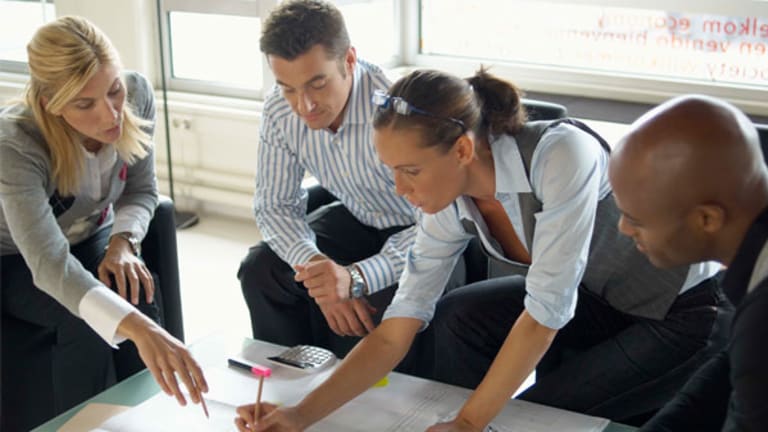 Android Users Don't Know Enough to Matter
The key difference between iOS and Android is that Apple users are tech savvy.
The key difference between iOS and Android is that Apple users are tech savvy.
NEW YORK (TheStreet) -- Apple (AAPL) - Get Report took a few shots at Google (GOOG) - Get Report last week during their WWDC keynote.
Even Siri poked fun at Google's names for their different versions of their operating systems (Ice Cream Sandwich, Cupcake and FroYo): "Who came up with these names, Ben & Jerry's?"
But the really stunning stat to come out at the conference was from Scott Forstall, who is the head of Apple's mobile software. He pointed out that more than 80% of Apple's iOS users were running the latest version of iOS. However, only 7% of Google Android users are running the latest version of their software.
This is important from a couple of perspectives. First, from a developer's perspective, it is very attractive when deciding which operating system you want to develop your application on first.
Jeff Verkoeyen, the developer who built
Facebook's
(FB) - Get Report
iPad app (and also my nephew),
tweeted this
after hearing this stat above in the keynote:
This is one of the many reasons why I love building for iOS. 80% vs 7% latest-gen adoption.
But this issue is also relevant to time spent browsing on iOS vs. Android. Consulting firm Flurry Analytics
69% of new mobile application developer projects started in the first quarter of 2012 were for iOS. This compares to only 31% for Android.
At first, this might seem odd, given that the media continuously reports that Android's market share in smart phones is greater than Apple's.
But another explanation might have to do with mobile browsing.
, U.S. users started spending more minutes per day browsing on their mobile devices compared to their PCs.
3 Top Tech Dividend Stocks for 2012>>
But here's what really hurts Google. According to
, 61.2% of mobile Web users use the Safari Web browser that comes as a default on all iOS devices. This is up from 54.9% in January. Android has only a 18.6% share, followed by Opera Mini with 14% (which Facebook has reportedly been looking at as an acquisition target).
So, even though Android is supposed to have a market share advantage over iOS, Apple users out-browse Google Android users by a 3.3x margin.
It gets worse. A
in April found that 70% of American Android users can't seem to figure out how to use WiFi on their devices. They found that 29% of iPhone users only connected to the Internet using nothing but cellular data. In the UK, only 13% of iPhone users solely used wireless data to get on to the Web. But in the U.S., 68% of Android users relied on their wireless carrier to do their internet browsing.
If you put all these studies together, it suggests that Android users:
Are not tech savvy
Never use wifi
Never do Web browsing
Never update their operating system
So, it's not that surprising that, after a quarter of launching its iCloud service, Apple was able to say that it had 125 million registered users. Other services like iTunes Match have likely also been similarly embraced.
How successful do you think Google's iCloud service, Drive, is going to be in comparison? The data above suggest the vast majority of Android users will have no clue that it even exists.
What Apple Will Do to the World of TV>>
This is very important. Each new iCloud subscriber is a good proxy for a customer who is highly likely to buy a future Apple TV, since they likely own at least two if not three Apple devices already. iCloud becomes the glue between the devices.
However, if you don't use WiFi, why would you even care about Drive?
And how successful will a revamped Google TV be once it comes out? Unlike Apple, Google's Android users are not really an installed base. They have happened to acquire a cheap phone to make phone calls and text their friends, but they have no loyalty to the phone or no idea of what they can do with it.
Google can keep trying to revamp their OS to keep up with iOS 6. But what does it matter if only 7% of their users will ever see it? And why should app developers knock themselves out trying to come up with their latest and greatest stuff? If 70% of Android users won't ever get on WiFi, how will they ever buy some new app that's not a derivative of Angry Birds?
It appears that Android is gaining market share from the old
Nokia
(NOK) - Get Report
feature phone users who are migrating to smart phones and don't really have a clue how to use it.
Maybe they'll wise up over time. Just as American iPhone users might eventually reduce their cell data plans usage like the Brits, maybe the American Android users will learn how to turn on the WiFi service on their phones. But that could take years.
And over those years, Apple will continue to step on the gas in the tablet and TV areas, where their users are also connected to the Web.
And Android users appear to have far less attachment to the Android brand compared to Apple users. So, by the time many of these Android users have been educated enough to take full advantage of Android features, many of them might well want to graduate to owning an iOS device.
Maybe all this is why Google bought Motorola Mobility. Perhaps they believed that if they controlled both the hardware and software, they would be able to educate their users better than the status quo approach, which clearly hasn't worked.
At the time of publication, Eric Jackson was long AAPL.
Eric Jackson is founder and Managing Member of Ironfire Capital and the general partner and investment manager of Ironfire Capital US Fund LP and Ironfire Capital International Fund, Ltd. In January 2007, Jackson started the world's first Internet-based campaign to increase shareholder value at Yahoo!, leading to a change in CEOs in 2007. He also spoke out in favor of Yahoo!'s accepting Microsoft's buyout offer in 2008. Global Proxy Watch named Jackson as one of its 10 "Stars" who positively influenced international corporate governance and shareowner value in 2007.
Prior to founding Ironfire Capital, Jackson was President and CEO of Jackson Leadership Systems, Inc., a leadership, strategy, and governance consulting firm. He completed his Ph.D. in the Management Department at the Columbia University Graduate School of Business in New York, with a specialization in Strategic Management and Corporate Governance, and holds a B.A. from McGill University.
He was previously Vice President of Strategy and Business Development at VoiceGenie Technologies, a software firm now owned by Alcatel-Lucent. In 2004, Jackson founded the Young Patrons' Circle at the Royal Ontario Museum in Toronto, which is now the second-largest social and philanthropic group of its kind in North America, raising $500,000 annually for the museum. You can follow Jackson on Twitter at www.twitter.com/ericjackson or @ericjackson.
You can contact Eric by emailing him at eric.jackson@thestreet.com.