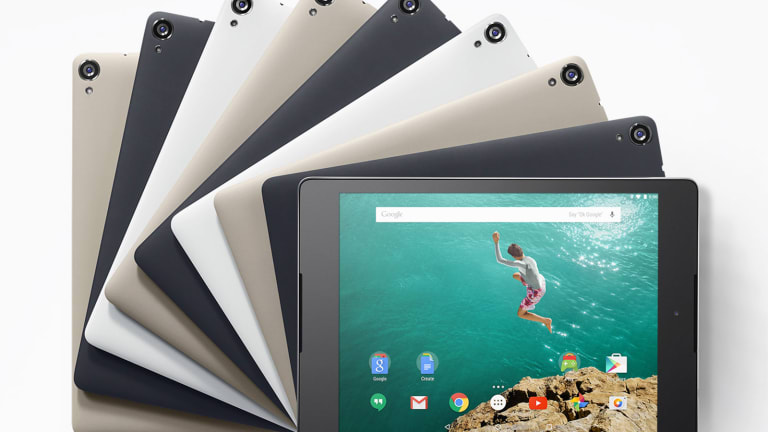 Android Tablet Prices Are Dropping: Is It Time to Buy?
$50 buys a tablet today. Should one be in your stocking?
$50 buys a tablet today. Should one be in your stocking?
How low can they go? Suddenly, amid the generally slow tablet computer marketplace, deep price cuts are turning Android tablets into bargains. Should you be sticking one into your personal stocking?
The eye opener that made the Android tablet prices cuts a vivid trend is a recent Groupon deal that for $117 sells an Asus made, Google badged, Nexus 7 (16 GB model), a price cut, said Groupon, of 45%.
There have been many other recent Android tablet deals. On Black Friday, in the Google Store, the Nexus 9 - the flagship tablet from Google, similar in many respects to an iPad Air - sold at a deeply discounted $279 for the 32GB model, down from a sticker price of $479. That deal is over - the units sold out - but Groupon has the same tablet on sale for $369.99, a full $100 off the list.
Amazon, meanwhile, offers a 7" Fire tablet - running on Android - for $49.99.
Expect similar - broader, perhaps deeper - price cuts on many Android tablets. About the only tablet that is meeting sales expectations is the Microsoft Surface - surprise! - and there simply are hundreds of thousands of Android tablets gathering dust in warehouses.
What's the right price to buy? Understand, a cheap Android is no substitute for an iPad, which starts at $399, for an iPad Air (the prior generation model) and $499 for an iPad Air 2. Microsoft Surface 3 starts at $499. Prices for either device can quickly approach $1,000. And for that money, the buyer gets a device that in most ways is a laptop replacement.
Not so with cheap Android tablets. They are many things - some good - but they won't let you throw away that laptop.
They also - at least sometimes - are plain bad. Researchers at security company Cheetah Mobile found that a number of very cheap Android tablets - including models sold at Amazon - come with preinstalled malware. That is terrible. But no big name tablets are involved. Brands fingered by Cheetah Mobile are Freeman, Worry Free, Killer and others you probably have never heard of.
That leads to Android tablet shopping tip #1 - stick with brands you recognize, such as Amazon, Google, Samsung and Motorola. Safety is not guaranteed with them but it's a lot better bet.
Fact 2: cheap tablets are generally O.K. with tasks that do not put heavy demands on the processor, such as email, light web surfing, checking one's calendar and - definitely - reading ebooks. They are not necessarily good at tasks that do strain the processor and the screen, such as streaming video and gaming.
Technology analyst Rob Enderle, sniffed about a case in point of what he believes is a failed cheap tablet:
"You really have to match price and quality," he said. The new Kindle HD 10" -- $179.99 at Amazon - is "a showcase of what can happen with a large cheap tablet, it's almost painfully slow. A lot of these cheap tablets sacrifice performance, screen resolution, and even battery life to hit their low price."
Reviews of the $50 7" Kindle Fire, too, are tepid. Said CNet: "The Amazon Fire is a fine tablet for casual use, but it's not a good tablet, it's just good for the price."
As for the ultra cheap Nexus 7 via Groupon, Enderle noted: "The Groupon product appears to be three years old, and that's a long time in an industry that flips products nearly every 6 months."
Does this mean you should cross cheap Android tablets off your shopping list? Not necessarily. Even the $50 Fire can be a smart buy if you know it will handle the tasks you have in mind. A Nexus 7 in fact was a spiffy device when introduced in 2013, and it still has plenty of uses. It even is in line for an update to the latest Android OS update, Marshmallow.

But if what you want is a smarter - more broadly reliable strategy - Benjamin K. Glaser, features editor with DealNews, pointed the frugal to refurbished units of leading brands. A search on Amazon found many refurbished iPad Air 2s for as little as $200. Even Apple itself sells refurbished iPads at hefty discounts and with a one year warranty. Refurbished Nexus 9s are yours for under $200 from many sellers. Make sure you get a warranty you can depend on. Most refurbs are perfectly fine. But if you are stuck with the rare one that isn't, you want recourse.
But go refurb and $200 to $300 gets a high-end tablet that will do a range of tasks well. And that may be a better bet than gambling that an ultra cheap Android tablet will do what you want doing.
This article is commentary by an independent contributor. At the time of publication, the author held TK positions in the stocks mentioned.