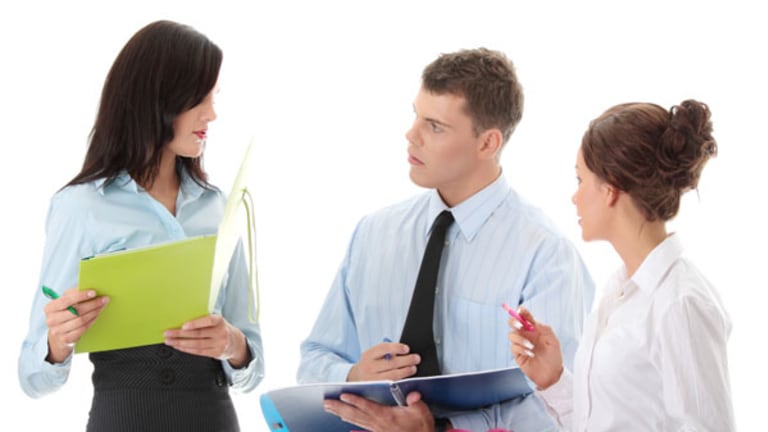 Android Battery Life, Nexus and Motorola: What's The Problem?
There are Android phones with great battery life, and there are Android phones with great software. Why can't Google put them together into one product?
NEW YORK (TheStreet) -- Does Google (GOOG) - Get Alphabet Inc. Class C Report have an internal communications problem?
On the December quarter conference call, Larry Page said, "Battery lifeis a huge issue. You shouldn't have to worry about constantly havingto recharge your phone."
This is from a company that has as its signature device the Nexus series of smartphones that were engineered with
HTC
,
Samsung
and
LG
over the last few years.
Google has said repeatedly that the Nexus program shows off "the best of Android." That's true, on many fronts, including software.
The Galaxy Nexus, launched in the fourth quarter of 2011and still selling today, was one of the very first phones with720x1280 resolution. Nexus phones were also some of the first withNFC.
But Page was speaking about a specific hardware problem on the conference call -- batteries -- and the Nexus smartphones don't have good battery lives. Granted, there are other Android phones that are worse. But I don't know
anyone
with one of the two most recent Nexus phones (Samsung Galaxy Nexus and LG Nexus 4) who is happy with the batteries.
Adding insult to injury, when Google launched the eternallyshort-in-supply Nexus 4 in the fourth quarter of 2012, the phone didn't havea removable battery. At least if the battery is removable, you canchoose to carry a spare battery in your pocket, or you can replace thebattery with a bigger one that will last longer.
Another division of Google, located in an isolated spot in Illinois and known as
Motorola
, has a much better track record when it comes to batteries. Long before it was acquired by Google, Motorola Mobility launched the Droid Razr Maxx smartphone, which has the best battery life of any Android smartphone on the market.
The Droid Razr Maxx is outfitted with a 3,300 mAh capacity battery, some 50% greater than the Nexus 4. The battery in the Galaxy Nexus iseven smaller.
The Droid Razr Maxx saw an upgrade, planned long before Google'sacquisition of Motorola closed, in late 2012, but the battery sizeremained the same class-leading kind. As to what comes next, we don'tknow.
The Motorola devices, however, are not Nexus devices. The currentversion of Android running on Nexus is 4.2.1. Some of the Motoroladevices just got 4.1, but many Motorola devices are not there yet, and some will never get there. Some won't even get to 4.0, even though it was launched more than a year ago.
Demand for "pure Nexus" has increased dramatically in recent months asmore consumers realize they don't want to have phone manufacturers and mobile network operators force Android modifications upon them. Consumers want their OS upgrades, and they want them as soon as Google issues them.
If you buy a non-Nexus device, you may have to wait three to 18 months for an OS upgrade, if you receive one at all. This is unacceptable underany circumstance, and that's why demand for Nexus Android devices isgoing through the roof. The wait list to buy a Nexus 4 directly fromGoogle has been mostly one month or more since it launched almost threemonths ago. That's longer wait times than for the iPhone at launch!
So here is Google's problem, among many. On the one hand, it's gotNexus smartphones, which have the software people want. On the otherhand, it's got Motorola smartphones, and at least one of those modelshas the battery life people -- and Larry Page -- want.
Why can't Google sell us smartphones -- and for that matter otherdevices -- that have
both
great battery life
and
the right, unmolested software, i.e., Nexus?
From the outside, it seems that Google is not talking to itself. It'sgot a person running Motorola in Illinois: Dennis Woodside. It'sgot another person allegedly in charge of hardware: Lior Ron,according to media reports. So who is running the Android hardwareshow at Google?
When Larry Page says on the quarterly conference call that battery life is a "huge issue," is he talking to Motorola inIllinois? Is he talking to the Nexus group across the street from hisoffice in Mountain View, Calif.? If he is, nobody has beenlistening.
I recognize that in the grand scheme of things, this isn't the biggestissue in the world, and it is isn't even Google's most pressing issue.
But Google is up against
Apple
(AAPL) - Get Apple Inc. Report
,
Microsoft
(MSFT) - Get Microsoft Corporation Report
,
Research In Motion
( RIMM) and all of theirhardware implementations. They are focusing on improving batterylife. Google says it's a priority, but it's not showing in theflagship Nexus smartphones.
Google's product management of Android in the context of Motorola andNexus is less clear than it should be, to put it mildly. I can guess what might be going on behind the scenes, but I don't really know. Given Android's enormous market share and importance for Google and the market, I think that this is a subject Google should clarify in a separate stand-alone conference call.
Everyone wants a Nexus product portfolio that has batterylife on par with the Droid Razr Maxx or even better. However, nobody wants to be forced to buy this from Verizon, and nobody wants to be forced to buy non-Nexus software OS.
They want to buy a piece of hardware directly from Google, insert anySIM card acquired from any retailer in the world, such as
Wal-Mart
(WMT) - Get Walmart Inc. Report
, which offers great plans for $30 or so per month, and not have to sign any contract. They want to be able to switch to another SIM card from any carrier in the world without any fuss. This is what GSM was always meant to be, and has been for most people in the world for 20 years.
Larry Page apparently wants that, too. So why can't he get hisvarious Android groups -- from the Nexus people to the Motorola people-- to talk and deliver?
Last June, Google bragged that it got
ASUS
to deliver the Nexus 7tablet in only four months from beginning of the project, to shippingthe product to consumers. Now Google says it takes Motorola 18 monthsto deliver new products. Why is it acceptable for Motorola to take 18months when Google itself brags that ASUS has already done it in fourmonths?
Google, and Android, are doing well. But clearly, they're not doing as well as they could be. I'd like to know what they are doing to change this.
At the time of publication, Wahlman was long GOOG andAAPL, and short MSFT.
This article was written by an independent contributor, separate from TheStreet's regular news coverage.
This contributor reads:
On Twitter, this contributor follows: