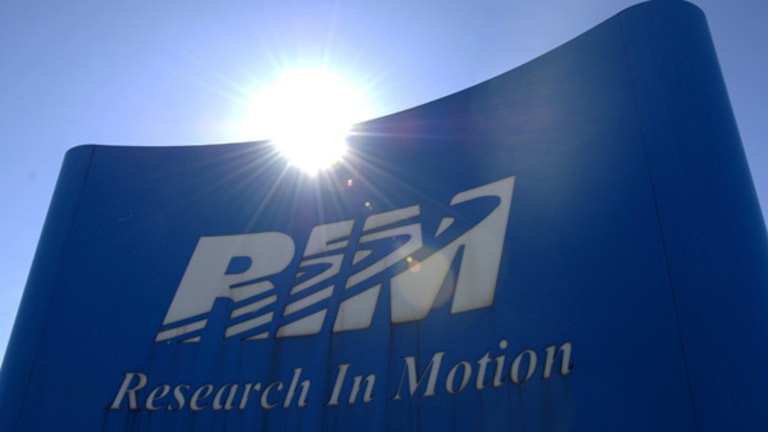 Analysts Play RIM Investors for Suckers
It's irresponsible to make a bull case for RIMM right now. But the analyst community will do it anyway.
NEW YORK (TheStreet) -- The cool thing to do now on Wall Street is upgrade Research in Motion (RIMM) .
The stock has increased an absurd 40% over the last month, tacking on close to 4% this week alone.
Via my Briefing.com feed, I show RIMM upgraded from neutral to buy at Goldman Sachs. (How was it even "neutral" in the first place?). CIBC World Markets upped the stock to "Sector Outperform."
At least some other houses have expressed "caution," Morgan Stanley and Wedge Partners most recently.
With regards to the analysts who are upgrading RIMM: If I didn't know better ... If I didn't have faith in my fellow man as being honest and forthright, I would cry "pump and dump."
I just don't understand how anybody could look at RIM's situation and recommend buying the stock.
Granted, it's a rarity for a Wall Street analyst to be ahead of the curve. Generally, they just follow the leader with upgrades and downgrades after the move gets made. So, on a higher level, I guess these bull calls on RIMM can be somewhat of a good thing.
Drilling down, however, to this isolated situation: Analysts are setting longs up for some serious pain. When this thing starts to slide again, too many RIMM permabulls will double down, not learning the lesson history taught them.
Consider what RIM has to do. It's right there with
the mobile challenges Microsoft (MSFT) - Get Microsoft Corporation Report faces
.
I have to give the great John Paczkowski of
credit for scoping out the
IDC
data before I did and writing a strong article around it.
He points out that
Apple
(AAPL) - Get Apple Inc. Report
crushed RIM years ago in the consumer market. And, according to IDC's research, "Apple iOS devices are being brought into the enterprise in droves, both by corporate and employee purchase." In terms of volume, IDC expects iOS to be the number operating system deployed by enterprise by the end of the year.
I recall with laughter the debates I had with RIMM bulls last year. They sheepishly ceded failure in the consumer market, but refused to give even a little vis-a-vis the enterprise. Their main point: IT departments would never allow Bring-Your-Own-Device to take hold because of security concerns.
My retort: IT geeks are nobodies within most companies, particularly big ones with lots of employees and SVPs, presidents and CEOs who are millionaires and billionaires. They have no say. They are told what to do and when to do it. Their job is to get it done. Be seen, not heard.
You don't see this scene much anymore: A person in line at the coffee shop fumbling around with two phones. It used to be a common occurrence here in Southern California -- BlackBerry ringing in one hand, iPhone in the other. There was no way that mess was going to continue.
And it didn't.
Enterprise now orders iPhones (
by the thousands for their workforces. Heck, at
Yahoo!
(YHOO)
, CEO Marissa Mayer noted that the company would move away from BlackBerries and subsidize smartphones for its employees. When Mayer speaks, you should listen:
The BlackBerry isn't even a smartphone!
.
Yet, bulls on Wall Street actually expect RIM to be able to buck this trend when BlackBerry 10 comes out next year? Do they realize what an inane claim and flimsy case this is?
Apple set off a mega-trend -- a shift of just mind-blowing, epic proportion -- when it chewed RIM up, took its time digesting it and spit it out. You don't just reverse that -- as in beat back the power and utility of iOS -- overnight with a new product we know very little about. Even if RIM rolls out a solid line of phones, which it usually does, it likely will not matter.
These analysts are missing on RIM the same way many people miss on mobile. They do not understand the magnitude of what these phenomena are all about. Just as the uptake to mobile monetization on new media platforms will not hit full speed overnight, any traction a deadweight such as RIM gets against Apple will come slowly and not very surely, if it even comes at all.
--Written by Rocco Pendola in Santa Monica, Calif.
Rocco Pendola is
TheStreet's
Director of Social Media. Pendola's daily contributions to
TheStreet
frequently appear on
CNBC
and at various top online properties, such as
Forbes
.