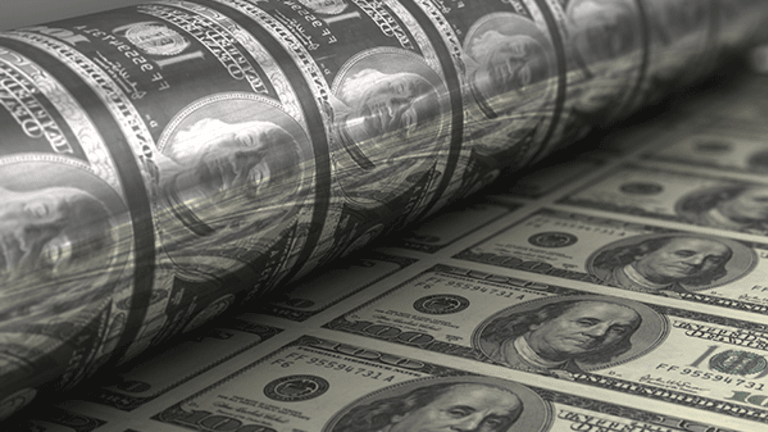 Analysts Expect Strong Dollar in 2017
Although lower on Monday the dollar is expected to continue its recent gains into 2017.
The U.S. dollar saw a rally after Donald Trump was elected president in November. Expectations of economic growth under Trump has boosted the greenback. The dollar hit a 14-year high on Thursday, but is slightly lower Monday.
Looking to 2017 the dollar is expected to show strength. OppenheimerFunds portfolio manager Alessio de Longis appeared on Monday's Bloomberg Markets: European Close to discuss the firm's expectations for the dollar and other currencies for next year.
"Dollar strength is one of our highest conviction views going into the New Year," de Longis said. "So a continuation of what we've seen in the last few weeks. In particular we think that it could be frontloaded. Much of the new impetus for the dollar comes from the election and the potential for fiscal policy change coming from the new administration."
A combination of fiscal expansion and monetary tightening in the U.S. could be "very conducive to dollar strength," de Longis continued. Last week the Federal Reserve announced a rate hike and the increase in the central bank's hawkishness is the opposite of the policies being implemented in other major countries around the world.
"The U.K., eurozone, Japan [are] all running additional quantitative easing measures or yield control strategies together with still, relatively muted fiscal, negligible fiscal stimulus...to be honest still fiscal austerity is the problem," de Longis said.
Bloomberg's Julie Hyman asked about the euro and the target he would be looking at for the dollar/euro.
"For dollar/euro we call for a break of parity, potentially even to year end [2016] or over the course of the first quarter of 2017," de Longis responded. "Year-end 2016 or given that the Fed is out of the way and we have had the real main event, it is more difficult, unless there is some particular headline risk. The first quarter would be a target for a break of parity. Basically a 5% or 6% move from here."