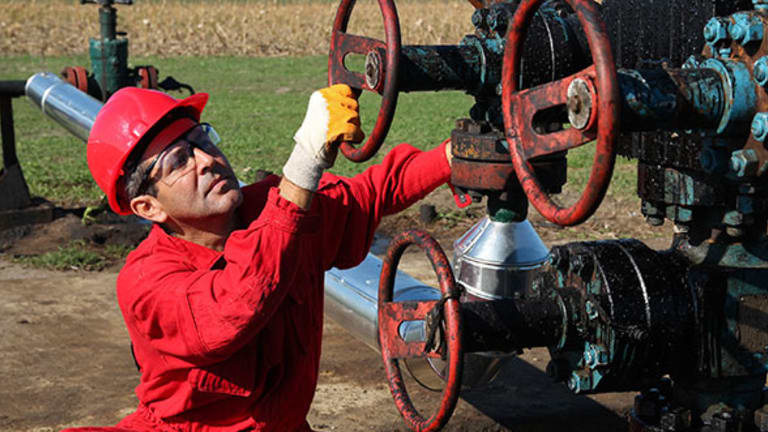 Anadarko Earnings Preview: Expect More Pain Ahead
Oil exploration specialist Anadarko has been pummeled by declining oil prices, and is likely to keep getting hit. Trying to time the bottom for it would be an unnecessary gamble.
Thanks to oil prices that have plummeted to decade lows, shares of oil-production giant Anadarko Petroleum (APC) have gotten crushed. They're off more than 32% year-to-date, compared to a 6% decline for the S&P 500undefined . Revenue and profits have been hard to come by lately for the Woodlands, Texas-based company. And with some analysts projecting crude prices -- currently around $30 per barrel -- could fall to around $20, oil exploration specialists like Anadarko may see more pain in the quarters ahead.
This means despite how attractive APC shares might appear today, investors would be better served to stay away. Anadarko will report fourth-quarter fiscal 2015 earnings results after the closing bell Monday. And as based on the recent drastic declines in both its quarterly and full-year estimates, Anadarko investors should brace for the worst.
For the quarter that ended December, the analysts' average estimate calls for a loss of $1.05 a share on revenue of $2.15 billion, compared to the year-ago quarter, when the company earned 37 cents a share on revenue of $3.18 billion. For the full year, the loss is expected to be $2.47 a share, compared to 2014's profit of $4.11, while revenue of $9.55 billion would mark a drastic 48% decline from last year.
These gloomy projections explain why APC stock has plummeted some 60% in the past 12 months, and is off and 58% from where  it stood three years ago. But if you're expecting a drastic improvement in fiscal 2016, don't hold your breath. Instead, there's a worse-than-expected revenue picture emerging.
In its third quarter, for instance, Anadarko reported total revenue (which includes gains and losses on divestitures) of $1.69 billion, compared to $5.01 billion in the year-ago quarter. And with analysts projecting Anadarko will post a loss of $2.45 in 2016 -- just 2 cents narrower than the loss they expect in 2015 -- while annual revenue is projected to grow just 2%, APC stock will see tons of selling pressure unless things improve.
And here's the thing: These analysts' estimates -- as tepid as they are today -- were based on the assumption that oil prices would stay above $30 per barrel. Now, with crude having dipped into the $20s recently, and with prices in the low $20s looking possible, trying to time the bottom for these shares would be a mistake.
While management continues to reset the business, lowering exploration and production costs to adjust to the new realities, investors will have to wait and see if it can generate quantifiable results. And that wait is only growing more costly.
This article is commentary by an independent contributor. At the time of publication, the author held no positions in the stocks mentioned.