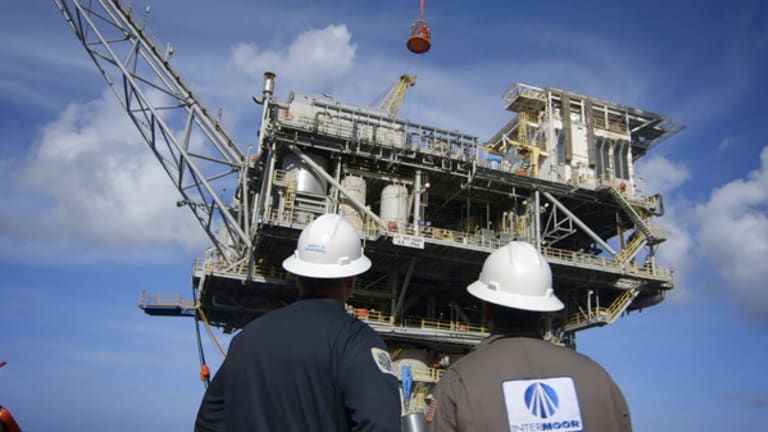 Anadarko Bullish on Oil Prices
Previous pricing bear CEO Al Walker said global demand is outpacing expectations and the industry will likely see $60 per barrel oil as early as the fourth quarter.
Anadarko Petroleum (APC) - Get Report chairman and CEO Al Walker has been bearish on oil prices since early 2015. But now he's a bull, predicting that oil prices will hit $60 per barrel as early as the fourth quarter based on better-than-expected global demand.
"For the first time since January of 2015 I think we see a window to better oil prices," he said on the company's conference call with analysts and investors on Wednesday. "We'll likely see a sustained price environment of $60 later this year."
Walker said he expects supply will bottom out at around 8 million barrels per day, maybe by late this year, versus a peak of 9.6 million barrels in June of last year.
With that possibility in sight, the Houston-area oil and gas explorer and producer will continue to sell assets, pay down debt and add rigs to ride the coattails of an industry recovery.
The company's second-quarter results came in better than expected with a loss of 60 cents per share versus analysts' expectations of a loss of 80 cents per share, and cash flow of $1.31 per share, versus an anticipated $1.17. Results were better than anticipated because of lower operating costs and exploration expenses, Stifel analyst Michael Scialla said in a note.
The company also raised its asset divestiture target to $3.5 billion versus $2 billion to $3 billion previously (it sold $2.5 billion worth of properties in the first half of the year). Those increased proceeds will help it pay down its large debt load and add rigs to its more promising properties, including the Delaware basin, where it boosted its count to six from four in the quarter.
Anadarko's property sales in the second quarter included its Wamsutter in Wyoming and non-core Permian assets in West Texas.
When asked by an analyst, Anadarko executives said they won't take on more debt to expand the company's drilling program when oil prices improve. They also don't expect partner Royal Dutch Shell (RDS.A) to sell its stake in their shared Gulf of Mexico properties given the quality of the assets.
Stifel's Scialla expects the company's debt to decline to 4.2 times trailing 12-month Ebitda by the end of this year versus 5.3 times as of June 30, not including potential asset sales in the second half of this year that could pay down even more debt.
Stifel raised its net asset value for the company to $64 per share versus $62 previously based on lower costs for the company's Wolfcamp prospect but kept its hold rating on the stock. It also noted that Anadarko's Shenandoah 5 prospect performed better than he expected.
Seaport Global Securities has the company at accumulate with a $60 price target, crediting higher natural gas liquids prices as another reason it beat analysts' earnings expectations.
Piper Jaffray's Simmons & Co. International said the company's solid results should help narrow its equity underperformance year-to-date. It has an overweight rating on the stock with a price target of $67 per share.
Despite the good news, Anadarko's stock was down 2.1% in midday trading to $53.58 per share.
Tudor, Pickering, Holt & Co. said Anadarko's results are a positive read-through for SM Energy (SM) - Get Report , whose second-quarter production in the Eagle Ford could move higher given its partner reporting stronger volumes there.