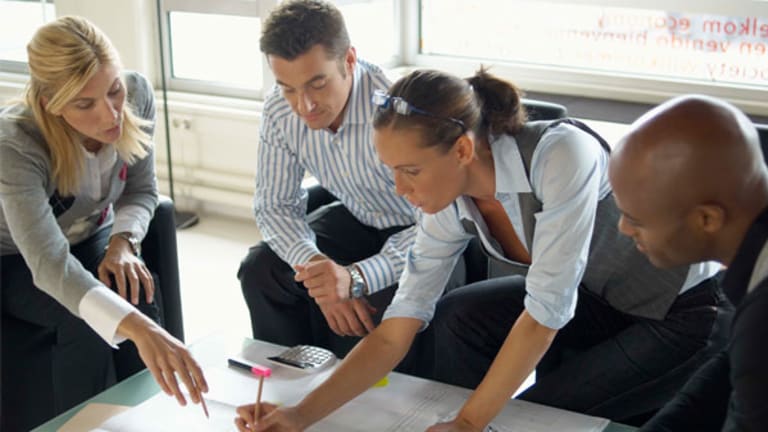 'Financial Destruction,' But Up 46%
Moody's has been widely criticized for contributing to the crisis, but it keeps minting money.
Updated to reflect share gains this week and to emphasize FCIC conclusion.
NEW YORK (
) --
Even as most big financial stocks have taken a beating this year as economic and political fallout from the mortgage crisis continues to reverberate in the markets, shares of
Moody's Investors Corp.
(MCO) - Get Moody's Corporation (MCO) Report
are a notable exception.
Moody's shares have returned more than 46% year to date as of Friday morning, far better than any other financial stock in the
S&P 500
. The No. 2 performer,
Discover Financial Services
(DFS) - Get Discover Financial Services Report
, has risen by 27.40% over the same time period. Shares of
McGraw-Hill
(MHP)
, parent of Standard & Poor's Ratings, have also performed well, returning 15.6% year to date through Tuesday.
Because of its large publishing business, McGraw-Hill is less of a "pure play" on ratings than Moody's.
While the shares of the ratings agencies are still well off their pre-crisis highs, they have proven to be solid long-term investments. Moody's shares are up 131.05% over the past decade, vs. 22.41% for McGraw Hill and 1.87% for the S&P 500.
Moody's 10-year share price performance also far outshines banks initially thought of as "winners" from the credit crisis such as
Goldman Sachs
(GS) - Get Goldman Sachs Group, Inc. (GS) Report
,
Wells Fargo
(WFC) - Get Wells Fargo & Company Report
and
JPMorgan Chase
(JPM) - Get JPMorgan Chase & Co. (JPM) Report
, though those banks' shares have all outperformed Moody's over the past five years.
It is hard to believe it hasn't even been a year since many thought Moody's faced an existential threat. The ratings agencies were under intense scrutiny from government officials and plaintiffs' attorneys for assigning triple-A ratings to mortgage securities and helping to inflate the housing bubble. A Moody's spokesman did not respond to a request for comment.
Moody's top shareholder,
Berkshire Hathaway
(BRK.B) - Get Berkshire Hathaway Inc. Class B (BRK.B) Report
, was steadily selling down its stake, and while Berkshire chief
said he still liked Moody's as an investment, he was not very forceful in his attempts to defend the company's record leading up to the crisis. An email to Carrie Kizer, assistant to Berkshire chief Warren Buffett, was not returned.
Meanwhile,
Greenlight Capital
's David Einhorn, famous for sounding early warnings about Lehman Brothers while shorting the stock, had Moody's in his sights. Einhorn declined to comment through a spokesman.
Following up last week on a directive from Congress under the Dodd Frank Act, the
Securities and Exchange Commission
unveiled a 500-page rule proposal on ratings agency reform. But the effect, according to Ed Atorino, an analyst who follows Moody's stock for Benchmark Company, may be exactly the opposite of reform.
"What Congress or the SEC has actually done is strengthen the position of the two big guys and made it more difficult for the little guys to compete by layering on all these restrictions which cost a lot of money," says Atorino, who has a "buy" on Moody's stock.
Indeed, Moody's shares rose both May 18, the day the SEC proposed the rule, and the following day as well, outpacing the broader market on both days.
"It's remarkable how short the memories are of the marketplace, but I gather there must be some sense that conduct may have changed and future conduct will be more reliable," says Thomas Russo, partner at Gardner, Russo & Gardner, which has no direct stake in Moody's but counts Berkshire Hathaway as a top holding. "You have enormous evidence over the past four years of a ratings agency and a trusted steward who fell far short of their public trust and yet escaped censure from the government and seems to have sailed forth without any kind of worries by investors."
Or investors may merely have conceded that the ratings agencies are inevitable. And with corporate debt issuance
breaking new records
, and even signs of
asset backed securities stirring back to life
, Moody's and S&P do not lack for revenue opportunities.
"They have a captive audience," says Arturo Cifuentes, a former Moody's analyst who is now a professor at the University of Chile. "You want to issue debt, you need a rating. We're in the same situation where we were five or 10 years ago. The fact that the ratings agencies have a bad reputation and nobody believes in the rating is completely immaterial," he says.
There are other reasons to be bullish on Moody's. Its price-to-earnings ratio of less than 17 is about half the multiple it enjoyed during the peak of the housing market, and outstanding short interest on Moody's of more than 20 million shares is well above the roughly 5 million shares in short interest outstanding on Moody's in late 2006 and early 2007.
As the short-sellers anxiously watch Moody's shares rise, they can reassure themselves by reading the report of the Financial Crisis Inquiry Commission delivered to President Obama in January, which concluded that "the failures of credit rating agencies were essential cogs in the wheel of financial destruction."
The report pointed out that Moody's gave a triple-A rating to 30 mortgage-related securities
every working day
in 2006. Eighty-three percent of those securities were eventually downgraded.
Indeed, it is a good thing for all of us to have historical documents like the FCIC report, since we all know what happens to those who forget their history.
--
Written by Dan Freed in New York
.
Disclosure: TheStreet's editorial policy prohibits staff editors, reporters and analysts from holding positions in any individual stocks.