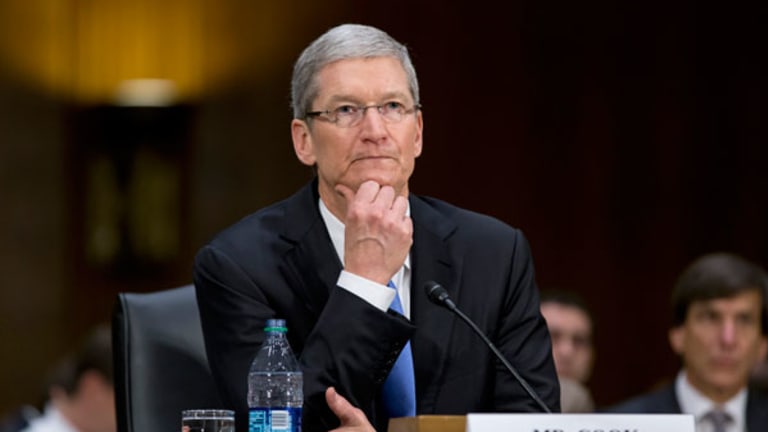 An iWatch Failure Could Get Tim Cook Fired at Apple
Consider nuance when you think about failure at companies such as Apple and Google.
Consider nuance when you think about failure at companies such as Apple and Google.
NEW YORK (TheStreet) -- An article by TheStreet's Richard Saintvilus, coupled with a Tweet from a reader, triggered a thought I think requires immediate expression. Because there's quite a bit of confusion surrounding the issue.
Here's The Saint's article ... Apple Can't Afford an iWatch Flop ... where he says:
... 65 million (iWatches sold) still seems like a pipe dream. While the interest is certainly there, (Apple (AAPL) - Get Report analyst Gene) Munster projects only 5 million to 10 million iWatch sales in the device's first full year.
Apple can't swing and miss on this one ...
And here's the Tweet in response:

Yes. Google (GOOG) - Get Report actually can afford a "flop" on hardware such as a television set-top box or some sort of wearable technology such as Google Glass. I'm not saying it wants to flop or doesn't care if it does flop, but it can absolutely afford to flop in these areas. Because, as I have illustrated recently with respect to Microsoft (MSFT) - Get Report, hardware and other areas Google dabbles in do not represent the company's core. Google has built an advertising business that allows it to go off into other areas and take chances.
Same goes for Apple. Because of its core hardware business, it can flop with, say, Ping or MobileMe. It can experiment with a less than iTunes Radio. It can even borderline embarrass itself with Siri. None of this really matters as long as it does not negatively impact the allure and, more specifically, sales of Apple's hardware products. Granted, Siri hurts iPhone's utility, but it keeps improving and, like Apple Maps, it isn't a deal breaker for most people.
At Google, the failure of a television or wearable venture probably won't impact the advertising business. So it doesn't matter. But anything that erodes that core hurts Google's image. It dampens investor confidence and, at some point, could weaken Google as a company, taking it out of the position of luxury it presently experiments from.
As Saintvilus alluded to on Twitter, Tim Cook approaches a critical crossroads as he preps Apple's next launch of fresh hardware. It could be the case that iPhone 6, the forthcoming Android killer, buffers a flop with an iWatch or television set or enhanced Apple TV or whatever's next and new. But that's the puck Cook's been dragging since he took over for the late, great Steve Jobs.
Even though it hasn't prompted investors to buy the stock, selling 50 million iPhones in a quarter keeps the jury out. While there's a chance Cook can keep rocking that look with iPhone 6, it's a major risk.
On one hand, the iPhone doesn't need to be revolutionary; it just needs to keep getting better, sexier and more useful. Clearly, Cook's on that case. But we're never going to see Apple stock hit $1000 or something much higher than $550 on the back of that song and dance. (I guess if iOS does demolish Android's marketshare we could, but that's a big if and one I would only accept as icing on the cake if I'm at Apple).
Cook eliminates all ifs, ands and buts if, on his watch, Apple produces a piece of hardware that's every bit as successful as -- and carries with it as much evolutionary potential as -- iPod, iPhone and iPad. Simple as that. No fuss. No mess. No questions asked. No comments from the Apple-bashing peanut gallery.
So, yes, Google absolutely can afford to fail with whatever it does outside of its monstrous core. But, no, Apple absolutely cannot afford to fail with respect to what it does inside its core (though it can fail, flop, whatever you call it with software and services). And we're talking meaningful hardware products here. Not niche stuff or outliers.
A $3,000 Mac Pro doesn't have to sell 50 million units. That's a non-factor niche product. Though we don't even know actual sales figures, iPhone 5c (which, admittedly, was a bad idea) doesn't matter either. It was thrown into the mix during a time when Apple's selling 50 million iPhones in a quarter. But now we're coming to the end of this dividing line that gave Cook and Apple some breathing room.
If Cook screws up with whatever's next, he's finished. And pronouncements of Apple's death, relative to what it once was, could return with more validity than ever before.
--Written by Rocco Pendola in Santa Monica, Calif.
Rocco Pendola is a full-time columnist for
TheStreet
. He lives in Santa Monica. Disclosure: TheStreet's editorial policy prohibits staff editors, reporters and analysts from holding positions in any individual stocks.