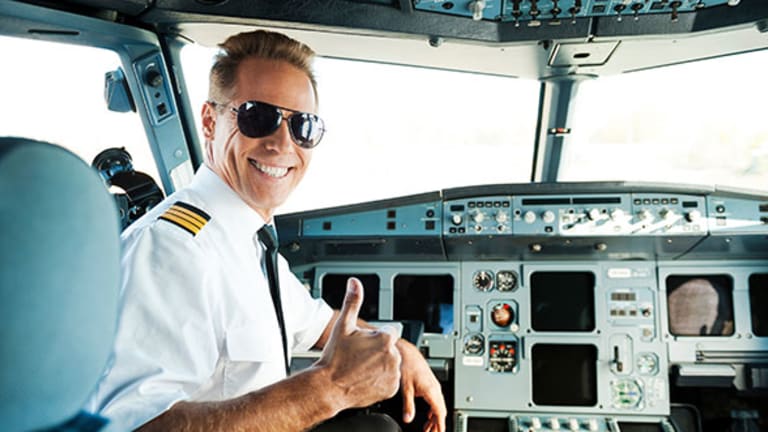 An Exciting Big-Name Aerospace Stock That's Flying Under the Radar
This avionics maker is a great growth opportunity for 2016, but you'd never know it from the way investors and the press ignore it.
As the aerospace sector continues to soar around the globe, investors tend to focus on the well-known companies such as Boeing or Lockheed Martin. To be sure, those manufacturers are thriving amid a growing backlog of orders for passenger aircraft as well as combat fighters.
But the electronics companies that supply the cockpit technology are often given short shrift, and therein lies investor opportunity. Latest case in point: avionics leader Rockwell Collins (COL) , which posted a solid earnings report on Friday that still managed to leave analysts unimpressed. Their major concern: potential cutbacks in defense spending, a fear that is overblown. If history has taught us anything, it's that the Pentagon never goes begging for funds, regardless of the political party in power.
Rockwell Collins on Friday reported fiscal 2015 annual revenue of $5.24 billion, a 5.3% year-over-year increase. Fiscal year 2015 earnings per share from continuing operations were $5.19, vs. $4.52 in the previous year. Cash provided by continuing operations reached $749 million in 2015, for a year-over-year increase of 13%. Fourth-quarter EPS jumped 9% year over year to $1.38.
COL data by YCharts
Global growth combined with increasing demand for more sophisticated cockpit electronics will fuel the avionics industry for the next several years. The consultancy Market Info Group reports that the combined commercial and military segments of the global aerospace avionics market will reach $26.5 billion in annual revenue by 2020, compared to $15 billion in 2013.
But here's the best reason to like Rockwell Collins: It's well-positioned to take advantage of the U.S. Federal Aviation Administration's plan to modernize the National Airspace System from now until 2025. That represents legally mandated, decades-long demand financed by the deep coffers of Uncle Sam, one of the best growth drivers you can find.
Officially called the Next Generation Air Transportation System, or "NextGen," the FAA's multibillion-dollar NAS overhaul utilizes GPS technology akin to what's now available in cars and on smartphones. NextGen is designed to replace the existing and increasingly antiquated radar-based national air traffic control system developed after World War II.
Congress continues to hold hearings on NextGen to assess its progress and funding. NextGen remains a top federal priority, and its ultimate completion is not in doubt, which in turn assures lasting gains for Rockwell Collins, which makes complex avionics that are in sync with the new grid.
Through its NextGen initiative, the FAA is developing an integrated grid of new technologies and procedures to support greater capacity and less congestion.
The avionics industry is highly regulated, particularly in regard to safety. The result is an extremely high barrier to entry. Founded in 1933 and now boasting a market cap of $11.2 billion, Rockwell Collins is one of a handful of behemoths that adapt the best to changes in government policy.
Rockwell Collins also benefits from the long gestation period of new products. Designing, building, testing and bringing to market a new avionics product takes billions of dollars and many years.
Rockwell Collins is a pioneer in developing advanced electronics for the aircraft cockpit. The firm already is reaping the rewards of providing the avionics for the Boeing 787 Dreamliner, a passenger airliner constructed of carbon composites.
Rockwell Collins' hazard detection products on the 787 and other popular aircraft calibrate weather detection parameters according to time of day, time of year and geographic position. These more precisely display thunderstorm threats and also mesh with the overall NextGen grid plan.
Despite its superb future growth prospects, Rockwell Collins trades at a trailing 12-month price-to-earnings ratio of only about 17, compared with the average P/E of about 22 for the S&P 500. This undervalued avionics stock should continue flying high for years to come.
Looking for other undervalued stocks that are flying beneath investors' radar? To learn about these exciting "value" plays that most investors are ignoring, click here.
John Persinos is editorial manager and investment analyst at Investing Daily. At the time of publication, the author held no positions in the stocks mentioned.